Bringing Christ back to Christmas in today's busy home.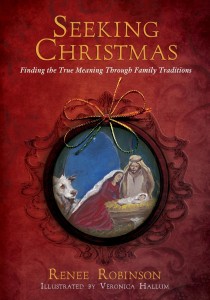 Do you wonder if the commercialization or hectic pace of the Christmas season is making it harder each year to celebrate what really matters? Do you wonder if the real message of Christmas is getting lost in the shuffle between parties, gift exchanges, and pageants?
Seeking Christmas is a series of family devotions and guided, hands-on activities that give your family meaningful traditions, rich experiences, and treasured memories.
More than just another Christmas devotion, Seeking Christmas is an experience. One that will grow with your family, that you will treasure for generations to come.
Seek the true meaning of Christmas, find the gift that is waiting to be unwrapped by you.
"Renee Robinson has stitched together a cozy Christmas quilt of a book that will guide parents who want to be intentional about building meaningful family Christmas traditions. She lovingly stitches together her own Christmas memories, engaging family devotional readings, interesting tidbits about Christmas traditions, and fun activities for building family memories—creating a helpful and fun resource for families."
"Renee Robinson is a gifted storyteller with a passion for Jesus. And in Seeking Christmas, she offers a guide to enrich the Christmas experience in your home. Using Scripture, stories, and thought-provoking questions, Renee brings the story of the Holy Family alive. She also offers fun activities to engage your children and celebrate the joy of this season. This is the perfect book to pull out with your Christmas decorations and use to help build meaningful family traditions!"
"Renee's insight on and passion for honoring the message of Christmas is inspiring-but not in the "I could never pull that off" kind of way. She makes treasuring Christmas seem easy, practical and purposeful. Unlike so many books of this type, I finished it feeling not overwhelmed but overly excited. In a real way, Renee walks you through how she has implemented these tactics in her home while empowering you to make each suggestion your own. I can't wait for this Christmas season."
Seeking Christmas is a wonderful and welcomed resource for families who desire to experience the true meaning of Christmas while creating memories that will last a lifetime. Renee's inspiring yet practical ideas left me feeling empowered to lead our family deeper into the miracle of Christmas and closer to t
When you purchase this book, you are helping to change the life of an orphan. 10% of author royalties are donated to organizations that reach out to change an orphan's life.
Seeking Christmas is available at your local bookstore.  If they don't have it in stock, they usually order it free of shipping charges to you. Shopping at your local bookstore is a great way to support your local community.