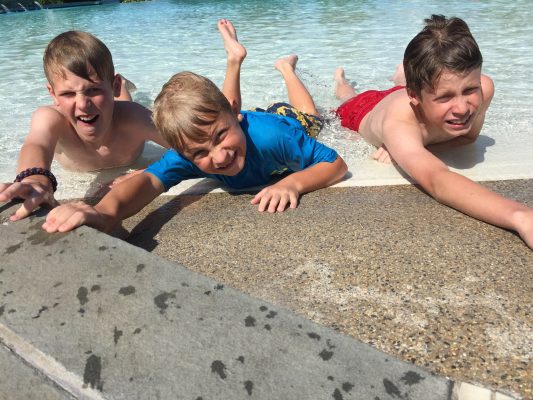 In 2012 and 2014, we hosted orphans from Latvia in our home. If you visit my posts in December of 2012 and June 2014, you can read all about our experiences. Both children we hosted astounded me with how quickly they learned English. I didn't purchase a fancy language program or even buy a dictionary. It was total immersion.
In a 4 week period of total immersion, they learned more than any book could've taught them over the course of a year or longer. The change was phenomenal.
These children lived with us, a family actually speaking English, for weeks. They saw us living out the English language, putting it in practice moment by moment.
Training our children in the way they should go should be total immersion. In this world and this culture, sprinkling will not do. The key is that we as parents have to live it out. We can't simply talk about God in general terms. We can't put them in church programs and hope they become good, moral children. We have to live out the gospel in our homes.
At some point along my journey of faith, I stopped compartmentalizing my faith life and my "real" life. My lives merged and became all about God all the time. God began to change my perspective on pretty much everything.
Deuteronomy 6:6-9 " These words that I am giving you today are to be in your heart. Repeat them to your children. Talk about them when you sit in your house and when you walk along the road, when you lie down and when you get up. Bind them as a sign on your hand and let them be a symbol on your forehead. Write them on the doorposts of your house and on your gates."
I think God is serious about this command. Another way to translate is – Totally immerse your kids in me. Talk about me all the time. Tell them what you know of me. Tell them what I've instructed. Don't ever stop. Driving carpool, fixing dinner, throwing the baseball…whatever you are doing, show them who I am. I am the great I Am.
Last week I shared the most profound parenting advice I've ever received. When that advice began to sink in is the point God gripped my heart.
I've talked to families recently that shared how empty they feel. They want to grow spiritually but feel dry. Life is busy, hard, and they don't know where to start. If this is you, I urge you to focus on one small step today. Often we look at where we want to go, and it is overwhelming. If we focus on simply each step in front of us, eventually we will get to where we are going by focusing one step at a time. The staircase as a whole can be quite intimidating, but we can handle one step today.
So what does total immersion look like on a practical level? For me total immersion is an all in approach. I tend to be an all in or all out kind of person.
The worst advice Steve and I ever received came when we were new Christians. The advice was not to get "crazy" with our faith. At the time I didn't see how ludicrous that advice was. Can we get too crazy for Jesus? This world could use a little more of that in my opinion.
Parenting takes an enormous about of intentionality. It's easy to focus on intentionally creating memories, intentionally investing in their sports development, intentionally investing in their academics. However, intentionally investing in their soul is by far the most important thing we can do for our children.
Here are practical ways to become a family that is all in for Jesus. A family that desires to become totally immersed.
 Prayer – Prayer is where the power is. Whatever you do, when not guided through prayer and the power of the Holy Spirit, is our own attempts. If we want our family to be all in, we pray us there. Begin a family prayer journal. Hold family prayer meetings. Pray before meals. Pray as you part ways during the day. Pray when you come together at night. Pray as you close out the night with each child. Pray beyond yourselves. Pray for others. Pray for this world. Pray specifically. Pray boldly. Pray as if you believe He actually cares and listens. Pray as you are driving the kids around town. Pray out loud in the car. Stop and pray immediately for things. Don't put off prayer by saying, "Let's pray about that." Instead, stop and pray immediately. Guide children into the habit of praying without ceasing. 1 Thes 5:16-1816 Rejoice always, 17 pray without ceasing, 18 give thanks in all circumstances; for this is the will of God in Christ Jesus for you.
Use Car Time Wisely – Families today spend almost more time in the car than they do at home. We are a busy society running our children to school, activities, errands, etc. Some of the deepest conversations take place in the car. Two of my boys accepted Christ while we were driving around town. Don't discount the value of this time. At the same time, protect this time. Make car time distraction free by not allowing electronic devices to steal these moments. You are guaranteed time in the car together- guard it, protect it, and use it to immerse them. A few ideas for using car time intentionally.

Audiobooks and Radio Dramas –Adventures in Oddysey, Chronicles of Narnia, The Story. These are a few of our favorites. Adventures in Oddysey is great for all ages. Truth in a story that captivates them from the beginning. The Story in audio is amazing. It is scripture told in chronological order as one big story. It's powerful and we have listened to it several times through. Narnia, amazing.
Christian music – I listen to one station only, and it plays only christian music. I'm not ashamed or embarrassed that I have no idea who the latest heartthrob is. I can hear a song that the world knows, and I've never heard it. And my kids likely haven't either. Music is powerful. It influences our moods, our thoughts, our beliefs. I don't believe it's innocent fun when the lyrics speak in ways that dishonor God. I'm given a high calling to protect the hearts and minds of my kids. At their ages, I greatly control and influence what goes into their ears and hearts. I don't want them listening to the messages of this world. The prince of this world is satan, and he uses music as one of his weapons that looks completely harmless. On the flip side, I want my kids to worship God always, not just on Sundays. We worship Him in our heart by what we allow in.
Spiritual Conversations – Use this time to discuss current worldviews. Compare them to the truth of God's Word. When my boys were little these conversations were quite basic. Now that they are older, we have used car time to discuss topics such as sex and purity, politics, abortion. We discuss apologetics, world religions, etc. Yesterday my 12 year old and I had a heated debate when he made a generalization to state his side of the argument. I agreed with his position but his method of arguing it was poor so I attempted to destroy his argument quite successfully. He became defensive and upset, which further helped me state my argument. When it was over, we had a great discussion on why generalizations don't hold and how he could have argued his case better. This happened in the 10 minute drive from church to lunch. Every minute we have counts.
Just talk – Going back to my earlier point, keep car time a guarded time where electronics aren't welcome. Protect this time especially if you are a busy family. Great conversation happens in the car. After school is when my kids are ready to let go of the stress of the day and share their days. Enjoy each other. While in the car, nothing competes for our attention, we simply have each other. Laugh, share, invest in the relationship.

Books and Movies – If we want to totally immerse, then the majority of what we read and watch should intentionally reveal God to our children. We read aloud as a family regularly. We read individually to each of the boys each night. We often read during a meal time, it could be any meal. During the summer, we read aloud during the afternoon after we've all had some time to rest from the day. We use these opportunities to impart truth. The options here are vast.

Slow Down – The less chaotic schedules are the more time there is to have conversations that must take place. Are your kids overloaded with activities to the point you read this list and think there is no way? If so, what can go? And what is most important in light of eternity?
Talk, Talk, and More Talk – Our kids receive messages from the world at a pace that never slows and never stops. The information, the news, the social media, all of it creates a constant stream of worldliness that we have an opportunity to guide them through. But it's exhausting and we must determine not to take the easy way out. Our kids need a constant bath in truth. A constant bath in what is holy, righteous, beautiful, pure, and good. The world has twisted ideas and blurred lines so that many kids don't see the harm in what God sees as deadly. Our role is to keep that dialogue steady and strong.
Keep them busy but not entertained – Kids today simply don't understand boredom. They have everything they want at the push of a button and touch of an icon. And we've created environments where our kids believe the world spins around their desires. They struggle to see outside themselves because we spend so much energy catering to their desires. Serving as a family can be a way to walk the walk together.
Read the Bible– This is critical. The Bible is truth. If they don't know it, they don't know truth and the world will eat them alive. They need to see mom AND dad reading God's Word. They need to see it transform us day by day. They need to see us go to it and find answers to life's perplexities.
I can give this list that sounds wonderful, ideal. And some will read it and think it's impossible. Others will read it and pick one thing to focus on. Still others will go all in. But there is one key to totally immersing our kids in truth. We must be connected as a family for this to work. If the family unit is split apart because of crazy schedules, if kids spend more time with friends and activities than at home, if the relationships have been broken and torn, then some of what I listed will be met with a fight. So if that describes your family, don't leave here discouraged. Simply start with step one. Pray. That is where the power is. Let the Holy Spirit direct you to the next step of repairing and restoring strained relationships.
The world has forever shifted. The "world" has launched a full attack against our kids. The attacks often are disguised as anything but an attack. As parents we can find ourselves wanting our kids to fit in and not be alienated. But that is not biblical either. We are aliens here and it's ok for our kids to grow up as aliens. Otherwise, if they fit right in, they may never desire anything other than what everyone else has accepted.
1 Peter 2:11 "Beloved, I urge you as aliens and strangers to abstain from fleshly lusts which wage war against the soul."

Want to receive posts slipped into your inbox? Sign up here so you won't miss a post. Subscribers receive a free ornament download to accompany Seeking Christmas.
This post contains affiliate links.

https://renee-robinson.com/wp-content/uploads/2016/07/IMG_8266-e1468866118782.jpg
400
533
Renee
http://renee-robinson.com/wp-content/uploads/2017/08/ReneeGrey_03.png
Renee
2016-07-19 05:00:53
2016-07-19 10:17:51
Total Immersion Is The Way To Bathe Our Kids in Truth