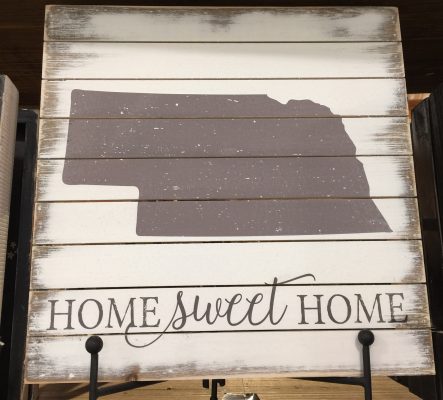 Our family is unpacked in our new home in Nebraska. I have shared little on my blog space about the miracles we've watched God perform to get us here. Partly because I've had no time to write. I've shared snippets on Instagram or Facebook, but God deserves more glory than snippets. I've written in my prayer journal, and I hope to share soon a few of these stories online. I've been sharing the stories with anyone who will listen.
In the span of eight short weeks, we learned of our move, listed and sold our house in 3 days, bought a house over a whirlwind trip, I spoke at a women's retreat, we set out on a goodbye tour, wrapped up loose ends, watched our house packed and moved cross country, now here we are two months later.
As I unpack boxes, I feel my soul unpacking. It's been holding and storing quite a bit over the past two months.
When God moves you from a place you felt well planted to a place of unknown, you begin to notice hidden areas of insecurity. You begin to see idols you failed to notice in your well-planted home. You begin to see areas you thought your identity was firmly rooted in Christ but in reality it was actually trying to find roots in reputation, ministry, or being known.
When you live around people who know you, you have nothing to prove. You are known by the ones you do life with. If you mess up, they know you, they give you second chances. You can live with your guard down because they know your heart. They know your affections and priorities. They know Christ is your center.
Then God moves you away from the comfort of being known. He moves you away from that safety net that entangles your identity with things of this world. Suddenly, you find yourself with God alone. What a glorious place to be.
I find myself challenged. Do I believe what I've told myself? Is my identity solely rooted in Christ? In Christ alone? Am I living every day for the single purpose to glorify Him? If so, then it doesn't matter where I live or who knows me or doesn't know me. My eyes locked on Him, all else matters little.
I'm noticing that my eyes are on life around me more than I realized. I'm seeing that I've said I don't care what people think about me because when my life is given for His glory that's all that matters. But God has me in a place where no one knows me. There is a temptation to try to prove myself. To show that I am a good person, a trustworthy friend, a loyal confidante.
Quietly, He's been whispering to me to simply abide in Him. There is nothing to prove. He wants me as a vessel for Him.
I pray this often- "Lord, use me however You want. In any way you see fit. Make me wholly yours. Bend me, shape me, use me for any purpose. Make me all of yours."
We stood singing praises in church yesterday. I felt His Spirit. Tears filled my eyes for no reason other than I felt the Holy Spirit. I heard a voice in my head say, "Don't quench my Spirit." I began an internal dialogue with God because my heart felt it might explode with love and joy. It was unexplainable. Simply His Presence falling over me filled me to the point I felt I might burst. And I heard that voice tell me not to quench the Spirit.
So I laughed in my head. I responded in my heart, "God, if you want me to raise my hands right now, you will have to force me to do it."
You know why? Because I'm unknown. I'm uncomfortable. I'm worrying more about being unknown and what people might think of me rather than sitting in my identity in Christ alone.
You know what He did? The pastor asked the band to play the end of the song again and said he wanted everyone to raise their hands as we sang the song.
Yes, you read that right. I told God He would have to make me. And He did.
I could do nothing but laugh as I raised my hands in praise. Praise to the God Who hears our cries. Praise to the God who desires we live proving nothing to the world around us because we are living sold out to Him so the world will see Him without the distraction of us.
Lord, You are beyond comprehension. Your ways are too glorious for me to understand. Make me all of yours. Remove the distraction of me so I can be all you have made me to be. Set before me the path You desire I walk, hold my hand along the way. Let me hear the intimate ways you speak to me. Let me not miss one of your whispers. Increase my sensitivity to Your voice. Let me treasure your Word in my heart that I might not sin against you. Make my heart love you and your word more than anything else in this entire world. I love you, Lord. In Jesus' name I pray, Amen.

http://renee-robinson.com/wp-content/uploads/2017/03/FullSizeRender-1-e1490615311607.jpg
400
443
Renee
http://renee-robinson.com/wp-content/uploads/2017/08/ReneeGrey_03.png
Renee
2017-03-27 11:53:54
2017-04-21 11:10:36
When No One Knows You, You Are Still Known