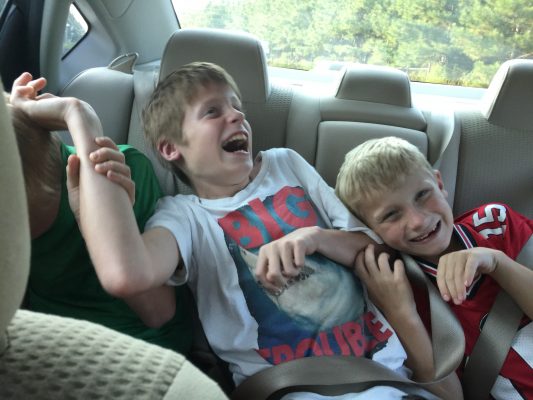 Yesterday I shared how God confirmed we weren't to wait for my birthday to start celebrating. If you didn't read yesterday's post, start there. We dropped Andrew at one of his educational therapies, and the two older boys and I headed to the library. On the way we made a stop at Dunkin Donuts.
"Alright boys, let's pray. Whoever God brings to the window I'm telling them about Jesus." Ya'll, this is how I see the power of God so vividly. You would've thought I had told the boys I was buying them each their own dozen donuts.
With racing hearts, we prayed as we drove, "God, thank you for Jesus. Thank you for salvation. Thank you that we can share that gift with others. Thank you for the Holy Spirit who enables us with power. Jesus said that greater than having him with us is having the Holy Spirit in us. Thank you. We pray that you would bring to the window the person you have for us to share the gospel with. We pray that right now you soften their hearts and prepare them to hear your words. Give us the words. In Jesus Name, Amen."
I ended praying and Jacob said, "Mom! You just missed the turn!! Now it's going to take us forever to get back out."
Immediately, I thought to how we just prayed for God to bring the right person to that window.
"Boys, do you not think me missing that turn is part of God's plan to order the circumstances so that the right person comes to the window?"
We turned in just after another car got in before us.
"Mom, don't say it through the microphone."
"Don't worry. I'll be sure we are face to face."
I placed our order. Waited for our turn at the window. My heart began to pound. Louder than it pounded the first year I began speaking in front of groups of people. What in the world?
He came to the window, early twenties maybe. Doing 3 jobs at once. I saw the line piling up behind us. Felt the pressure of the rush hour time of the coffee shop.
The timing feels off. No. The timing is always perfect.
Hastily, he grabbed my credit card and disappeared back inside the window. He appeared moments later, thrust the card back at me, and disappeared again. The window opened again as he handed one coffee, then a hot chocolate. The window closed again.
"Ok, mom, this is it."
We watched as another lady made the smoothie and it appeared she would come to the window.
Lord, is it her and not him?
She handed the smoothie to our guy, he opened the window, handed the smoothie over while saying, "Have a great day."
"Can I ask you a question?"
He smiled, "Sure."
"Do you know Jesus?"
Time froze. His expression, as Jacob would say, looked confuzelled.
"What did you say?" He leaned out of the window closer to my car.
"Do you know Jesus?"
He paused. His eyes held mine as he said, "Yes."
"Awesome! Well, would you pass this along to someone today who you might think doesn't know Jesus?"
He took the Bible tract from my hand and placed it on the counter next to the register. "Sure."
As we pulled away from the window, the boys began immediately chattering. Do you think he really knew Jesus or just knows about Jesus? I wonder if he will read it? I wonder if he will give it away.
I began the process of self-criticism. Why did I say 'Do you know Jesus'? We live in America. It's easy to say yes to that and still be living a life separated from God. Why did I take the easy way out.
"Mom, that was awesome!"
"That felt completely clumsy, awkward, and totally unnatural. I wish I could've shared what Jesus has done in my life."
Then I stopped. This is what the enemy wants me to do. Focus on me, myself, and my words. Forget it. We prayed for the power and the work of the Holy Spirit.
"You know what, boys. It doesn't matter what we said. We prayed that we would be a vessel. God has the power to change how he perceived that exchange. We did what He asked and the rest is up to God. He might open that thing in a year. Or today. He might leave it there for the person who God wanted it to get to finds it. We don't know. And we never will know. But that is not what it's about."
We got to the library and settled into our work. Jacob decided he would share the gospel with someone in the library. I looked at him in wonderment. "The next person that God brings to us, I'm going to share with."
Moments later an older woman appeared steps from our table perusing the books at the end of an aisle. He raised his head, eyebrows raised at me. He darted his eyes back and forth from her to me asking without words, "Is she the one?"
I shrugged my shoulders, silently affirming that he would be guided by God not me.
He leaned over and whispered, "Does she work here?"
"I don't know, but it doesn't matter."
"I'll be right back." He left the table and came back within a few minutes holding Bible tracts. He slid them under his Logic book and went back to his work keeping one eye on the woman at the end of the aisle.
She disappeared and he said, "If God brings her back I'll share with her."
Minutes went by and she didn't come back. Jacob jumped up from his seat and darted away. Seconds later he rushed back, picked up his Logic book, grabbed the tracts in hiding, and raced away.
Several minutes passed before he made his way back. His face glowed. Literally glowed. His face told me everything. He had just obeyed God and felt the blessing of obedience.
"Mom, I did it."
"No you didn't!"
"Yes, I did!"
"What? When? How? I didn't hear you!"
"I followed her to her car." (Side note, we are now praying for wisdom and discernment and discussions of not going to cars.)
"And???"
"I asked her if she knew Jesus. She stopped and just looked at me at first. Then she said yes."
Sounded exactly like our first exchange.
"I shouldn't have said that to her. I should've asked her if she has a relationship with Jesus. Or something else."
"It's ok. God will use your offering however inadequate it seems. You obeyed Him, which is the most important thing. And you gave her the gospel to take home with her. Now our job is to keep praying for these two people. We don't know if they will end up reading it, realizing they need a Savior, and give their life to Christ."
The adrenaline was flowing through him. Now it was contagious. Zachary wanted to find someone. Andrew wanted to find someone. When we picked Andrew up from therapy and told him, he said, "You know, you don't have to give them one of those things. Just tell them who Jesus is." I love his simplicity.
Sharing the gospel itself isn't uncomfortable or new to me. Sharing the gospel with total strangers- this is new. I can share the gospel all day long with someone I've built a relationship with, a friend or a family member. Someone I know something about their life and can see how God is drawing them. But a stranger I know nothing about. That is a different story.
I can muster up a dozen or more excuses why I shouldn't tell the cashier about Jesus. What if she's already a christian? What if I feel the pressure of the line behind me and stumble over my words? What if she is offended by my words?
These are terrible excuses. I had a knowledge of God my entire life. I never disbelieved in Him, but I never had a personal, saving relationship with him until after I got married. Same with my husband. What if all the people in my life held back sharing the greatest gift I've ever received because they didn't want to offend me. Or what if they held back because they were more filled with themselves than they were with a love for seeing me enter into eternity with them?
A month of darkness God used to speak many things to me. One being that my self sins are great. If I'm honest, the thing that holds me back from telling every person I see that Jesus saves is my "self". It is more of a concern of if I say the right thing, what I will look like, if I will be humiliated in the face of their rejection. And God is asking me to lay down myself. He is asking me to love Him more than I love anything else in this entire world.
A radical love for Christ leads to a radical love of people.
So here's my confession to you. I don't love people well. If I really look into my heart, I can't deny it. If I loved people the way God desires I love people, you wouldn't be able to stop me. His love would pour through me all over each person I encountered.
I pour out love in the easy ways. The comfortable ways. Meeting a need, helping a friend, sharing a word of encouragement. These are necessary and good. But they take little from me. I didn't really lay aside much of myself. Because the much of myself in need of laying aside is my pride, my fear of rejection, my fear of offending. These do not come from God.
Years ago I sent a dear friend a Bible. The rejection scarred my heart. Jacob encouraged me to send this friend, an atheist, a Bible. He stood over my shoulder as her email landed in my inbox. We silently read her angry words lashing out at me. Telling me how dare I send her a Bible knowing she doesn't believe there is a God. Her final words to me told me she was ending our friendship.
It hurt. I cried. And Jacob looked on in utter astonishment. I explained to him that the Bible tells us the gospel offends. It's not my friend that is rejecting me, it's the enemy at work rejecting the Word of Truth. The results are not up to us. We are responsible for sharing the gift we hold, but we are not responsible for the person choosing to accept or reject the gift.
Yesterday I shared how God has asked me to mark my 40th birthday. I want to be very clear with you. I'm not sharing for a pat on the back. I'm not sharing so you think I'm a super christian. I'm sharing for you to see two things. The power of God is unbelievable and moveable in ways we can't understand. And I want you to hold me accountable. If I kept this secret, I fear I would begin to tell myself things like, "Maybe that isn't what God told me to do." Or "No one knows I'm supposed to be doing this anyway, so it doesn't matter." It matters. Jesus could return today. Or the next person I come in contact could die in the next hour.
I am also asking for your prayers for the next 40 days. I am asking you to pray bold prayers as our family seeks to walk the life of a missionary on its home turf. Our desire is to see lives transformed. To see the gospel advance. We lose sight of the need for salvation right here in our own neighborhoods. I'm surrounded by people living in darkness and I hold a light to share with them. I'm praying for courage and boldness. For a deep love for people. For wisdom and discernment. For mercy and compassion. For divine opportunities.
And I pray that walking in obedience with my children will teach them more about obedience to God than any devotion I can read them or any lecture I can give them.

http://renee-robinson.com/wp-content/uploads/2016/09/IMG_9442-e1475063248140.jpg
400
533
Renee
http://renee-robinson.com/wp-content/uploads/2017/08/ReneeGrey_03.png
Renee
2016-09-28 11:48:17
2016-09-28 11:48:17
God Told My Son To Follow Him, So I Went Too