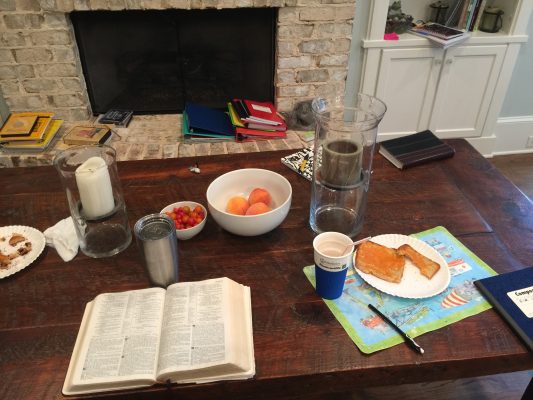 Sometimes you plan and plan, prepare and prepare, and you still aren't ready for what comes. You even devise a plan against what you fear. Yet when the Lord has work to do in your heart, no plans and preparations will prevent  from happening what needs to happen.
I'm scared of homeschooling. Terrified. It's the thing the Lord has nudged me towards for years. It's the beautiful thing my heart wanted. At the same time, I'm scared.
Failure isn't on display in the planning, it's in the execution. Can't I stay in the planning stage, Lord? I have some great ideas, fabulous resources. I've read all about what to expect and what works best for different families. I'm ready, but I'm not. I'm afraid of failure. It's more comfortable to talk about ideas and plans than to risk the implementation.
I'm reminded of a letter I wrote to my son about why I want him to fail. Lord, are you asking me to be willing to fail? But I don't want to fail. I'm a first born. You know that. We don't like to fail.
People keep asking me when we plan to start school. I answer back with a shrug of my shoulders. I'm scared to give a date. Setting the date makes my pending failure real. Eyes will be watching. The pressure intensifies. If no one knows we've started, they won't see the failure quite so soon.
My friend sent me this post by Sarah Mackenzie titled Do It Afraid. She didn't know I was afraid. But God did. For those who think God doesn't speak, I strongly disagree. He speaks, and we hear if we are listening. God knew I was afraid.
I decided to lessen my fears, we would ease into homeschooling. It was a grand plan. We'd start weeks before I'd mentally prepared to start. But we'd start small, gently, and it would be beautiful. We would do one lesson in one subject per day per child. We would get a feel for the time required, level of difficulty, the flow. I could then plan more about how this will work.
Andrew has been begging me to start. "What are we waiting for? Let's start now!"
"Ok, let's start Monday!" Still pushing it away. I needed a little more time to plan and prepare.
I'd still have about 5 days to start gently. I spent more time than a seasoned homeschooler the day before planning our next 3 days. I only planned out Bible, History, and Science. I read through lessons, thought about materials needed, organized notebooks. It's going to be beautiful!
I woke early, had my quiet time with the Lord, showered and dressed. Andrew woke in a pleasant mood, had breakfast, cleaned his room. The older two awoke, had a wrestling match, started preparing their breakfast.
This is it. Let's do it. Gently. Beautifully. It's no different than any other day. We always read devotions and pray. Discussing scripture is normal. You can do this!!
"Hey, boys, I'm going to read a devotion while you are eating your breakfast."
So far so good. Nothing strange here.
I pulled out my friend's newly released devotion, Point Me To Jesus. I began reading. Nothing new here. We read aloud all the time. Three sentences in Zachary asks me to pause. He blends his protein shake. I pick back up for 2 more sentences. Andrew asks a question. I stop and answer. We start again. Jacob interjects.
It's ok. I'm sure they got the point. Let's just pray.
"Hey, boys, let's pray." I began praying. Following the "correct" format for prayer. Praising him, repenting, asking, thanking. It was longer than a "thank you for this meal" prayer.
"Amen," I ended with a satisfied smile in my heart.
Andrew heaves a deep sigh, "Mom, why did you have to pray so long? I don't like long prayers. I like shorter prayers with less words."
With tightened jaw and clenched teeth, I slowly responded, "Because God deserves as many words as we have to give Him."
The tension pumped through my veins, tightening muscles I lived unaware of. Just breathe. It's ok. It'll be beautiful.
"Boys, get out your Bible notebooks. We are going to begin to memorize Psalm 91."
Jacob answered, "I already know this."
"Write 91:1 and then we will recite together. We will add to it as we learn it."
One child complained, "This is a lame way to do it. We need to do it like I did it in school." He went on explaining to me how they would recite every so many days or verses and test after so many verses.
"I don't want to test you on Bible memory. I just want to love God's Word and get it in our hearts."
"I want a test. I want to see my grades."
Why do they demand a grade? Don't they see the freedom I'm offering them? They are asking for that which weighs when I'm offering a better way.
The Holy Spirit spoke louder in my heart. You too place a burden on yourself. My way is lighter. I offer a better way.
With sighs and attitudes, they wrote the verse. I asked them to recite with me. Two slouched in their seats and mumbled. I felt the anger rising. That tension began to flow faster, the muscles in my neck sending tears clutching the gate ready to release the flood at the next word.
"If you were at school, would you be slouching and mumbling? NO! You would stand up and recite the verses with reverence and respect!"
Wait a second, didn't I just try to deprogram them from doing things the "school" way? Am I sending mixed signals? What's right? What's wrong? Lord, what's wrong with their hearts?? And what's wrong with this! I did everything I could to prevent this very thing from happening and now it's happening.

I heard Him again. Your heart, daughter.
I closed my Bible with tears at the cusp of escape. One more word and I'm done. I left the mess on the table as the boys skipped away from the table as if nothing in the world was wrong. I ran to the screen porch ripping open the door. A foosball match broke out inside while my sobs broke out in the aftermath of our unofficial planned day one of homeschool.
The tears refused to dry. I knew it would be hard. I knew it would look like this at times. Eventually. But not now, not today, not like this when all we were doing was Bible on a day they didn't even know I was secretly planning to start.
I heard every whisper of the enemy. Every lie and every threat. Every negative thought. I heard it all. And I sobbed harder. I sent 3 texts immediately to 3 people I knew would stop what they were doing and pray. And they did. Pulling off the road to pray. Stopping their own busy day to pray. God is faithful like that.
They told me it was normal, to listen to truth over lies. The sobbing continued for a long time. I moved from the screen porch to my office. I sat in the dark praying. Andrew walked around the corner and peered through the glass of the door. "Mom, are you ok?"
"Yes, I'm fine."
"Why are you crying?"
"I don't really know. A lot of reasons I guess."
"Are you crying about Haiti?"
I smiled, "No, sweetie, I'm not."
"Well, mom, I'm not trying to be mean, but when you come out of your office, you might want to dry up your tears. The boys don't need to see your face like that."
I smiled at his 7-year-old face getting more mature by the day. "I will. Thank you. I'll be out in a minute."
A few minutes later I walked back into the kitchen staring at the table in the same state it was in when I fled for air. Slowly I retrieved the Bibles, stacking them on the shelf. I gathered pens into their perfectly organized spots. I looked at my well-planned day and gave a snort as I mockingly checked off Bible.
My energy was gone. So many emotions running through my body I physically felt them. My stomach ached, my chest squeezed, my throat dry.
Lord, I know You called me to this. Therefore, I stand on your promises and your truths. I refuse to listen to the lies of the enemy. Lord, Your grace is sufficient for me for your power is made perfect in weakness. Therefore, I will boast all the more gladly about my weaknesses, so that Christ's power may rest in me. (2 Cor 12:9) You are my refuge and shelter, my God in whom I trust. (Psalm 91:2) Lord, I can't do this without you. I need you desperately.
As often happens, I relied on Him a tiny bit and relied on myself a giant bit. What a gracious God we serve to let us fail only to scoop us up reminding us it's not up to us, the burden isn't ours to bear. The Lord, in His mercy, showed me how I relied on myself to do what only He can. He desires to create something beautiful. But I have to be willing to let Him.
I let go of my agenda for the day. It was a false start. We can try again another day. God reminded me that only days before we'd had several beautiful "successes" in trying out a few subjects. Deep breath. This time we will move with Him not ahead of Him.
Oswald Chambers says in My Utmost For His Highest "God's training is for now, not presently. His purpose is for this minute, not for something in the future. We have nothing to do with the afterwards of obedience; we get wrong when we think of the afterward. What men call training and preparation, God calls the end. God's end is to enable me to see that He can walk on the chaos of my life just now. If we have a further end in view, we do not pay sufficient attention to the immediate present: if we realize that obedience is the end, then each moment as it comes is precious."
If you enjoyed today's post, consider subscribing here to receive posts via email. You will receive a free Christmas ornament download that accompanies Seeking Christmas – Finding the True Meaning Through Family Traditions.

http://renee-robinson.com/wp-content/uploads/2016/08/IMG_8970-e1470253075762.jpg
400
533
Renee
http://renee-robinson.com/wp-content/uploads/2017/08/ReneeGrey_03.png
Renee
2016-08-04 05:00:03
2016-08-04 10:28:45
When the best laid plans fail