I should really become more systematic with sharing posts about what I've read and am reading. It's far too sporadic. Nonetheless, here's a few books I've read since my last post Books I've Read This Year and Why We Read Aloud.
Personal Growth/Non-Fiction/Christian Living
Switch on Your Brain by Dr. Caroline Leaf
It's a game changer kind of book. I borrowed my friend's copy which she had underlined and highlighted unlike anything I'd ever seen. The main thing I learned here is that I'm not an active enough reader, clearly.
But seriously. I think everyone should read this book. It's really that good.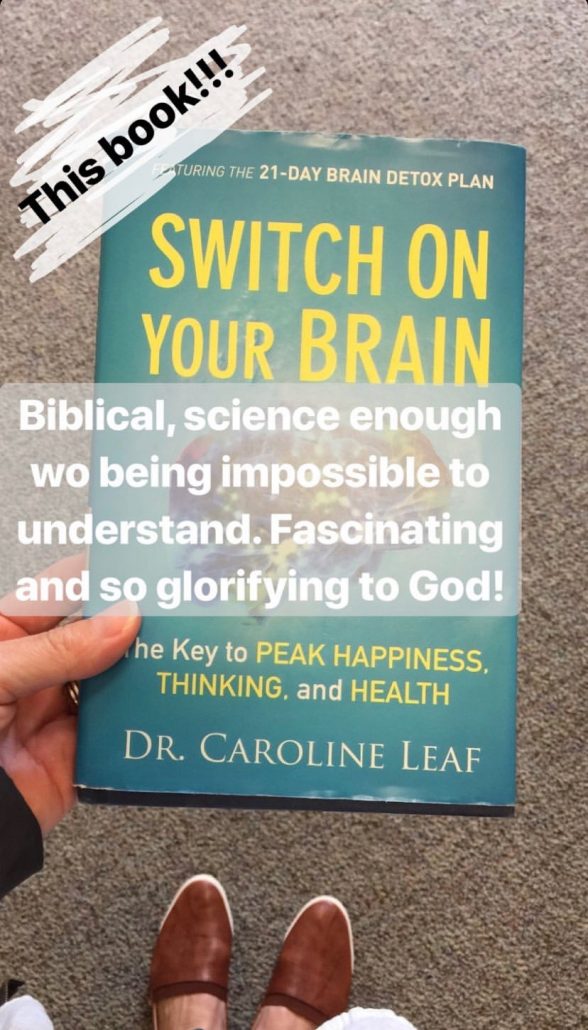 Your Best Year Ever by Michael Hyatt
I loved this book. I actually listened on Audible and finished in about 2 days. It was a fast, practical read about goal setting and habits. Apparently, a theme for my year so far. I approach these books as a cynic, sadly. But a trusted friend recommended, so I went with it. I'm glad I did.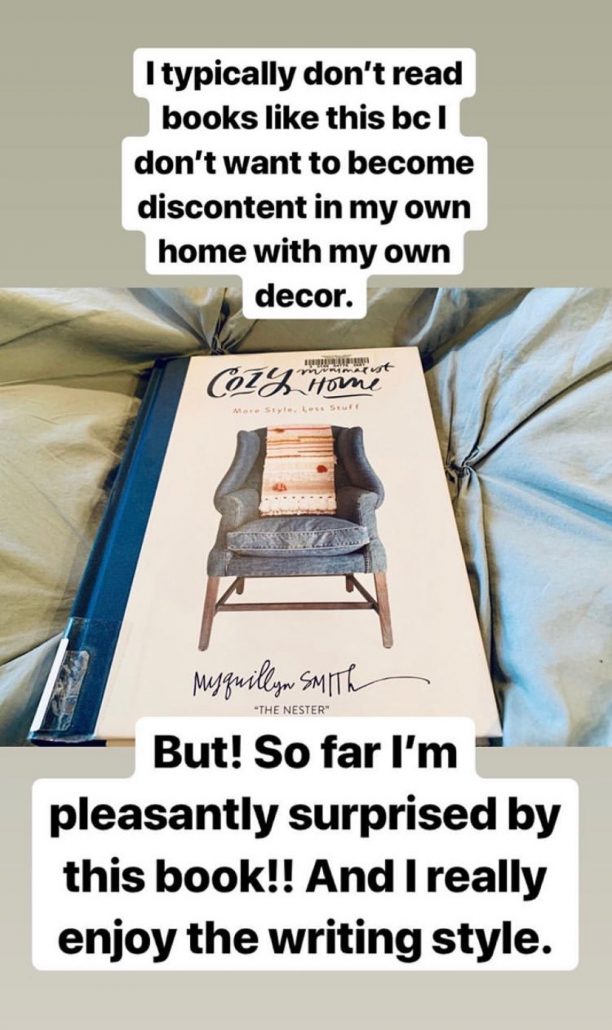 This is another book I would typically not find myself drawn to for a couple of reasons. I don't decorate continually. I literally decorate my home when I move and never again until the next house. Not kidding. It's just not my thing. Also, we are in a 2 year spending freeze, so why would I want to read a book that could cause me to want what I don't need.
Ok, but that whole minimalism thing drew me in. And the library had it.
It took me by surprise. I finished in a day and would definitely recommend. I particularly liked the writing style.
I didn't LOVE this one, but it wasn't bad at all. I just don't think I was the target reader for this book. I read it because the title appealed to me. If you recall from last year, remember was the word on repeat. I believe if we spent more time remembering who God is, much of our troubles would fade.
However, this book didn't really address that as much as I'd hoped. Instead it was a part of the author's personal journey. Her writing life/career, singleness, etc. I think someone in that same season of life would really love and connect with this book.
The Soul of Shame – Retelling the stories we tell about ourselves
"We're all infected with a spiritual disease. Its name is shame. Whether we realize it or not, shame affects every aspect of our personal lives and vocational endeavors. It seeks to destroy our identity in Christ, replacing it with a damaged version of ourselves that results in unhealed pain and brokenness. But God is telling a different story for your life. Psychiatrist Curt Thompson unpacks the soul of shame, revealing its ubiquitous nature and neurobiological roots. He also provides the theological and practical tools necessary to dismantle shame, based on years of researching its damaging effects and counseling people to overcome those wounds. Thompson's expertise and compassion will help you identify your own pains and struggles and find freedom from the lifelong negative messages that bind you. Rewrite the story of your life and embrace healing and wholeness as you discover and defeat shame's insidious agenda."

This book was a powerful read. I only picked it up because a friend mentioned it in passing. I recommend it to all christians.
Take Control of Your Life – How to silence fear and win the mental game
"With humor and wisdom, Mel Robbins expertly tackles the fear of change, rejection, and being alone, as well as imposter syndrome and feeling trapped in the wrong career. Each session is a goldmine of discovery as Mel guides you to find your purpose, improve your relationships, and ultimately take control of your life. In these times of high anxiety, it's easy to feel overwhelmed – that changes right now. If you want the tools to break free from fear and live to your fullest potential, this is a must-listen."

I read this as part of an accountability group. The title gave me pause, but it wasn't what I expected. Each chapter I found helpful in learning to cast out fear and embrace the person God created me to be and the callings He has placed on my life. While this book isn't written from a christian perspective, I still found much wisdom and nuggets to take away.
"In The Power of Habit, award-winning business reporter Charles Duhigg takes us to the thrilling edge of scientific discoveries that explain why habits exist and how they can be changed. Distilling vast amounts of information into engrossing narratives that take us from the boardrooms of Procter & Gamble to the sidelines of the NFL to the front lines of the civil rights movement, Duhigg presents a whole new understanding of human nature and its potential. At its core, The Power of Habit contains an exhilarating argument: The key to exercising regularly, losing weight, being more productive, and achieving success is understanding how habits work. As Duhigg shows, by harnessing this new science, we can transform our businesses, our communities, and our lives."

I loved this book. I love learning new things and the way he told the stories was so captivating and enthralling. I finished that book more aware than ever how powerful habits are and how we hold the power to change and shape our habits. Habits don't have to control us. Great read!!
Parenting
What a Difference a Mom Makes
I basically like anything by Dr. Kevin Lehman. He's one of my favorites. The beginning I devoured, but then it quickly became much of what I've read in his previous books. I love it because I love his advice, but I'd read much of it already.
Fiction
Well, this one I struggled to put down. I didn't want it to end at all. I fell in love with the characters, the plot moved not too fast and not too slow. If you like historical fiction, add this to your list.
"Spanning the 20th century, the story of Roses takes place in a small East Texas town against the backdrop of the powerful timber and cotton industries, industries controlled by the scions of the town's founding families. Cotton tycoon Mary Toliver and timber magnate Percy Warwick should have married but unwisely did not, and now must deal with the deceit, secrets, and tragedies of their choice and the loss of what might have been–not just for themselves but for their children, and children's children. With expert, unabashed, big-canvas storytelling, Roses covers a hundred years, three generations of Texans and the explosive combination of passion for work and longing for love."
I've never read a Jodi Piccoult book I didn't like until this one. I really had a hard time with the abortion subject matter as I shared in my Instagram post below. Sadly, I would not recommend this book.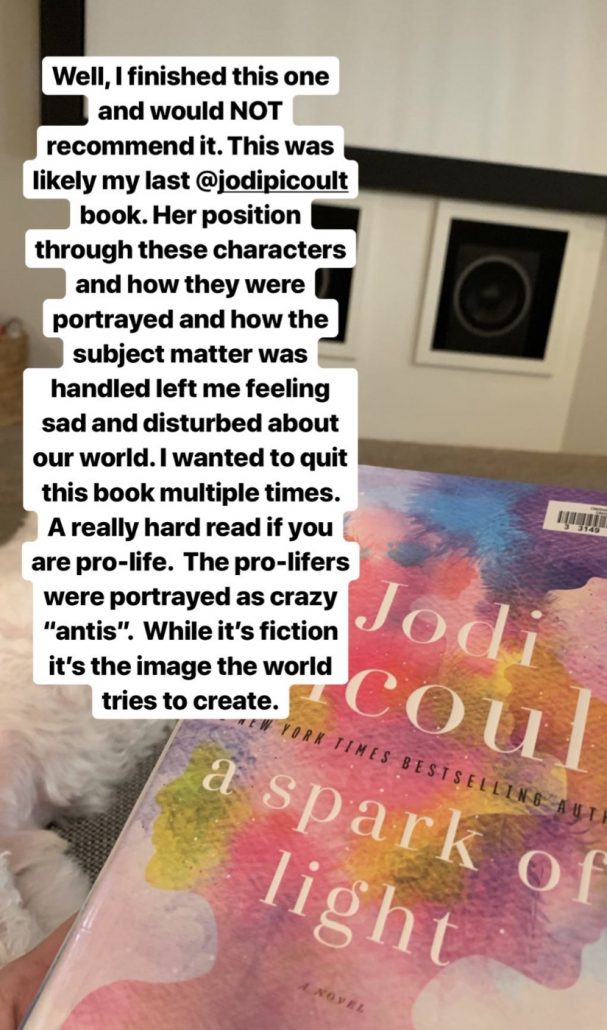 This is the 2nd time I've read this book. I read it aloud to Zachary and Andrew. Such a good read aloud.
I read this because I really enjoyed Before We Were Yours. It was a fairly quick read but wasn't as gripping as I'd hoped. But fiction for me is tough because it really has to be a page turner to keep me sitting still.
This is the prequel to Roses. Equally as good as Roses!

"Born into the wealthiest and most influential family in 1830s South Carolina, Jessica Wyndham was expected to look appealing, act with decorum, and marry a suitably prominent and respectable man. However, her outspoken opinions and unflagging sense of justice make her a difficult-and dangerous-firebrand, especially for slavery-dependent Carson Wyndham. Jessica's testing of her powerful father's love is only the beginning of the pain, passion, and triumph she will experience on a journey with the indomitable, land-obsessed Silas Toliver and headstrong Jeremy Warwick to a wild new land called Texas."
Until We Reach Home Lynn Austin
I've loved all Lynn Austin books, and this one kept me coming back. A sweet, while at times heartbreaking, and moving read.

"Life in Sweden feels like an endless winter to Elin Carlson after the deaths of her parents. When circumstances become unbearable, she determines to find a safe haven for her sisters.

So begins their journey to America . . . the land of dreams and second chances.

But as hardship becomes their constant companion, Elin, Kirsten, and Sofia question their decision to immigrate to Chicago. Will their hopes for the future ever be realized?

ONLY IN CROSSING A SEEMINGLY ENDLESS OCEAN WILL THEY FIND THE TRUE MEANING OF LOVE, FAITH, AND HOME"
Great book. I liked Roses and Somerset better. However, Titans was worth reading. It was filled with a bit less heartache     than her previous books. A more predictable ending. A sweet read to wind down my summer fiction spree.
Do you enjoy these posts? I don't know how many of y'all are readers???

https://renee-robinson.com/wp-content/uploads/2019/08/mydesign.png
1280
1280
Renee
http://renee-robinson.com/wp-content/uploads/2017/08/ReneeGrey_03.png
Renee
2019-08-06 11:43:48
2019-08-06 11:57:56
Books I've Read in 2019