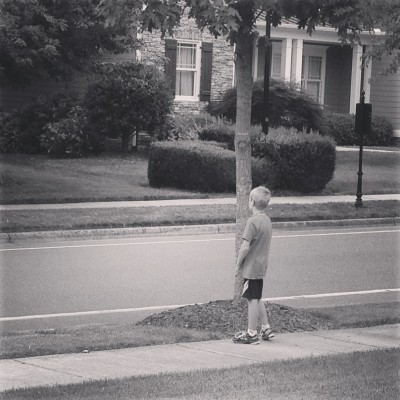 Dear Zachary,
You always said you wanted an older sister.  I can relate.  I always wanted an older brother. Instead, I had 4 sisters.  We don't always get what we want, but God gives us what we need. And it's always the best.
Before Marina arrived you already loved her.  You chose to love her without her earning your love.  Zachary, that is true love.  That is the love of the Father.  Love is not simply a feeling.  Love is a choice.  We feel love and we offer love, but sometimes we don't feel like loving, and we choose to love anyway.  You chose to love before you had a chance to feel love.
Because your mind and heart chose first to love, you experienced life to the fullest while Marina was with us for 5 weeks.  The fastest 5 weeks of your life.  You can look back with no regrets because above all else you loved.
1 Peter 4:8 Above all, love each other deeply, because love covers a multitude of sins. 
You threw caution to the wind.  You made it impossible for walls to erect around your heart. You told your heart that it was ok to love so hard it would hurt beyond belief. You bled the love from your heart straight into hers.
You live a pretty good American life.  You could've chosen to stay in your comfort zone and "love" her from there.  But you didn't love the comfortable way.  From afar.  You entered her life wholly and intentionally.  You left safety.  For 5 weeks you rarely left her side.
You taught me that love is selfless.  I saw it when you sat for hours doing what she was interested in.  You taught me love is patient.  I saw it when you put her needs first, waiting for your turn.  You taught me love is gentle.  I saw your tenderness with her so different than with your brothers.  I heard it in your tone of voice.  You taught me that love doesn't provoke.  I saw it when you diffused situations among siblings and looked for ways of peace.
Here's the thing.  It was genuine.  You can't try hard to love that way.  You have to feast on the love of God to be able to give that kind of love back out.  Watching you love Marina showed me a beautiful picture of the love of our Heavenly Father.
The love I have for you is unconditional.  It doesn't increase and decrease based on what you do or don't do.  However, somehow watching you love in this most uncomfortable way has caused my heart to grow exponentially.
You gave me the ability to see beyond circumstances and look through a lens of love.  You have given everyone in this home a beautiful gift by your example.  But more than that, a little girl returning to the other side of the world, heading back to a children's home where she struggles to feel loved, felt love for 5 weeks.  She tasted the sweetness of it.
Thank you for teaching me how to choose to love.
Today, I watch you grieve.  And you watch me grieve.  We all watch each other grieve.  Love is beautiful, but love can hurt in the most beautiful of ways as well.  One of the neat things about God is how He heals the parts in us that hurt the most.  When we choose to love, we can be sure there will be places that need His healing touch.
Love,
Mom
[box] Our family hosted a 12-year-old girl from Eastern Europe this summer through New Horizons for Children. 10% of my royalties from Seeking Christmas are donated to NHFC.[/box]

https://renee-robinson.com/wp-content/uploads/2014/08/zachary-e1407175811398.jpg
400
400
Renee
http://renee-robinson.com/wp-content/uploads/2017/08/ReneeGrey_03.png
Renee
2014-08-04 18:20:46
2014-10-06 16:43:11
Dear Child, What You Taught Me About Loving Recklessly