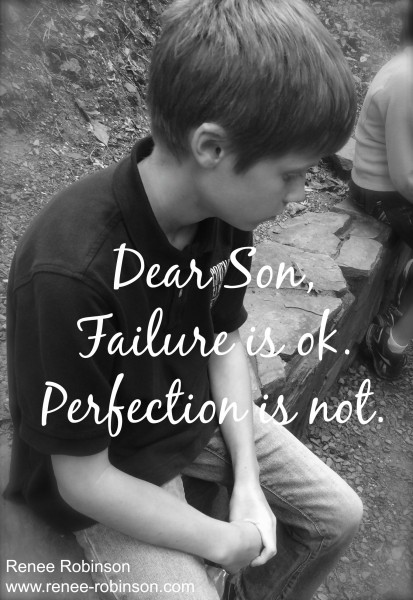 Dear Son,
When you left for school today, I saw the anger in your eyes aimed at me. I saw your frustration. I understand you felt treated unfairly. Your anger was directed at me because you were casting the blame for your mistakes onto me, and I wouldn't accept the blame. I wouldn't allow you to throw your mistakes and failures into my lap. I tossed them back into your lap. And that made you angry.
Beneath your anger I saw sadness. I know how sad it made you feel to feel so angry towards someone you love. So I want to talk a little about the situation.
It's hard to explain to you what I feel when you are so upset, which is why I'm writing you this letter. Keep it and refer back to it over the next few years. Sometimes we can't hear the other person's heart when our own heart is full of frustration and anger. Sometimes it's better to assess a situation when our tempers have cooled down so we can think more clearly.
Part of getting older is becoming more responsible. As a parent, one of my roles is to guide you towards independence. I need to encourage you to take responsibility for yourself and your choices. At your age, one of the ways we do this is by letting you be in charge of when and how you do your homework. You know what is due and when it is due. You know the time available, and you know our schedules. We give you guidelines and timeframes to work within, but we give you the freedom to choose how you use that time. The same for your chores and your free time activities. We are trying to teach you how to organize and prioritize your life.
Here's a secret you might not know yet. We don't expect you to do this perfectly. In fact, we expect you to fail more than you succeed. Pause for a moment and read that again then hear this: We expect you to fail, not because you aren't capable of success, but because you haven't had much practice. Practice makes us better. Failure teaches us lessons.
Failure is as important as success. Failure at times might be more valuable than success. When we fail at something, we learn what didn't work and can make adjustments for next time. When we fail, we develop a drive to work harder. We give a task more of us than if success came easily. We value the accomplishment more when we succeed if we have first failed at it.
Failure is ok. Perfection is not ok. We would rather see failure over perfection any day. But. But. But.
Failure is only ok when we are able to take ownership for the part we played in the failure. Can you look at a situation and say, "I messed up there. I made a mistake. I'm sorry." Those all are hard words to say. Our culture today is struggling at this. I see it in myself, which is why I want to help you now.
Ownership of our failures is the secret key that unlocks us from the chains that keep us from being all we were created to be. 
Part of your frustration comes from the pressure you place on yourself to please us or do things the way you think we expect them to be done. But you are a pre-teen, on the brink of adolescence and adulthood. We don't expect you to succeed at everything. And guess what, this doesn't change as an adult. I fail everyday. Multiple times a day.
The most important thing I want you to walk away with now is failure is ok, and owning up to your mistakes is golden. In the culture we live in, we struggle to accept personal responsibility. Don't follow the way of our culture. Be different. Be able to say, "I made a mistake. My fault. My bad. I'm sorry. I will try harder next time." It's ok to mess up. We just have to learn to see that we messed up and clean up our mess.
Be able to say, "I should have….Next time I will….."
Here's another secret I want to share with you: I didn't have this figured out at your age. In fact, at 38 years old, I'm only just now beginning to see the magnitude of this in my own life.
As a parent, my job is not to be your friend, though I cherish our relationship and adore being with you. My primary role is not to make life fun or a trip to the amusement park for you. My role is to love you unconditionally. To love you unconditionally means I have to do hard things like allowing you to fail. I could've gathered your homework for you. I could've reminded you countless times of your responsibilities. But when you are an adult, no one will be coming behind you cleaning up your messes and clearing a path so you don't fall. You will fall. I want you to fall as much now as possible so I can be here to lift you back up, dust you off, encourage you, and guide you. We will fall together. A lot. And that is ok.
Many of the roads we travel as we age will feel hard and bumpy, but if we stay the course, we will enter the even bumpier roads ahead prepared. We will have had practice navigating tough terrain- it won't shock us as much. We will be tougher and stronger for it. The roads don't become easier as you get older. However, the more practice we give you navigating tough roads while you are living with us, the better you will navigate tougher roads when you are on your own.
Sometimes we won't feel like friends. And that is ok. It's part of the growing up we are doing together. It makes for a richer and fuller relationship down the road. Tough days are ok when we are each able to look at the part we played, own up to our mistakes, say I'm sorry, and move forward.
I need as much work in this area as you do, so let's work on this together.
With all my love,
Mom
[box] If you enjoyed today's post, consider subscribing here to receive posts via email. You will receive a free Christmas ornament download that accompanies Seeking Christmas – Finding the True Meaning Through Family Traditions.[/box]

https://renee-robinson.com/wp-content/uploads/2014/11/Failureisok-e1416575165111.jpg
600
413
Renee
http://renee-robinson.com/wp-content/uploads/2017/08/ReneeGrey_03.png
Renee
2014-11-21 13:14:16
2019-01-10 12:19:14
Dear Son, Why I Want You To Fail