Today's post is sponsored and written by Active Parenting.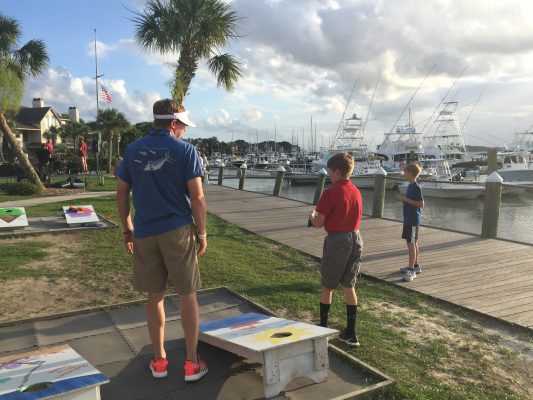 Sponsored and written by: Active Parenting
We all remember the days of trying to fit in and be "cool" as a kid. Today, it's more daunting than ever for kids to figure out who they are and how to fit in. Peer pressure is real and ever present.
What can we do as parents to encourage our kids to be more accepting of who they are and less concerned about what others think? Below are some activities you can encourage your kids to pursue that are healthy and that will help make them become more accepting of themselves and what they love to do.
And as always, as parents, we need to be encouraging of our children. Set realistic goals for them; express confidence in them and use positive gestures (thumbs-up or a hug), facial expressions and supportive language.
Related: find out what your parenting style is
Explore New Interests Together
Encourage your kids to branch out. Ice-skating. Guitar lessons. Color guard. Acting. Basketball. Key club. Habitat for Humanity. Life is full of choices. It's too easy for kids to fall into a rut and just do one thing. By opening up options, your child may surprise you (and themselves) and find something they are truly passionate about.
Try A New Sport
Sports encourage a healthy lifestyle while promoting teamwork and building relationships. Teams win games by working together and building each other up. When kids are a part of a team they learn how to work with others and focus on each other's strengths rather than weaknesses. Sports are a great way to help kids gain confidence in themselves, while supporting their teammates.
Also consider that the sport you choose does not have to be "traditional" sport in any sense (soccer, baseball, etc). It could be martial arts, riding dirt bikes, skateboarding, or something more abstract, such as fencing or riding horses.
Join A Club or Volunteer Group
In most schools, there's a club or volunteer organization for just about anything and if it doesn't exist already, it's usually not too hard to get one started. School clubs can be a great way for kids to get involved in something they love, be it Spanish, cooking, debate, chess or a myriad of other activities.
Finding a volunteer group helps kids learn about giving back to the community and opens their eyes to how the world works.
Keep in mind that you don't have to go skateboarding with your 10-year-old to show you are interested in his or her favorite activity. Talk to them about skateboarding, watch videos together on YouTube, and look for opportunities to encourage his or her participation. To keep your expression of interest on the positive side, make sure to be encouraging, be genuine, avoid being critical and ask non-judgmental questions.
Have questions on how to be a better parent? Visit Activeparenting.com better parenting page, which is a page for parents to learn more about training programs in your area.
So, why the push? Kids who are involved in extracurricular activities are less likely to pick up unhealthy habits and have higher self-esteem. Just like adults, kids slip into bad habits because they're bored and lacking a focus in life.
By getting your kids involved in activities that promote healthy behavior, they are more likely to figure out who they are without feeling the need to explore harmful substances and venture off the beaten path.
Thank you Active Parenting for sponsoring today's post.
About Active Parenting:
Active Parenting Publishers, Inc., was founded in 1980 by Dr. Michael H. Popkin, a former child and family therapist and Coordinator of Child and Family Services for Northside Community Mental Health Centers in Atlanta, Georgia.
APP delivers quality education programs for parents, children and teachers to schools, hospitals, social services organizations, churches and the corporate market. The Active Parenting model is heavily based upon the theories of Alfred Adler and Rudolf Dreikurs (click here for more about Adlerian Psychology as it applies to Active Parenting).
The most popular program is Active Parenting 4th Edition, for parents of children ages five to twelve. Active Parenting Publishers is recognized as an innovator in the educational market and is committed to our mission of developing human potential through our programs.
Visit Active Parenting on their website, Facebook, Twitter, Vimeo, YouTube, LinkedIn, Google+

https://renee-robinson.com/wp-content/uploads/2016/07/IMG_8342-e1468233299852.jpg
400
533
Renee
http://renee-robinson.com/wp-content/uploads/2017/08/ReneeGrey_03.png
Renee
2016-07-11 10:56:33
2016-07-11 10:56:33
Building and Inspiring Kids Self-Esteem