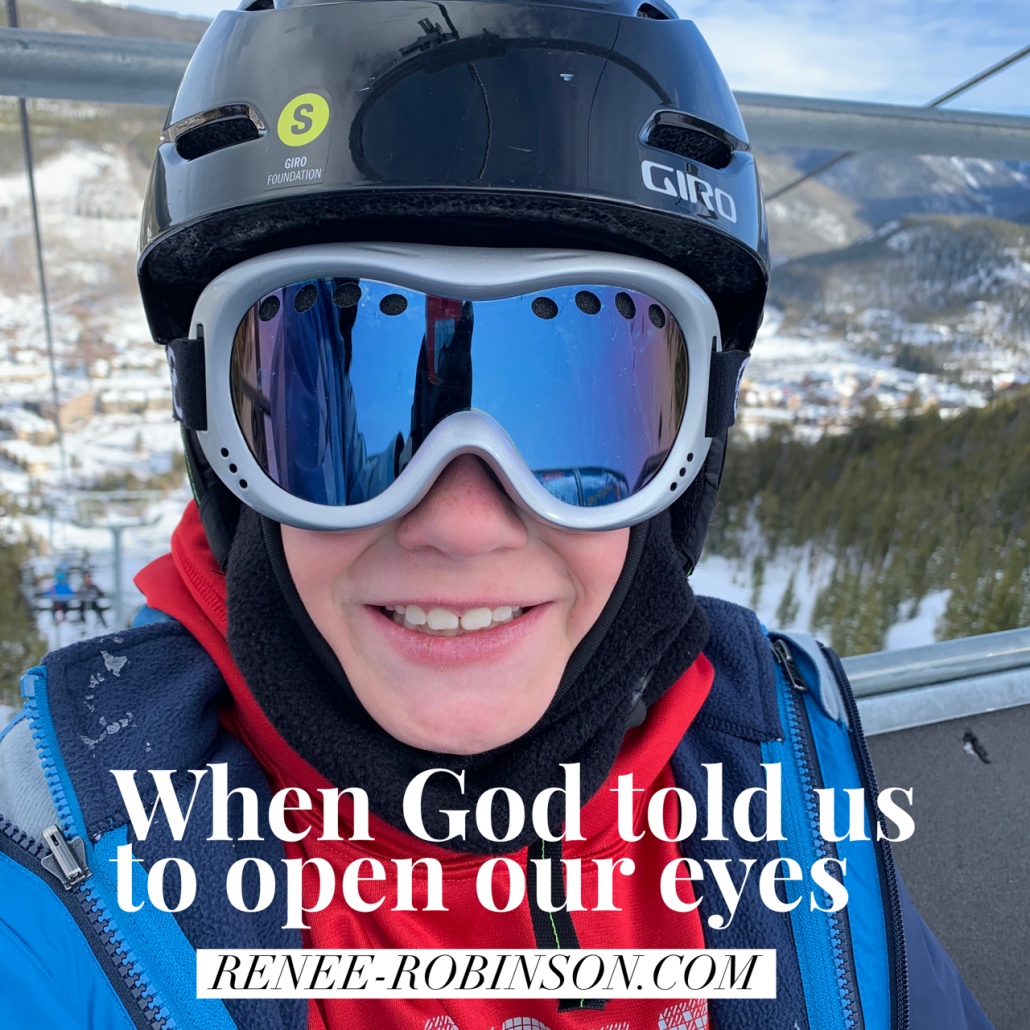 A year and a half ago, I prayed a prayer out of a prayer book for Andrew. It was a prayer against learning disabilities. As I prayed, I repented of accepting something as a life sentence that God could heal. I confessed my unbelief and prayed on his behalf for complete and total healing.
We claimed his sound mind. We claimed victory ahead of time.
That very night, Steve and I lay in bed reading when Andrew walked in upset saying he just wanted to be able to read like all the other kids.
We laid hands on him and prayed for healing. After we prayed Andrew said his body felt tingly from his fingers all the way up his arm. I felt the Lord say, "Go read."
I know I repented of unbelief that morning, but I felt it still there. Surely, God didn't simply snap His fingers and cause Andrew to read. Or did He?
I walked Andrew back to his room and reached for a book on the bookshelf, Devotions for Beginning Readers, and opened to the middle.
The title read: Open Your Eyes. The first line read, "If you want to read a book, you need to open your eyes."
Psalm 119:18 "Open my eyes to see the wonderful things in your teachings."
At that point I had chills over my entire body. I knew the Lord was speaking. Andrew would be healed. All connections would be made. And I planned to claim that healing for him.
The following morning I sat with the Lord and wrote out what had happened as well as my prayer for Andrew.
Here's part of my prayer journal on that day:
"Andrew will be an avid reader. Lord, let us walk out our healings by faith. May we pick up our mats and walk."
Everyday we've picked up our mat and walked since that day. It was one year after this incident the Lord led us to vision therapy. It was one and half years later to the exact day that reading finally clicked for Andrew.
Andrew is 10 years old. The Lord faithfully did what we believe He told us He would do.
It didn't come in our time. In came in God's time.
The healing didn't happen overnight, it happened over time. Day by day, God healed Andrew. He used doctors and therapists and homeschool. But mainly, God connected the disconnects and that is what we've been praying.
A few weeks ago Andrew had an appointment with the doctor at his vision therapy office. Andrew passed tests he couldn't even take when we first started. The change has been miraculous and a total answer to prayer.
I stand in complete awe of God.
I shared on Instagram last week this:
When we started this school year and when we started vision therapy Andrew could only handle reading a page at a time. He read aloud then I'd read aloud a page. We took turns. He'd have to use his finger to track the words, he'd skip lines, I'd have to hold the book so he could track.
Y'all!  He's reading chapter books totally on his own!!! And he's able to report back to me what he read. And because his brothers have read these dozens of times they can verify.
He's devouring books now and is in love with reading. We've told him for years that when God healed his vision processing issues, he'd fall in love with books. And we are seeing it.
We've prayed for these moments since he was in preschool when we knew something was amiss with how he processed information.
God is so faithful.
And now we enter our last 3 months of vision therapy. He needed this boost to carry him forward.
I had to share this update with you. So many of you have been here on this blog with me since Andrew was a toddler and preschooler. You've walked this road alongside us. You've traveled to different states with us. And some of you have even been here when this blog was Be Still then later Barefoot Walks. It's been a long time, friends.
So many of you I feel such a bond and closeness to because I've shared some of our most personal journeys and triumphs. I continue to be amazed by your loyal readership. In a world where there's so much to read online, you still show up. I'm grateful you allow me to share with you.
I added a new page to the blog. It's Good Stuff. Just like the name implies it's all my favorite things I think you'd love too. Check it out. I have much more I'll be adding in the coming days!

https://renee-robinson.com/wp-content/uploads/2019/01/mydesign-2.png
1280
1280
Renee
http://renee-robinson.com/wp-content/uploads/2017/08/ReneeGrey_03.png
Renee
2019-01-29 12:13:10
2019-01-31 03:07:20
When God told us to open our eyes