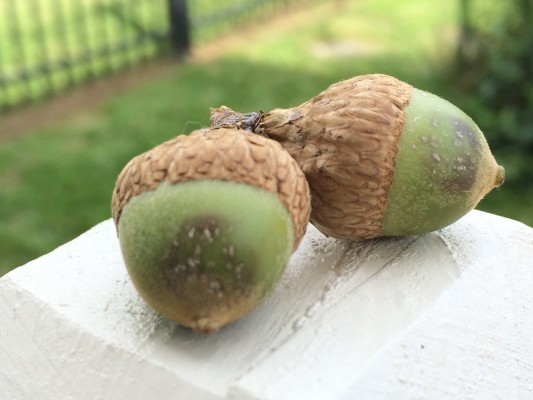 [box] Today's post is in response to the requests of many of you. The ones who wrote to me and said, "It's not my kids who I need to limit their electronic usage, it's myself." Or those of you who wrote me and said, "I'm afraid I am the one who is missing out because I can't put down my phone." Or the ones who simply said, "Can you write something for us, parents?" The letter I wrote to my boys about why we limit their electronics is viewed at numbers that leave me speechless. Since June I continue to receive emails that leave me in tears. You have asked me to write to husbands, which I did, to ourselves, which I'm doing, and to wives, which I hope to do.
Here's the thing, technology is wonderful when placed within proper boundaries. It doesn't take long before it begins to creep out of its boundaries. It doesn't mind breaking rules. It's time we put technology back where it belongs. As a helper, not a master.[/box]
Dear Me,
Do you remember the way he handed you the little baby acorn attached to a bigger acorn? The way he said, "Mommy, look it's a me and you one?" The softness of his still chubby fingers placed in yours. Remember the way you breathed in his freshly shampooed hair as you kissed his forehead with a thank you? Remember the way his eyes said more than his lips uttered?
It was a moment. One single moment in time, never to be another exactly like it. Yes, other moments will be, Lord willing, some may even resemble it. But that moment passed. Build a collection of those moments. Fill books and books with moments. Moments write the story of life. Real life.
Too much time on the screen and you will miss the acorn moments. You won't realize you are missing them because you are still there. Physically there. If your head is down, he may decide not to offer you the acorn next time. Or he may not think it resembles the "me and you." He needs your eyes to fully connect to you. He needs to talk to you while looking into your eyes. Hearts connect through the eyes not the screen.
He is good at knowing the difference in you being partly there or fully there. One day he won't be there at all. And you will have all the time you want for the screen.
The screen doesn't play fair. You see it won't sass talk you. It won't argue. It won't spill milk. It won't cry for no reason at all. It's very predictable. Its mood stays the same from day to day. It doesn't need anything from you. Instead it tells you to come to it and it will give you a break from the stress of life. It beckons you to escape.
I know the acorn moments don't equal the tantrum moments, the moments of defiance and disobedience, the moments of accidents in pants when we are too old for accidents in pants. The moments of sibling fighting and hurtful words. Yes, I know the majority of your day isn't filled with acorn moments.
You need the acorn moments. It's the acorn moments that lend sweetness to balance the bitter and sour moments that will follow. You need as many acorn moments as you can bank.
Much of your day feels exhausting, stressful, chaotic, and busy. Yes, this is part of life too. It's tempting to pick up that phone to get away from it all. It's right at your fingertips. It promises to make you smile, to make you laugh, to make you smarter, to make you more interesting. It promises. But it lies.
Remember that a beautiful life isn't filled with only beautiful moments. A deeply satisfying life isn't one where everything is worthy of a post. A beautiful life isn't what it looks like on the outside, it's how you view it from the inside. The screen shades your view.
Some of the most meaningful moments are the ones that can't be shared online. Life needs you fully engaged to handle each moment that comes your way.
Life is a collection of moments. Fleeting moments. Here today, gone in….a moment. They will not all look worthy of a Pinterest pin. They will not all win you mother of the year. But they all play a role in the story of your life. The screen will shield your view of the full story. It's like starting and stopping a page turner when all you really want is a solid hour to sit and read 2 chapters. The screen makes you go through the story of your life reading only a few sentences at a time, setting it down, picking it up. At the end of the book, you won't remember the intricacies of the plot, the parts of your favorite characters that sucked you into their lives. You will have snippets. Because that is how you went through life. One snippet at a time.
Don't experience life in snippets. Experience life fully. Put down the phone. Walk away from the computer. Screens will snippet your moments.
What you need most is a life filled with soul-filling moments that carry you through the seasons of change and the seasons of struggle. 
The screen moments are like empty calories for your soul. You will be temporarily filled. It creates subtle cravings that bring you back for more. It promises to satisfy longer each time, and you will believe it. Especially on the days you are tired of hearing the name "mom" called ceaselessly. Or the days the whining and crying has short circuited your nerves and left you desperate for anything other than what you are experiencing in that moment. The moments of weakness are the times it will draw you in the most.
I know you are busy. I know you are exhausted. I know you crave intellectual stimulation and conversation. I know you want to feel connected to the world. Many days as a mom you are left bored, disconnected, and feeling unimportant. I know that when you catch up online, you feel smarter, you feel wiser, you shared a few laughs.
Remember a screen won't hand you an acorn. A screen won't place its hand in yours. A screen won't make an impression on your heart that will remain for life. You will read this letter and likely forget it. You won't forget the acorn moments.
Now, close this letter and go make your moments.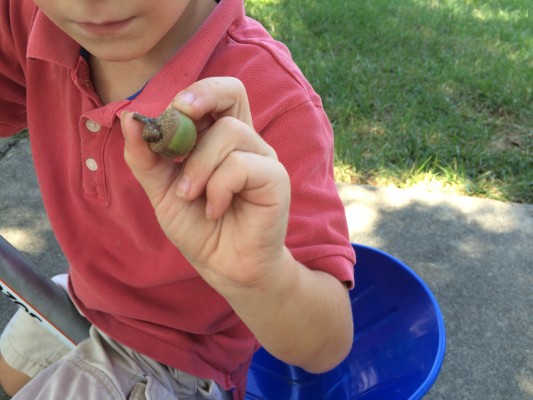 [box] If you enjoyed today's post, consider subscribing here to receive posts via email. You will receive a free Christmas ornament download that accompanies Seeking Christmas – Finding the True Meaning Through Family Traditions.[/box]

https://renee-robinson.com/wp-content/uploads/2014/10/acorns-e1412780056175.jpg
400
533
Renee
http://renee-robinson.com/wp-content/uploads/2017/08/ReneeGrey_03.png
Renee
2014-10-13 05:00:40
2016-04-11 14:07:05
A Letter To Me (and all moms)- What We Need To Remember Before We Open The Screen