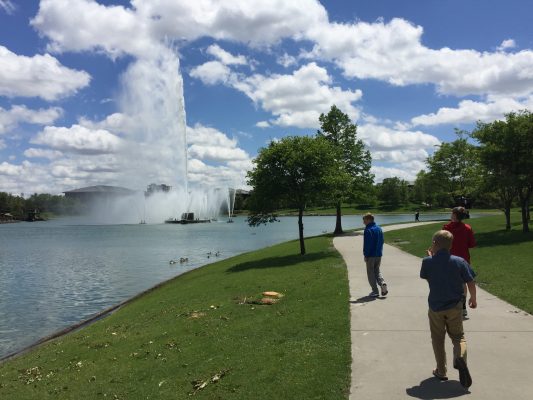 He sat across the table sipping his orange juice. He ordered a man-sized breakfast of chocolate chip pancakes, eggs, and bacon. I patiently awaited my whole wheat toast, sipping water, while dying at the smell of coffee all around me.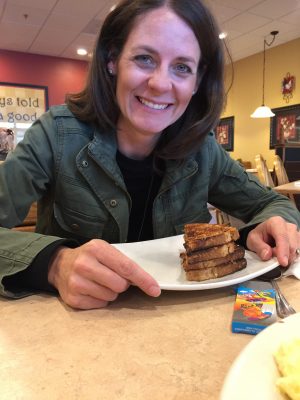 The night before I'd spent in the emergency room. The verdict? A stomach ulcer. My medical diet became no citrus, coffee, alcohol, high fat or fried foods, no chocolate, no tomato based anything, nothing spicy. Basically they said eat small and bland. This was meal one on medicine to help with the symptoms while I await further tests and begin the process of healing.
"Mom, wanna play tic-tac-toe?"
"Yep, but I'm hard to beat."
He grinned at the challenge. A boy is competitive by nature.
He placed the X. I placed the O while planning out my next O marking. I was strategizing 2 possibilities as he placed his next X. I went with my initial strategy to secure myself a sure win. The smirk began to give birth on my face as his 3rd X came down forming a 3 in a row. Smirk gone. Disbelief moved in its place.
He looked up at me incredulously. "Mom, what were you thinking?"
"Oh my goodness. I have never lost to one of y'all like this. I really can't believe that happened."
It was 3 across the top. Plain as day. Not many X's and O's to crowd the board. Simply that I wasn't focused on the step right in front of me. I was laser-visioned steps ahead- planning, plotting, and thinking so far out that I failed to see the very next move to keep me in the game.
Our walk of faith is a moment by moment game. One that requires our eyes set on the next step set before us. No need to worry and fret when our Savior simply says, "Take my hand and walk with me. Let me guide you, strengthen you, provide for you, protect you, pick you up when you stumble, comfort you when the aches and pains overwhelm you."
Matthew 6:25-34
Do Not Worry
25 "Therefore I tell you, do not worry about your life, what you will eat or drink; or about your body, what you will wear. Is not life more than food, and the body more than clothes? 26 Look at the birds of the air; they do not sow or reap or store away in barns, and yet your heavenly Father feeds them. Are you not much more valuable than they? 27 Can any one of you by worrying add a single hour to your life[a]?
28 "And why do you worry about clothes? See how the flowers of the field grow. They do not labor or spin. 29 Yet I tell you that not even Solomon in all his splendor was dressed like one of these. 30 If that is how God clothes the grass of the field, which is here today and tomorrow is thrown into the fire, will he not much more clothe you—you of little faith? 31 So do not worry, saying, 'What shall we eat?' or 'What shall we drink?' or 'What shall we wear?' 32 For the pagans run after all these things, and your heavenly Father knows that you need them. 33 But seek first his kingdom and his righteousness, and all these things will be given to you as well. 34 Therefore do not worry about tomorrow, for tomorrow will worry about itself. Each day has enough trouble of its own.
You see. I do worry though. I'm constantly thinking not only steps ahead, but weeks, months, and years. Maybe the reason I now have an ulcer?
The ER sent me home with two medications. Day one and two I still had pain but less intense. I found myself all day those first two days fearing the next bout of pain. Finding myself scared to go exercise or plan anything for fear the pain would hit when I was away from home unable to curl up and stare at the walls until the pain passed.
At the end of the 2nd day, I began thinking about a dinner invitation we received for one week away. I felt the anxiety over the what-if's of pain striking while we were at a new friend's house. Could I manage to get through an evening?
That's when I heard God's soft whisper. Do not worry.
How can I not worry? This hurts intensely. I can't function through the pain when it hits. There is no rhyme or reason to when it comes.
But worry doesn't change anything. I can't figure this out. I can't heal this. I've been praying. I have lots of people praying. So why am I worrying about something 7 days away?
God brought to mind the Israelites in the desert. How He brought them daily manna. He didn't provide a week at a time. He was teaching them to rely on Him day by day, moment by moment. One meal to the next.
I needed to rely on Him for this moment only. This day only. One meal at a time.
My mentor always reminds me that God's grace is for right now in this very moment. She says, "Christmas grace arrives on Christmas morning. Grace to handle the next thing doesn't arrive ahead of time, it arrives the day you need it."
I was attempting to think 7 days away in fear and near panic but God hasn't given me the grace for that day yet. My daily grace for 7 days away arrives in 7 days. Worrying about the future is me relying on my own strength and not God's strength.
I went back to God's whispering and listened closely. He was speaking. In my spirit I heard Him. Trust me. Let me care for your daily needs. Bring them to me. Cast your cares on me because I care for you.
A friend sent me a text in response to my prayer request for healing that read, "I stand in agreement with you that you are being healed. He paid too high of a price for you to be anything but totally restored, whole and without pain. I command the pain to leave in Jesus' name."
A key in her text that struck me was "you are being healed." Not that healing would come instantaneously. All at one time in a miraculous kind of  'it's gone in an instant'. It could because God is God. However, healing could take time and likely would. I couldn't lose faith. I couldn't let fear grow.
The next morning I didn't think about my ulcer the same way. I didn't think about pain that may come down the road. Instead I prayed, "Lord, I trust you. I'm healed by Your stripes. By my faith, I am healed. You are good, faithful, true, kind, loving, and compassionate. You tenderly take care of me. You love me to the point of death and back. I pray for healing and will trust you moment by moment while it comes."
Then at each step of my day, I asked Him for what I needed. I wanted to go exercise. I didn't stay home (which I had planned to do for fear of pain hitting in the middle of the class). I asked Him to strengthen me to exercise. I told the teacher I would be modifying my exercise while my ulcer is being healed. I thanked God when I left having completed the class.
The next meal I asked God to help me through it. He did. And the next and the next. I wanted a date night with my husband, but for the last several weeks I'd spent every evening on the couch or in bed in pain. On this new day of asking God step by step, I asked Him to keep me pain free for a date night. He did.
This ulcer is teaching me how to hold His hand step by step. How to place my worries on Him and keep my eyes on the step right in front of me. I won't look at 2 moves ahead. Eyes right here. On my Savior, then my next step. On my Savior, then my next step.
God is good and works all things for His glory and our good. He takes the schemes of the enemy against us and turns them into something beautiful.

https://renee-robinson.com/wp-content/uploads/2017/05/IMG_2623-e1496236694202.jpg
400
533
Renee
http://renee-robinson.com/wp-content/uploads/2017/08/ReneeGrey_03.png
Renee
2017-05-31 13:25:21
2017-05-31 13:25:21
Do Not Worry- But How Can I Not?