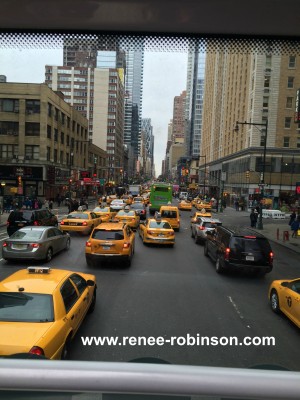 We were in NYC a few months ago- me, my sister, niece, and mom. The cold rain could not stop us from hopping on and off that tour bus to get us to the next shopping location. Finally shopped out, we hopped on and didn't want to hop back off.
We had the whole bus to ourselves, and I sat relieved to sit in dry warmth. My achy feet thanked me profusely. We welcomed the next 20ish minutes to sit, thaw, and relax.
The bus stopped at the next stop, and the next thing I knew I was exiting the bus not at our stop, which was still many stops ahead. The driver said something I couldn't understand, we filed out and hopped on the bus waiting at the stop ahead of us. This bus was packed full, standing room only. And the standing room section dripped water. Cold and wet again.
Then it dawned on me to ask what in the world we were doing. None of us really knew why we got off and got on another bus, so we asked the attendant to explain. She had no explanation.
The longer I thought about it, the more I fumed. Not so much at the bus company, but at myself for blindly following and asking not one question.
The very next stop, we hopped off that crowded, cold, wet bus and hopped back on our dry, warm, full of open seats bus. We asked the attendant why he instructed us to get off. He offered no really good reason.
I couldn't help but think about how we so often do this in life. We just follow the ways of the world. The paths others follow. We assume because they are going that way, it must be safe for us to follow.
God gave us brains to think critically. I want my boys to think. Really think.
Our culture can at times forget to think. We let others think for us. We believe every new study published is truth. Or we believe because it's available to us, it's safe for us. We believe every article posted on Facebook is laced with wisdom. We follow the masses with each new wave of thought and change that presents itself.
We fear being different. We fear being wrong, so we keep our thoughts quietly locked away. We silence our questions and tell ourselves if everyone else is doing it, it must be ok.
Culture is always changing. It's changed since the beginning of time, it will change until the end of time.
I read articles in the news that cause me to gasp that we've come so far. As we drove to school one morning, Jacob said, "Mom, I just don't get it. Our nation was built on Biblical principles. We are a nation under God, but we are trying to take "In God We Trust" off our money, and we are taking prayer out of schools. Why are we doing these things?"
Small steps, one by one, we follow the way of the world. And one by one, we can take small steps that oppose the way of the world that leads back to God.
I reminded Jacob of a friend of mine who defends religious liberties, who stands up for the voice of the unborn. And then I reminded him of the most important tool we have. Prayer. Prayer is what can change a nation, a culture, a generation. Prayer changes everything.
He is seeing it first-hand. He came home from school sharing about some issues that are weighing heavily on him. They are out of our control. So we decided we would pray so God could change the situations. And He is! Jacob is seeing God work out what he was powerless to affect.
Raising kids seems intimidating in this age, but it's really an unbelievable opportunity and privilege. We get to be part of standing with God, laying our requests at His feet, and watching Him perform miracles.
We can't stop believing that God is at work in our nation and in our homes. We can't stop praying for this generation we are raising. We can't just pray for our own kids, we have to pray for all kids. Praying they love God wholeheartedly, use their brains to think and act for God.
Micah 6:8 "He has told you, O man, what is good; And what does the LORD require of you But to do justice, to love kindness, And to walk humbly with your God?"
[box] If you enjoyed today's post, consider subscribing here to receive posts via email. Blog subscribers are entered in a quarterly drawing to win a $20 Stitch Fix gift card and will also receive a free Christmas ornament download that accompanies Seeking Christmas – Finding the True Meaning Through Family Traditions.[/box]

https://renee-robinson.com/wp-content/uploads/2015/03/nyc-e1427730731747.jpg
400
300
Renee
http://renee-robinson.com/wp-content/uploads/2017/08/ReneeGrey_03.png
Renee
2015-04-01 05:00:07
2015-04-01 09:19:15
I Want To Raise Boys to Be Culture Warriors