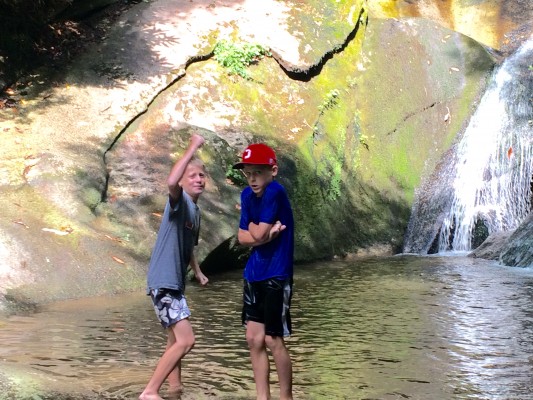 Steve and I stumbled across videos from when Jacob and Zachary were about 1 and 3. We both sat mesmerized by the videos not believing how quickly the time has gone by and fully aware it will not slow down.
Afterwards we found ourselves struck by the same observation. He and I were 100% in the moments we watched on tape. We both seemed so relaxed, wearing contentment on our face.
Something was different about us in those videos.
We were distraction free. Completely.
We didn't own smartphones. We had no devices. When we were together, we were all in, and the outside world wasn't invited to crash the party.
We took video for our private viewing, not for the world to like.
No dings, alerts, or alarms chimed barging in on our time.
Whatever crisis took place in the world, we found out about hours after the kids went to bed. No worry and doom lingered over us forcing us to plaster smiles on our faces while our thoughts were miles from the moments.
All the moments were all in moments.
When we were with the kids, we were with the kids. I wish I could say the same is true today.
I continued thinking of those tapes long after they were stored away again.
I'm so glad smartphones weren't around when my kids were babies.
What might I have missed along the way?
Maybe I would've missed:
the way his little hands clapped hard at the bubbles in uncoordinated attempts.
the moment he held the lady bug and tried hard to find her smile.
the time he accidentally kicked that boy's shin and how he reached down and patted his back until he knew he was ok.
the first time I saw him hold a door for a little lady.
the time he swept the garage and I noticed the proud smile he wore unaware.
the time he, shy and scared, joined the group and the fleeting moment when his face showed the relief of acceptance
I have the opportunity to record millions of small moments that create one amazing journey of life. I have an opportunity to be both an observer and participant in the trivial moments of their days.
Sometimes the trivial moments of the day become the ones they remember most.
I can watch the life in front of me, or I can watch life partially through a screen. I can catch glimpses and not realize how much I'm actually missing. Only when I put down my phone completely am I fully aware of all I've missed with eyes darting up and down.
[Tweet "I can watch the life in front of me, or I can watch life through a screen"]
I've told myself I don't have a problem with distraction because I've justified my need for screens. My excuses range from 'I don't have a home phone, so I need to have it with me at all times in case of emergency.' Or 'I don't want to miss a photo, so I need it close by in case they do something worthy of a capture.' Or 'someone will be contacting me and I can't miss it.' Or…..the list goes on and on.
In all honesty, I do have many valid reasons I'm on my phone not simply distracted. Life is pretty much completely online now. My work is on the computer, my bills are paid on the computer, I communicate with people on the computer. It is necessary for me to be on a screen at times. The problem is that it never seems to stop. And it creeps in and takes over without us even realizing it.
I find myself out loud telling the kids what I'm doing on my phone. I want them to know I'm not checking out on them but that I'm doing things that must be done.
The other night I followed Andrew up the steps to tuck him in and read stories. As always the phone came along. Because….Steve might need to reach me….or an out of state family member might need something….or a classmate might need to reach one of the boys….or….
And because phones simply never respect my desire to spend time with my children, my phone alerted me to two texts while we headed up the stairs. Andrew was mid-story, I checked my messages, and out of instinct I began to type responses. Andrew stopped talking for a minute then said, "You are always on your phone!"
I halted, dropped the phone, then my flesh became defensive. (Not sure about you, but when I become ultra defensive, it's because a nerve has been struck, and I know there is likely truth behind the words.)
I began defending myself and explaining all the important reasons why I have this phone attached to my fingers all the time. Then I stopped. I put the phone hidden away in my bedroom, and I continued about our evening.
Andrew's comment haunted me. How many years have I been blogging about making the most of the moments we have been given? How many posts have I written about the intrusion of electronics on family life? How passionate have I been about protecting our family in a screen driven world? And how little by little I've allowed it to creep in. Quietly and slowly.
My kids don't compare my electronic consumption to the rest of the world's. All they know is they want my time. They want to know I'm actually listening to their stories. They want to know I actually saw with my own eyes their accomplishment. They don't care if I missed a photo. We have 100 others we've captured this week to make up for it I'm sure.
The world shouldn't revolve around my kids. And they don't need to think that they come before everything in life. But when they are away from me 7 hours a day, I need to capitalize on the times I have with them. I care about what they will remember about how I spent my time with them.
When my kids draw a picture of mommy, I don't want to see a phone in my hand.
While I'm so grateful for the moments I had in their baby years that my phone didn't steal from me, I can't put my guard down now. I didn't want to miss the baby years, and I sure don't want to miss the preteen and teen years either.
When my boys were small, many wiser women told me to learn to step over the mess so I wouldn't miss the moments with my babies. Times have changed. Now we battle less learning to step over the laundry piles, and we battle instead the need to put down the phone instead. Lots exists on my phone that is as important as the laundry and dishes, but if I thought it was important to leave some housework undone, then I need to apply the same logic in the digital age.
It all seems urgent and pressing. But sometimes we actually get more done when we put it down, are all in with our families when we are with them, and pick up the phone when we are apart.
It's time I take a personal offensive position against the invasion of screens in our family life. Even the necessary uses of them. And that doesn't mean throwing them out the window.
I'm taking the advice I gave my kids. If we want to protect ourself from temptation, I need to decide ahead of time what I will do. We must set our boundary lines before we find ourselves having to fight for self-control.
Social media, phones, news feeds, the latest coolest gadgets, they are all here to stay. But my kids aren't. And there is nothing my phone can feed me that will take away the regrets of missing some of the sweetest moments of my life.
Yet it is more than missing the moments. If I allow electronic distractions into my life on a daily basis, I miss the call God has placed on my life in this season. What has He called me to that I'm missing because I'm on my phone? Even on my phone for good things.
I'm called to love Him above anything else. Above staying current on the news or up to date on the lives of everyone I know.
I'm called to be a wife. I'm called to be a mother. I'm called to raise my children to love and fear the Lord. I'm called to ministry in so many different venues – we all are.
Without self control, I will miss fulfilling my callings to the best of my abilities. My phone is just one small area I need to practice self-control. But it's a good place to start.
Last night I pulled the covers snug up to Andrew's chin. I looked in his eyes and realized he is still young enough that he looks at me with complete adoration. He pulled his arms out of his covers, squeezed my cheeks, kissed all over my face, then pushed my face away so he could look in my eyes.
In that moment, I remembered all over again that there will come a day where he will not look at me like that or kiss all over me like that or give me butterfly kisses with his eyelashes. He will be too old, too big, too mature.
It is worth it to put my phone away so I can be all in when I'm in.
No more excuses, no more justifications, and no more comparisons. Today I choose to be with my people when I'm with them. For me that means that my phone isn't invited into these times. My people are more important than my feed.
I've written many posts on electronics and the family. On the sidebar of my blog, click the electronics category to find them.

The most popular is a letter to my boys on why we limit electronics and has been viewed over 3 million times. You may also enjoy:

Dear Kids- A Little Secret About What Electronics Is Stealing From You

How To Rob A Childhood And Miss The Sacred Of Parenting

Why Shutting Off Electronics Is Good For Kids

Exploring Limiting Electronics With Kids

5 Benefits Of An Electronics Fast

If you enjoyed today's post, consider subscribing here to receive posts via email. Blog subscribers will receive a free Christmas ornament download that accompanies Seeking Christmas – Finding the True Meaning Through Family Traditions.

https://renee-robinson.com/wp-content/uploads/2015/09/FullSizeRender1-e1443189875971.jpg
400
533
Renee
http://renee-robinson.com/wp-content/uploads/2017/08/ReneeGrey_03.png
Renee
2015-09-29 05:00:19
2015-09-29 11:58:47
Mom, you are always on your phone!