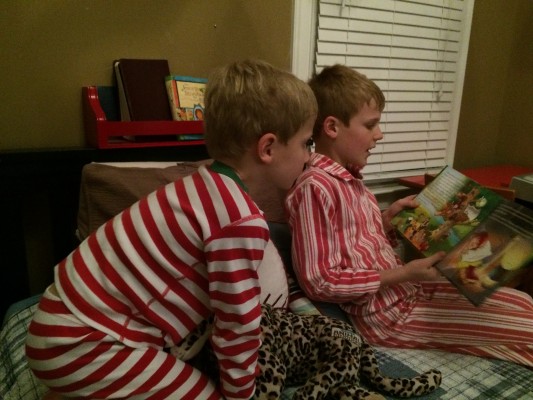 I will not bore you with statistics and facts about what electronics are doing to our children. I will tell you the effect I see on my own children, which is the very reason we periodically shut it all down.
Last year I wrote a letter to my boys about why we say no to electronics more than it seems other families might. This post has gone viral multiple times and continues to circulate at numbers that astound me. I realized many of us feel the same way.
As parents we are exploring a new world where constant connection is creating a disconnect for the relationships and the life we were created for.
My heart is grieved when I see preschoolers and young children gathered together with headphones on buried in devices. When I see the new norm for playdates has become video games. When I see kids riding in cars oblivious to the passing world because they are living in a make-believe world.
The time we have with our kids rushes by us. The time they have to experience life carefree digging in dirt and chasing their friends flies by. We are caught in an age where it's easier to give a kid a device. As parents we weren't called to take the easy road.
We are not an electronic-free family or house. We own all types of devices. However, we do place limits and boundaries, which I will share.
Here's what happens to my boys when television, iPads, and gaming devices begin to become more important than they should.
1. They have no motivation to do anything.
2. They become lazy.
3. They become complainers when asked to serve the family.
4. They become ungrateful and actually foster a sense of entitlement.
5. They don't want to exercise or do any physical activity.
6. They argue constantly.
7. They become impatient, snapping back with an impatient tone of voice and are quick to get angry.
They say it takes 30 days to create new habits. Our family just went through 30 days of clean eating, and I'm a believer in giving anything 30 days now. We've done electronic fasts in the past, and I always wonder why we don't do them more often.
Sunday I realized numbers 1-7 above described my children. The effects of electronics had silently slithered in. And I promise that if we had not taken fasts in the past, I would have NEVER made the connection of the above mentioned issues to electronics.
Within HOURS my kids were different kids. The simple words, "Starting right now we are taking a 30 day fast from tv and electronics." That alone seems to change everything. It is literally like they release the stress and burden of devices. Sounds crazy I know, and for the readers who will disagree, I can understand how crazy this sounds. I have no research to back this up. I have first-hand knowledge how this works on my 3 children, though. Every single time.
The very day we gave up all electronics, here's what happened.
1. My 6-year-old went through the house, collected materials, and made his very own baseball from scratch. It took a long time, but he worked hard and completed a project.
2.  My boys stopped fighting. I didn't hear another argument all day long.
3. They hung out with us all day. We played outside, we lounged on the screen porch, we took naps. It was lovely.
4.  My 9-year-old picked up a book and simply read without being told to read. (never would that happen if electronics was an option)
Now days into this fast, they do argue, but not as much. They simply go outside and play again. They don't ask when they can watch a movie because the option was removed. So they get creative.
One of my sons in particular has become very creative in the last few days. The one who rarely uses creativity. One of my other sons has opened up in conversation to me revealing something he never wanted to share. Now I know how to pray. None of this would have happened if we were living distracted.
When electronics are gone, my children begin to think again. They begin to think about life and their role in it. Since our fast started on Sunday, we have had numerous conversations with our children that revealed to us inner struggles they were dealing with. Because their minds weren't focused on their entertainment, they were thinking about life again and trying to make sense of changes they are facing.
Even in our family that has limits on electronics, our children can live in snippets of moments instead of truly experiencing life. They can begin to live from one game to the next. One experience to the next. And the thinking in between is on their conquering of new worlds and mastering new levels rather than exploring their own heart and connecting to the real-life world they live in.
The most common email I receive in regards to electronics limits is how we do it in our family. Today, I want to share what it looks like in our home.
Here's our guidelines:
1. No devices in cars unless it is a long road trip. The car ride is when I've had some of the deepest conversations with my kids. It's when my husband has had opportunities to have discussions on "the talk". 2 of my 3 children accepted Christ while we were in the car out running errands! In our busy world, the car time is golden. As my boys are getting older, I have to capitalize on each moment I have with them.
2. No weekday electronics during the school year. It's just too busy anyway. There isn't time. If they are allowed electronics during the week, they rush through homework, they rush through family dinners, they rush through conversation because they have one thing on their mind. Their pleasure. They begin to give less of themselves to what matters because they want to pursue mastering a game instead. Life is no game.
3. No iPod touch, iPhone usage without permission. Our boys have iPod touches, but they are only used on long car rides for the most part. They are stripped of all access to the internet, which is the only reason we allow them to remain in their rooms. If internet access were granted, we would never allow them to keep their iPods in their rooms. The statistics are staggering on children exposed to pornography at young ages. Kids given internet devices and allowed to access them freely is dangerous territory. Evil finds our kids when our kids aren't looking.
4. Time limits on games and tv watching. – They set an old fashioned kitchen timer and are allowed to play 30 minute sessions twice a day on the weekends. They have freedom to choose when and what and are given the responsibility to set the timer. The timer has been a key for us as my children were shocked to discover how fast 30 minutes goes by. Without a timer, they would play for hours. It's hard to pull out of a game you are engrossed in. But setting time limits is practicing self-control. When they are older, they won't have timers, but hopefully they will have practiced the art of leaving fun and realizing it was for their good.
5. Summer they are allowed one 30 minute session a day, but not before lunch. The days I've allowed them to start the day with tv or games, they tend to move like slugs and have no motivation. The days we work hard then play, they learn the value of work before play.
Another common email I receive is from parents frustrated about how addicted their kids are to their devices and desperate for help and solutions. When our kids are under our roofs, they are our responsibility. We have an obligation to society to raise kids who think beyond themselves and pursuing their pleasures. We have a responsibility to raise kids who value work, who think of others before themselves.
When my older boys were little, the electronics issue wasn't an issue. We went to the store without needing to entertain our kids. We are raising a generation that believes they must be entertained, and they must always be happy, they must always get their way. When our kids act up, we silence them with a gaming device because it saves our sanity and embarrassment.
Parenting is not convenient. Parenting is downright embarrassing. Parenting is frustrating and full of hair pulling and tears hiding out in the bathroom. Parenting is the total giving of ourselves for the benefit of another.
Trust me, I struggle through this all the time. Just this week I went to the grocery store and had a 20 minute battle with my 6-year-old who refused to get out of the car. When he did, he refused to walk beside me and ran to aisles far away. I had to pull him from the store in a full on battle of the wills where we readjusted attitudes and hearts in the car. My grocery store trip left me spinning. I was sweating, exhausted, sad, and mad. A trip that should have taken 20 minutes took an hour. Had I put a phone in his hand, we would have zipped through the aisles and all would have been well.
Here's what I would have missed.
1. Seeing my need for Jesus to help me parent.
2. Relying on God to grant me patience and literally crying to God in the car to help me parent a child well who struggles to obey the smallest instructions.
3. Teaching a child that life is more than his pleasure.
4. Explaining to a child why God desires obedience.
5. Disciplining a child (a child left undisciplined will be a child who struggles to feel loved)
6. Modeling to a child obedience, respect, discipline, and following it all with showers of love and grace.
It took time. Time I didn't have. Time I didn't want to give. It was awful and I didn't see the beautiful in that moment that was pure embarrassment.
Parenting is a life of opportunity. The electronic grip on our kids steals our moments. It steals what is rightfully ours. Time is all we have, and it goes by much too fast. We will never have these years and opportunities again. Once they are gone, they are gone.
[box] If you enjoyed today's post, consider subscribing here to receive posts via email. Blog subscribers are entered in a quarterly drawing to win a $20 Stitch Fix gift card and will also receive a free Christmas ornament download that accompanies Seeking Christmas – Finding the True Meaning Through Family Traditions.[/box]

https://renee-robinson.com/wp-content/uploads/2015/03/IMG_4353-e1426165833483.jpg
400
533
Renee
http://renee-robinson.com/wp-content/uploads/2017/08/ReneeGrey_03.png
Renee
2015-03-12 13:11:38
2015-03-27 16:14:18
Why Shutting Off Electronics Is Good For Kids