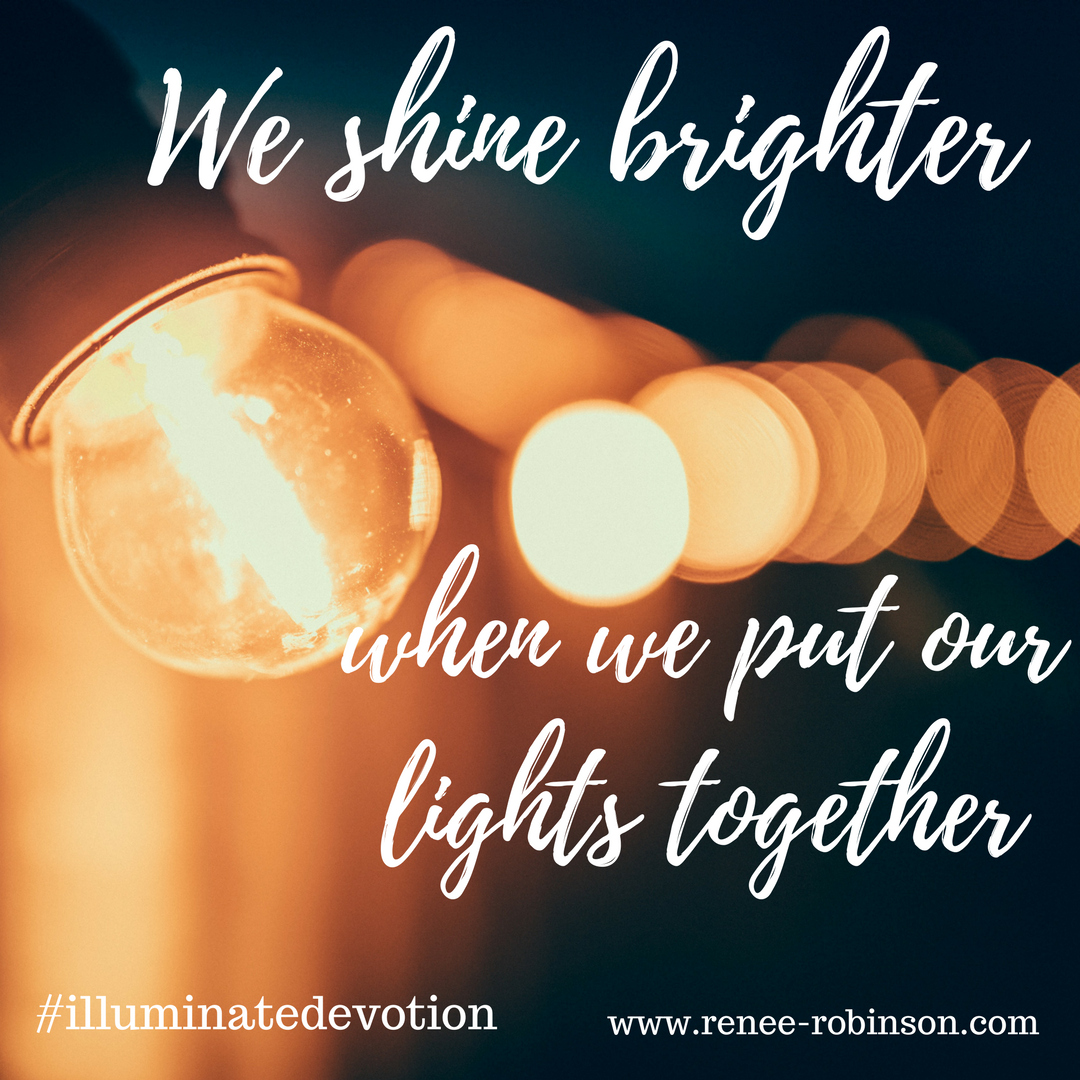 I attended a conference where we each received a light. The lights dimmed into dark. One light from the stage glowed. Then each attendee's light began to glow together. The stadium radiated light. The light overcame the dark.
As believers when we put our lights together, the forces of darkness fall.
I'm inviting you to join me in illuminating our own personal worlds in order that we illuminate this dark world.
A friend called me last week. She relayed a conversation about how a friend complained about the problems of the world, one problem specifically. My friend redirected her thoughts by asking this question, "What are you doing to fix this problem?"
You see, we can be quick to complain and turn to discouragement and despair. Or we can pick up our light and shine. If we want to see a change in this world, it starts with us. It starts with our own personal walk with the Lord. He has more to show us of who He is. When we see Him with fresh eyes for the truth of who He is, our own dark fades. Our light shines forth. And we will be as those who shine like stars in the universe (Phil 2:15)
"for it is God who works in you to will and to act in order to fulfill his good purpose.

 Do everything without grumbling or arguing, so that you may become blameless and pure, "children of God without fault in a warped and crooked generation." Then you will shine among them like stars in the sky"

Philippians 2:13-15
Illuminate released last week. If you missed the release post, you can read it here.
I'm absolutely giddy it's finally available after so many hours turned to days turned to weeks and months.
I've worked on many projects, but none quite like this. The intimate time I experienced with the Holy Spirit, I'll treasure forever. I'm certain He will speak directly to you through each of the 14 days.
And now I would love your help to share it with the world!
If you have purchased illuminate and have been blessed by it, please share it with others. The testimonies you send me about how God spoke to you or your family through illuminate are priceless.
To join an intentional launch team:
If you want to go beyond word of mouth and join together as a community, I have created a way we can do that. Here's how it will work.
What You Need To Do:
email me at illuminateaudiodevo@gmail.com with your purchase receipt

in your email tell me a little about yourself including which social media platforms you utilize and your number of followers, your blog address, etc.

Send me a request to join the Illuminate Group on Facebook
listen to each day of illuminate
share on the coordinated social media days I'll provide
Beginning Monday, April 2nd we will together share through our social media or blog platforms the message of illuminate.
I have prepared social media graphics you can use. These will be on the Facebook group page.
I will also have writing prompts/questions if you would like to form your own posts related to illuminate and share through your blog or other avenues.
You don't have to have a blog. If you have social media accounts, that is perfect!
There will be days we coordinate and all post together. However, you can post as often as you like.
We will share together twice a week for 3 weeks.
Our gathering place will be the Illuminate Group on Facebook. Like my page and you can be added to the group.
What's in it for you?
A beautiful scripted font pdf printable download of Psalm 18:28-29. These will be emailed to all participants who send me an email to join this team/community. Emails will go out April 24th.
Access to illuminate launch team Closed Facebook Group  – it's a place we can coordinate our efforts and also share with each other what God is speaking to each of us and how we are growing as we journey through illuminate together. (You do NOT have to participate in this if you don't want to.)
1 person from this group will be randomly selected for a 30 minute one on one mentoring phone call. (If you would like to be in the drawing for this, please include in your email)
20 people from this group will be randomly selected to receive a 50% or 25% rebate on your purchase of illuminate.

I'll draw winners from this group at the end of our 3 week launch on April 24th.
The Very Best Part For You Though?
a community of us will draw in a little closer as we each draw in closer to God.
we can share our God-sized thoughts/ideas/insights.
an accountability of sorts to actually finish a devotion. (Wink)
together we can know we are pushing back the dark by sharing illuminate with the world around us.
Questions you may have:
I don't have a large network to share with, but I'd like to be part of this community. Can I still join?

Yes, and please do. I think of the fishes and loaves. We have all been given something, whether it seems a lot or little. We take our little and use it for His glory and watch God do the miracle of multiplying. One light shining next to another offers more than the one alone.

I can't promise to share twice a week, but I'd like to be part of the larger community. Is this possible?

Yes, simply send a request to join the Facebook group. No need to send an email of your illuminate receipt.
You can grab graphics you'd like off the Facebook group and share as the Lord leads. Or you can simply be a part of the conversation.
I hope you join me in this community. I'm excited to get to know some of you better as we allow God to illuminate our hearts with His truth!
Would you invite your friends? Invite them to join us here on the blog to receive weekly updates and to be part of a larger movement to illuminate the world by starting in our own hearts. Going back to the foundation of seeing God for who He is by the light of His Word.
We truly shine brighter when we put our lights together!

https://renee-robinson.com/wp-content/uploads/2019/03/We-shine-brighter.png
1080
1080
Renee
http://renee-robinson.com/wp-content/uploads/2017/08/ReneeGrey_03.png
Renee
2018-03-24 05:00:02
2018-03-24 13:02:53
Will You Be a Part of the Illuminate Community?