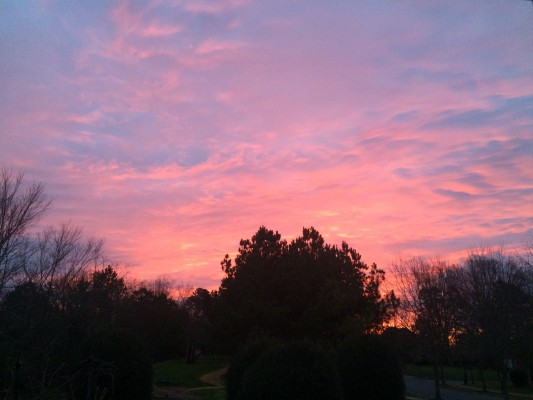 I woke up this morning with one word the Lord gave me. Renew.
Sometimes God's voice is my alarm clock. There are mornings that I have audibly heard my name called out. I look around, and no one is there. I rise and meet with the Lord. At this point, you are like, "She's creepy, hit x, move on." But don't, please. I'm not crazy. Or creepy. I promise.
It took me 5 years to fall in love with my morning quiet times. The way God speaks to me has changed over time. Or maybe it hasn't, it's just I actually hear Him now. I'm learning. It's always a learning process.
I don't normally blog on Fridays. I planned to write today's post and save it for next week, but I feel compelled to share this today.
I woke up with the word renew. For the first 5 minutes I lay in bed letting that word marinate. The first verse that came to mind was Romans 12:2 Do not conform to the pattern of this world, but be transformed by the renewing of your mind. Then you will be able to test and approve what God's will is–his good, pleasing and perfect will.
I continued through the morning routine. I had my quiet time, the word renew took a seat on the back row. I checked the weather. 100% chance of rain. My boys become enraged when they see that. "No one but God can give a 100% chance on the weather He commands."
As the time approached carpool pick up, my voice took a sharp turn at drill sergeant. This always affects Andrew, who takes his mood cues from those around him. If he thinks you are pleased with him, he will do anything you ask. If he is unsure or thinks you are mad, he becomes your enemy, fighting back at whatever you dictate to him.
"Mom, stop talking mean to me," Andrew said through semi-clenched teeth.
"I'm trying to use a nice voice, but no one is listening to me!"
"Mom, look at the sky!" Jacob stopped packing to leave and simply stared in awe. I followed his gaze, hands releasing the grip on backpack zippers.
The rush hushed. The shrill stilled. The Creator got my attention.
Renew.
Moments before Jacob drew my attention to the sunrise outside, I showed the boys a picture on Fox News of a sunrise captured in Michigan that looked like a cross.
Renew.
The boys left for school. I posted on Instagram the sunrise. I scrolled through my social media feeds and found myself mesmerized by the sunrises I saw posted all over the world! It seems the Creator got the attention of many today. Why today were we all drawn to the sunrise? We've seen many a sunrise, right?
Renew.
Isaiah 40:30-31

Youths may faint and grow weary,
and young men stumble and fall,
31 but those who trust in the Lord
will renew their strength;
they will soar on wings like eagles;
they will run and not grow weary;
they will walk and not faint.
Have you ever studied about the eagle? Years ago in a Bible study we talked about the eagle in relation to this passage. I just started The Armor of God by Priscilla Schirer. In her study, she reminds us of the eagle. Just yesterday I listened to her talk about the eagle. It's no coincidence. Here's why….
The eagle was created to thrive in the storm. The eagle has the ability to use the winds of the storm to rise above the clouds. It soars above the storm. Doesn't escape the storm, but rises to new heights. The eagle locks its wings in place and actually finds rest in a storm as it is able to glide….to soar. It doesn't hide. It rises above the storm.
If you really want to be wowed by the eagle, read this.
God tells us that when we trust in the Lord, we will RENEW our strength. We will SOAR on wings like eagles. We won't escape the pain, the hurt, the disappointment. But we will rise to new heights above the clouds and the storm that rages. The eagle gets excited for the storm because it knows where it will fly when the storm comes.
Today, I woke with Renew in mind. I checked the weather. 100% chance of rain. Jacob drew me to the sunrise God painted that literally stopped everything. I scrolled through social media. The world seemed to proclaim His majesty. Everywhere I turned I saw gorgeous sunrises.
But there is a 100% chance of rain. This sunrise didn't look like a storm.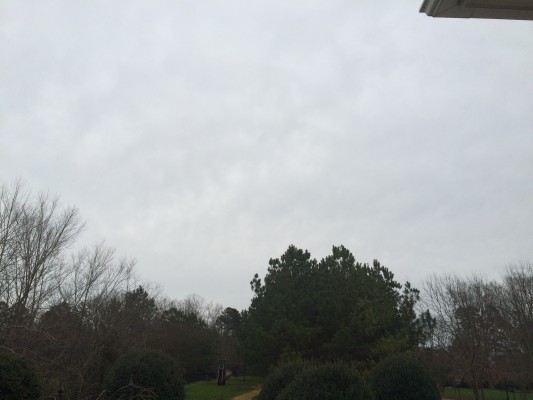 Renew. Eagle. The storms coming. Get excited. We soar to new heights.
Within minutes the sunrise faded, replaced by nothing but gray clouds. The sky that stopped His children across creation today has a different look right now. A storm is predicted.
I sat with this verse from Isaiah and I knew why the Lord woke me with renew. I knew why He showed me His sunrise then showed me the clouds. I know He is telling me to remember to trust in Him and Him alone.
A storm is coming, but He is still God. 
In this space I don't write a lot about what I've been studying. Mostly I write about what God is showing me and speaking to me. How I see Him in all of life.
You can't deny the world we are living in has turned so far from God it is shocking. Culture is something I never imagined it would be. Never.
Yet God still reigns. The world isn't falling apart. God's plan is falling right into place. We are seeing it. We are about to see things happen that we never imagined we'd see. I believe with every fiber in me that it is time to wake from our apathy. To let go of our comfortable lives and live boldly for Him.
It's time for us to be renewed. Renewed in our hearts, our minds, our walks. It's time to renew our minds, get out of the patterns of this world. To see what is happening around us. To get on our knees for this nation and our leaders.
Every moment is an opportunity to renew. He will renew us when we trust in Him.
Our world will soon see unimaginable events taking place. We don't know times and dates. But we know the storms are coming. Believer, trust in Him. The storms are coming. Be prepared. Get on your knees for the lost. Cry out to God for this nation and His people. Renew. Get ready to soar to new heights. Trust only in Him. He will renew us.
If you enjoyed today's post, consider subscribing here to receive posts via email. Blog subscribers will receive a free Christmas ornament download that accompanies Seeking Christmas – Finding the True Meaning Through Family Traditions.

https://renee-robinson.com/wp-content/uploads/2016/01/IMG_6493-e1452869289902.jpg
400
533
Renee
http://renee-robinson.com/wp-content/uploads/2017/08/ReneeGrey_03.png
Renee
2016-01-15 14:56:12
2016-01-15 14:56:12
The Storm is Coming- Are You Prepared?