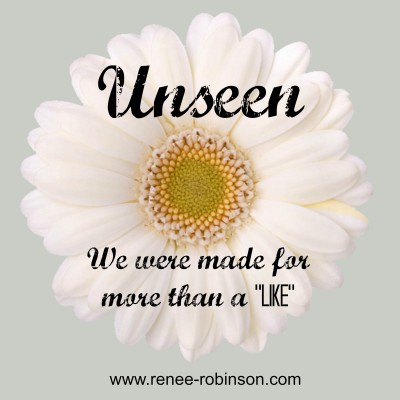 This is the final part to a series titled Unseen. If you are just joining, start here.
Well, I sit here with little to say but so much to say. Much to say that was impossible to unpack in a blog series. So much deeper I wish we could go. So much more exploring we could do. But maybe that is exactly what God wanted with this series – just for us to begin digging together but finish the exploring with Him alone.
Before publishing this as a blog series, I planned to write a book. I felt insecure about placing these thoughts online and fears began to speak up. I'm used to that by now.
I am 100% sure that publishing this as a blog series is exactly what God wanted me to do. I received many emails about how this series was impacting your heart and your walk with the Lord. You have encouraged me by sharing how God used these words in your life.
The answer to everything is found in Christ. Am I loved? Am I known? Am I accepted?
Social media provides a way we see more than we've ever seen before into the lives of others, which heightens our struggle with comparing ourselves to others.
When we find ourselves in a silent competition, our eyes are off of God and onto ourselves and the circumstances and people surrounding us.
God calls us to fix our eyes on the unseen, not the seen. Inside each of us he has placed deep desires and longings that can only be filled by Him.
In this social media driven age, we are tempted to seek fulfillment of those desires through social media because it provides us with immediate feedback and satisfaction. However,only God can fill those desires. When we learn to adjust our perspectives by learning to see the unseen through the seen, we can find the fulfillment we want.
Sometimes, it's simply that social media provides us an escape from the too much of life. We run to it because we see it, it's readily available, and it feeds us instantly. God has a better way. It takes trusting Him, and it takes practice.
The only thing that truly satisfies us is God. We were created to be satisfied with God.
"God is most glorified in us when we are most satisfied in Him"- John Piper.
Social media influences us to seek a false offering of satisfaction that will not quench our truest desires. Why aren't we satisfied knowing that He knows us? When we understand who knows us, we release others from the pressure to satisfy us and are able to experience joy in the gospel.
Finding our satisfaction in Him fulfills all our longings to be known, loved, and accepted.
My prayer for us as we leave this series is that we are aware of our longings that we temporarily feed and turn them over to Him for full sustainment.
Thank you for being here.
[box] If you enjoyed today's post, consider subscribing here to receive posts via email. Blog subscribers are entered in a quarterly drawing to win a $20 Stitch Fix gift card and will also receive a free Christmas ornament download that accompanies Seeking Christmas – Finding the True Meaning Through Family Traditions.[/box]

https://renee-robinson.com/wp-content/uploads/2015/03/Unseen2-e1425578294648.jpg
400
400
Renee
http://renee-robinson.com/wp-content/uploads/2017/08/ReneeGrey_03.png
Renee
2015-03-27 09:22:36
2015-03-27 16:09:55
Unseen - Wrapping Up- Final Part