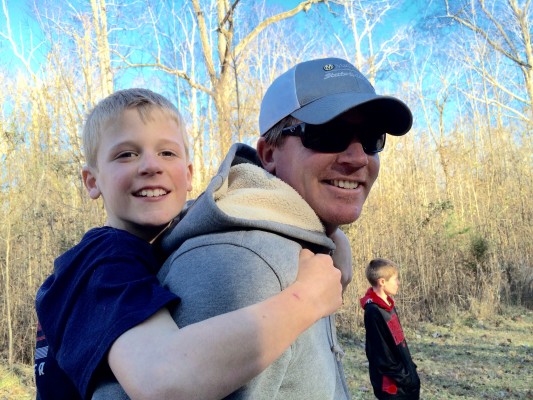 1 Corinthians 9:24-27 ESV 

Do you not know that in a race all the runners run, but only one receives the prize? So run that you may obtain it. Every athlete exercises self-control in all things. They do it to receive a perishable wreath, but we an imperishable. So I do not run aimlessly; I do not box as one beating the air. But I discipline my body and keep it under control, lest after preaching to others I myself should be disqualified.
My husband turns 40 this year. This turning of the decade spurred him on to make some radical changes in how he cares for his body. Of course, I couldn't let him go this road alone, so our entire family went along for the ride.
Our family turned healthy-ish several years ago. We stopped shopping in the middle aisles of the grocery store, we tried eating organic when affordable, we cut out all artificials and preservatives, we starting milling our own grains and making our own breads, we mostly shopped at Trader Joes. We indulged in healthier junk foods (mostly for the kids).
We felt pretty good. Then a few things happened. Steve is getting older (well, I am too), Zachary got diagnosed with lyme disease, Andrew has language and visual processing disorders and a few other challenges, Jacob started having hearing issues, and we started to realize food is a super power in all of this. While we might be doing ok, could we be doing excellent?
Steve decided he wanted to enter 40 excellent, not ok. He went cold-turkey, hard-core, no turning back in a day. Just so happened to be the day he returned from a work trip where food fit for kings is routinely served, which led to him getting a nasty cold, and the same day my sister's family arrived.
My sister gave me the greatest gift that weekend. She took charge. Little sister became big sister. She wrote up a menu, she made a grocery list, she took me to 2 grocery stores, she cooked food to show me how easy it is. She sent me pins from Pinterest to get me started.
We tell our boys all the time attitude is everything. I'm getting this message in a big way. I realized if this is going to be a lifelong change, not a fad for 30 days, I better adjust my attitude. My sister gave me a swift kick in the right direction.
Within days of making a change, my eyes were opened to so much more than food. I saw the spiritual hidden in my food choices. I realized more than food choices, it's about self-control.
Remember my hot dog story? That super embarrassing moment that exposed my weakness.
I am again reminded how I struggle with self control now that I must deny myself what I think I want. In the past if I wanted a handful of M&M's, I'd grab it. If I wanted a loaded white mocha, I'd have it. If I wanted pizza, I'd have it. If I wanted to stop at Chick-fil-A, we'd stop.
Suddenly, when I changed my mindset and began to look at food in a different light and ask, "Is this the best choice for my body? Will this add nutrients and value or just give me what I want…a quick fix," everything changed. More than changing, I began to practice discipline and self-control.
Since I've begun practicing self-control in the area of food, I see where else I lacked self-control. My words, my thoughts, my actions, my feelings and emotions, to name a few.
Self-control takes practice. Self-control is harder for some people than others for sure, but when we want to improve at anything, it takes dedication, a positive attitude, practice, and prayer.
So often in a moment of frustration, words would escape my mouth before I took time to ask "is this the best choice of words for the heart of the one hearing or could I choose words that lead to excellent rather than just ok?"
Our 30 days ended on Valentine's Day, and as I pondered our journey, I've come to understand that at the root of my lack of self control has been selfishness and lack of practice. If I wanted something, I would have it. When I'm not practicing something, I'm making no efforts to move forward. I'm stuck in the same patterns and rhythms.
I've prayed for years for more patience. How best to practice patience then to first practice self-control? For me lack of patience is an extension of a lack of self-control over my attitude and reactions towards others. When I control my thoughts and attitudes, patience is allowed room to settle in.
The past few weeks have been insightful in our home. Here's to praying for more self-control!
P.S. I did find a resource that has changed everything for us. It took the get healthy initiative from a state of overwhelm to simple.
We started reading The Daniel Plan. I've LOVED it. I bought the book and the cookbook. The book gives you recipes, menu plans, and an entire approach to whole health on a very well-balanced plan for life. It looks at the spiritual in healthy eating, not just the willpower to be healthier. If you are wanting to make a change and don't know where to start (like me), I highly recommend this book.
[box] If you enjoyed today's post, consider subscribing here to receive posts via email. Blog subscribers are entered in a quarterly drawing to win a $25 Stitch Fix gift card and will also receive a free Christmas ornament download that accompanies Seeking Christmas – Finding the True Meaning Through Family Traditions.[/box]

https://renee-robinson.com/wp-content/uploads/2015/01/steveandzach-e1422556336272.jpg
400
533
Renee
http://renee-robinson.com/wp-content/uploads/2017/08/ReneeGrey_03.png
Renee
2015-02-19 05:00:08
2015-02-19 14:03:36
What I'm Learning About Self-Control and Discipline