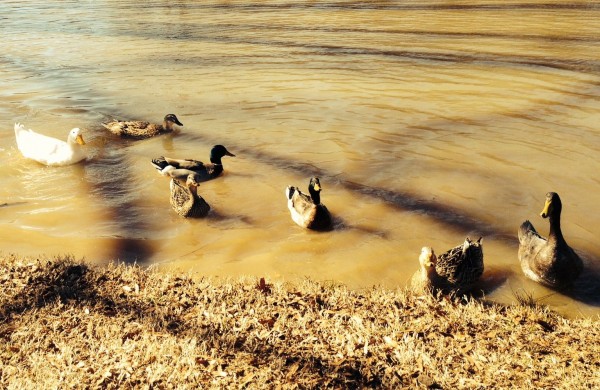 The only time I make it to the local gourmet grocery store is when they have a particular Tuesday special.  It runs every few months, and during that month, I will visit at the beginning and end of  the month to stock up on the specials that I wait months for.
I find myself looking forward to seeing the man I know will bag my groceries.  I know what he will say to the cashier when he bags my groceries.  "I think this young lady came in for the Tuesday Specials. What do you think?"  I will smile and laugh the same way I do each time he says this.  The cashier will grin like she does every time.  If my boys are with me, he will say the same thing to me he says every time. "Some fine young men you've got with you today."  I nod emphatically swallowing down the 'Yes, yes I do!'
He's the only grocery bagger I would allow to help me to my car.  I don't need help.  I have 3 handy helpers with me, but this 80-something-year-old gentleman longs for the conversation.  I can tell.  He is a veteran.  I know nothing other than that, but that alone makes me admire and respect this man and want to linger a few more minutes than I need to.
Each time we have the same exchange.  I will tell him I can push the cart to my car.  He insists, "No, no, I want to help you."  20 degrees doesn't stop him.  He pauses to grab his hat, chuckles, and says, "I'm not stupid," while he pulls it secure, covering his thin layer of hair.
I'm not sure why this man has secured a special place in my heart.  It may be because of his service to our country.  It may be his gentlemanly ways.  It may be the wisdom of life in those aged eyes.  It may be how he reminds me of Steve's own grandpa who has a similar demeanor. It may be many things.  But the one thing he reminds me of is how much we were created for relationship.  How our souls yearn for human connection.
We all face many of the same struggles dressed in different clothes.  Underneath, we have all been created in the image of the Father, created for relationship and community.  This man reminds me of this in the most beautiful of ways.
On my most recent visit, I drove away pondering how much we could learn from our older generation.  As I turned the corner at the gas station, I noticed a group of older men laughing over a cup of coffee inside the back corner of the store.  No hurrying away.  Simply hanging at the gas station.  Relationship adds beauty to our moments we can't create alone.
My boys weren't with me on my last visit to the gourmet grocery store, but I told them I saw 'our nice old man'.  I watched their faces as they reflected on the exchanges they've shared with him.  It doesn't take much to touch a soul.  A little kindness.  A little authenticity.  A little connection.  A little something that says "I care."

https://renee-robinson.com/wp-content/uploads/2014/02/ducks2-e1392130592234.jpg
390
600
Renee
http://renee-robinson.com/wp-content/uploads/2017/08/ReneeGrey_03.png
Renee
2014-02-12 05:00:49
2014-02-11 15:01:52
When I Find Myself Longing to See the Man At The Store