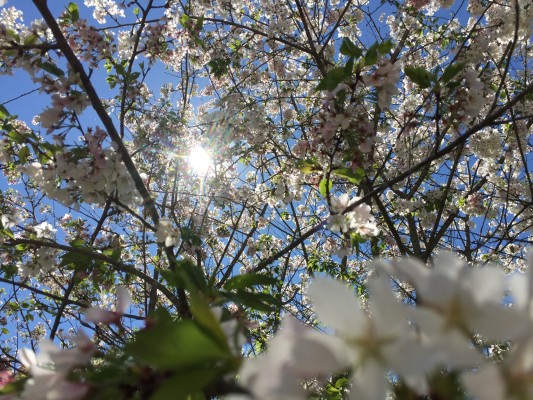 Psalm 37:8-9 "Refrain from anger and give up your rage; do not be agitated, it can only bring harm. For evildoers will be destroyed, but those who hope in the Lord will inherit the land."
Something snapped inside me. A raging fury welling up from the pit of me. Slamming down the lunch box, I lurched at him standing with the refrigerator door open in his hands. I snatched the door handle from his hands, slammed it shut with every ounce of rage now fully visible for all to see.
The words poured out like the bile they were. All over my child. "How dare you speak to me like that. Why do you think you can speak like that?"
Silence in return. His face reddened with anger in his eyes matching mine. He held his tongue. Mine ran with wild abandon. And then I pulled away.
As I walked away, I felt weak and shaky. All energy expelled through my anger, now I stood blanketed by shame, guilt, and humiliation. My selfish pride demanding respect from my child in a way that disrespected him right back.
He returned to the refrigerator door. "Great, you broke the door. That is what anger does."
I felt the anger again. This time in the form of sheer disgust. The anger at myself.
This refrigerator I've never been fond of. It has an odd mechanism on the door that is fragile. The left side must close before the right. A piece must fit neatly and securely in order for the right side to fit. Break one side and it affects the other.
This door mechanism was out of joint. I was out of joint.
My anger broke out. And in the aftermath, I saw in the faces of my children I'd broken more than the door. I'd broken hearts and spirits. Deflated, defeated, hurt, disappointed.
When anger breaks out, it breaks all that stands in its wake.
The condemnation began. The fiery accusations. The taunts. Some example you are for your kids. You just set them up for a great day. Just wait until you try to homeschool them….home all day to fight these battles – have fun. They will always disrespect you. You have no control over them. Look you can't even make them talk to you the way you wish they would.
I let the enemy have his way. I imagine he stood right in the middle of our kitchen pushing button after button, whispering threat after threat. Even as the boys walked out the door with angry, sad hearts, the enemy didn't stop. He kept telling me to punish myself.
I closed the door behind the children as they left with the carpool. I stood for minutes replaying the devastation that took place in a matter of seconds. It didn't take long to realize my anger came from somewhere else. It wasn't really a simple disrespect from my child that caused that fury to spew.
I sat with the Lord, words were few. I'm sorry.
I felt numb. Exhausted emotionally. I sat with the Lord stunned at my behavior. It seemed to come out of nowhere.
Was it worth it to give my energy to my anger? Did I get what I wanted? Did they stop sassing me and show the respect I demanded they show? Of course not, but who thinks rationally when anger drops the gloves? Where had that been hiding in me? Who was I in that moment?
Fear. The root is my fear.
I fear my children will turn away from the Lord one day. I read story after story. I hear it from friends. It terrifies me. And satan knows it. So in those moments my children show the sin in their hearts, the enemy says, "See, they will wander away one day."
I fear losing my kids. I fear the loss of control. I fear so much, and this fear lies under the surface. It takes a mere hair trigger to set off the explosion.
I'm tired of fighting for control. I don't want to let anger win. I'm tired of worrying.
What I can't wrap my head around is this endless grace and mercy God bestows. I deserve to be done with. I deserve Him to give up on me. I deserve to suffer much harsher consequences than a broken refrigerator door.
As I sat in the silence with no words but "I'm sorry," I felt His tender compassion. I felt His warm embrace. I heard Him whispering, "It's ok, my child, I love you. I forgive you. You are mine and I'll never let you go."
Then I remembered. I prayed a dangerous prayer at the beginning of the week. God, make me love you more than I do right now.
In the hours that followed my undoing, I almost felt unable to bear the lovingkindness, the mercy, the forgiveness, the unconditional love. It makes no sense. Unworthy of forgiveness with no ends, yet that is what He offers. Unworthy of love when my actions are beyond unloving to those He's graced to me. Yet He tells me His love isn't hinged on my efforts. It makes no sense.
In those hours, I felt rushes of His love over me. My heart that wanted to continue punishing myself continued to feel it might explode from within me with this growing love for God.
I wish I could say I immediately accepted His forgiveness and held tight to His promises of love and mercy. But they were too good for what I felt I deserved. So I held them at a slight distance. Close enough to see, not close enough to own.
The days that followed I fell again and again. In my rejection of what He offered, I suffered the consequences. It's the place the enemy wanted me. Pride kept me there.
It was a trap, and I felt the chains with every move I made.
I stepped outside to simply be with Him. The wind chimes swinging gently. The blue sky proclaiming His glory. Suddenly, I remembered the prayer from the beginning of the week. Make me love you more.
Is that how? By falling? By seeing the disgust that still lives inside me? And knowing that when He looks on me, He loves me despite my heinous actions? Because He sees His Son when He sees me?
It's one thing to read about His mercy, His lovingkindness, His grace. These become church terms that I fear lose their meaning. We sprinkle them in conversations, but do we understand their magnitude?
As I sat outside listening to the wind chimes, watching the birds flit from branch to branch, I felt Him. This is when I knew that He had been answering my prayer to love Him more.
It was Holy Week. I was already reading daily devotions on the path to the cross, the great love poured out, the great redemption, the great rescue. Sin, penalty, death, into freedom.
In that moment, it became as personal as a mom who lost it on her children, broke the refrigerator door in her wrath, and couldn't forgive herself, much less allow her Savior to forgive her. Again.
In the days that followed, I continued to fight. I fought grace. I fought mercy. I fought tender loving kindness. Until I had no fight left in me. Spent and exhausted, I surrendered to His love. And this mama who didn't feel she had an anger issue, surprised and disgusted by the disgust that resided in the depths, allowed God to rush His waterfalls of grace over her.
I never expected Him to grow my heart to love Him more in this way. It was surprising in ways I still can't put words to.
I broke the refrigerator door on a Wednesday. I had to rig it shut. No one seemed to be able to do it but me. Each time someone tried to close it, I'd have to get up and assist. I had to be the one. Each time it was a reminder of my fall, my pride, my anger, my fear. But God did something that week.
Until I stopped fighting Him to receive His mercy, I felt shame at that door. When I surrendered to His love, I felt His tenderness each time I had to delicately close the door just so.
Thursday night the entire mechanism ended up falling off. It took a bigger fix to fix. Family would be arriving on Friday night. I knew that my dad or step dad would be able to fix what we were unable to fix. Another reminder. I was waiting on my dad to fix my mess. My Heavenly Father left the throne to come down to me to fix my mess once and for all. I will continue to make messes with my life, but He has already poured out the punishment for what I mess up. Now He wants me to accept what He has already accomplished and walk in that love.
Friday night the door was fixed. It works like it is brand new. Truly He makes all things new.
One day, everything will be truly new. Each day His mercies are new and fresh. New starts. But one day, He will do it for good.
Revelation 21:5 Then the One seated on the throne said, "Look! I am making everything new." He also said, "Write, because these words are faithful and true."

https://renee-robinson.com/wp-content/uploads/2016/03/IMG_7164-e1459424240830.jpg
400
533
Renee
http://renee-robinson.com/wp-content/uploads/2017/08/ReneeGrey_03.png
Renee
2016-03-31 11:52:05
2016-03-31 11:52:05
When My Anger Broke Out On My Children