When I was asked to speak at a women's retreat, the theme God impressed on me was Take Heart. I had no idea how timely that message would be. I had no idea why God placed that theme, that topic, those words in my heart. Now I know.
Last weekend, I spent 3 days sharing messages I'd written to encourage these women to take heart. To remember that Jesus overcame the world. If we are in Him and He is in us, the world can't overcome us because He overcame the world.
Friday night of the retreat, I shared the first message in my Take Heart series. I got back to my room, opened up my news feed, and lay speechless over what happened in Paris. I'd been living in another world of retreat and in an instant pulled back into the reality of this world. This hurting, dying, sin-filled, evil world. Yet a world He overcame. A world He sent His Son to die for.
As I lay on my bed, I heard His words. Take heart, I've overcome the world. Renee, take heart, I've overcome the world.
In August and September I shared a little of what God was speaking to me. Judgement. Repentance. Return to Me. It was startling and unsettling at first. I spent the month of September seeking God more intensely than I ever remember seeking Him.
I began studying prophesy with more intention. I began to follow current events when I've always chosen to keep my head in the sand. I couldn't any longer. God poked my heart. Hard.
God changed the direction of my ministry slightly during this time. I'm now the women's ministry leader at my church. Not something I planned or thought I had time for. But God had other plans for my time.
Then God began speaking "wholehearted women" to me. Wholehearted women. Women who seek Him with their whole hearts, submit to Him, and follow Him wherever He leads.
It's time.
Our world is changing. Fast.
We are living in our "for such a time as this."
It's time.
Time to grow up in our faith. It is time to become wholehearted women.
ISIS isn't contained. ISIS can't be contained by our efforts. It's evil. But the time for evil is running out. Take heart. He overcame the world.
You know what will keep our eyes off of Him and make it hard to take heart? Social media. Everyone is airing out their opinions right now and it is down right splitting up the church and His people.
Church, we are forgetting that these things must come to pass. These things are not a surprise. These things we are experiencing have been foretold.
Matthew 24:6 And you will hear of wars and threats of wars, but don't panic. Yes, these things must take place, but the end won't follow immediately.
This is not a time to convince our friends of the "right" position according to us on the refugees. Or the "right" belief in our political system.
Proverbs 18:2 A fool finds no pleasure in understanding but delights in airing his own opinion.
We are fighting the wrong battle again. I wrote last week that we are fighting the wrong battle when it comes to Christmas. And we are fighting the wrong battle when it comes to evil in this world.
Sharing our opinions on Facebook isn't going to change the world. Praying will. Staying encouraged will. Keeping our eyes on Him will.
The battle is in the spiritual world. We see it played out through evil here, but when we engage in arguments that split the church, we have entered into a war zone of defeat.
This is the time to mature our faith. If to this point, our faith has consisted of Sunday mornings only, it's time to become a follower. A true follower.
I have no idea, none of us do, when Jesus will return. But I want to be ready. I want to have my lamps burning. I want to be found eagerly anticipating His arrival.
The world was unprepared for His arrival that first Christmas. I want to be ready and prepared when He comes back for us.
So we take heart. If we are in Him, and He is in us, we have nothing to fear. We keep our eyes on Him. We remember Who He is. We remember what He promises.
After speaking on taking heart all weekend, I returned home to find a gift waiting from a friend. It was a necklace with scripture to give thanks to the Lord, for He is good. His love endures forever.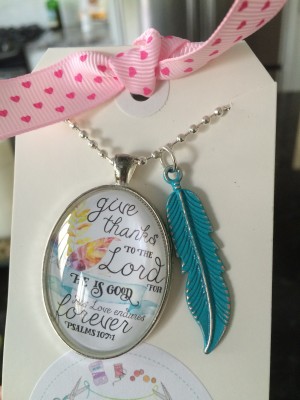 The women who designed the materials to go along with the Take Heart retreat used arrows and feathers. All weekend arrows and feathers reminded us to take heart.
I held the necklace in my hand and thanked God. The necklace had a feather. The tape on the back of the necklace. An arrow.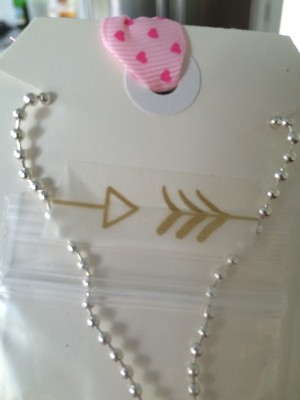 Take Heart. And remember to thank God. He is good and His love endures forever.
No evil can remove His love. No evil can thwart God's plan.
Evil is only allowed here for a time. God controls the time. God controls the plan. God is on the throne. Take heart.
Monday I was exhausted after speaking all weekend. Tuesday I was asked to speak at my church. How quickly I forget to take heart or give thanks.
Monday I began to panic. I had no time to prepare like I would normally prepare. I couldn't rehearse my talk and work out the kinks. I'd have to actually….rely on God. Novel idea.
I asked a couple of ladies to pray. Tuesday morning I woke up and began getting the kids ready to leave for school so I could get ready to go speak again. I had no energy or strength I felt to give back out. And then God began singing the chorus to Good Good Father.
You're a good good father. It's who you are. It's who you are. It's who you are. And I'm loved by you. It's who I am. It's who I am. It's who I am.
He's a good, good Father.
He was reminding me. He's a good, good Father. He would give me words and strength. And I needed to trust in Him and rest in Him.
When we settled in before I spoke, we opened in worship. The worship leader began playing Good Good Father. And I fought back tears.
He is a good, good Father. It's who He is. We can't forget.
I shared with the ladies how God reminded me of that when I woke up by singing the chorus in my head. One of the prayer warriors of this group shared with me after I spoke that the Lord woke her at 3:00 am the same morning with the same words.
God never ceases to drop my jaw.
He's a good good father. It's who he is. It's who He is.
Take heart today. Jesus overcame this world, so it can't overcome us. He's a good, good Father.
He is good even when the world is not. He is good. Give thanks to Him. His love endures forever.
If you enjoyed today's post, consider subscribing here to receive posts via email. Blog subscribers will receive a free Christmas ornament download that accompanies Seeking Christmas – Finding the True Meaning Through Family Traditions.

https://renee-robinson.com/wp-content/uploads/2015/11/IMG_6009-e1447854012535.jpg
400
400
Renee
http://renee-robinson.com/wp-content/uploads/2017/08/ReneeGrey_03.png
Renee
2015-11-18 13:50:07
2015-11-30 15:56:48
When the world falls apart, this is how we take heart