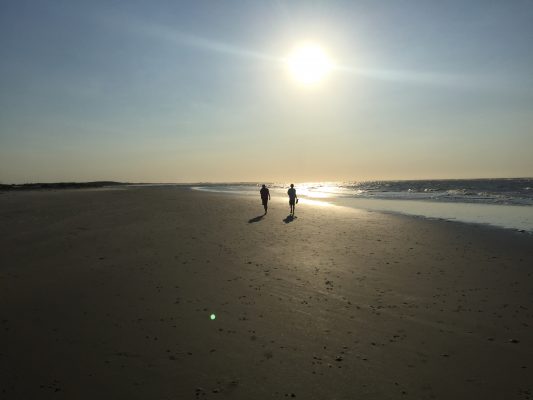 To listen to the audio recording of today's post, click here.
Several years ago a group of us young moms sat around talking about our desire to raise children who deeply loved the Lord. Our children were babies, full of innocence and complete reliance on us. How could we raise them to place their faith in Jesus and grow in Him in a world like this?
A mentor mom listened carefully before she said something I'll never forget, and it is the very thing to spark something inside of me changing me in ways I never imagined. This mentor mom said, "We can only lead our children as far as we ourselves have gone."
Let that soak in for a moment. We can only lead our children as far as we ourselves have gone with the Lord.
If I stay at a pace of 5 minutes a day with God, how can I expect my children to give God more than 5 minutes of their day? If I've never grown to see God in ALL of my life, how can I expect my children to see God in ALL of their life? If my prayer life consists of basic "God bless us and keep us safe" type of prayers, how can I expect my children to view God as a personal God who desires intimate conversation? If I don't let the truth of scripture guide every single decision I make, why would I think my kids would do differently?
If I make excuses for why I don't have time to read His Word, why will my children believe His Word is more important than anything they read or do? If I prioritize my life so that I run around frantic and busy pushing God to the end of my to-do list, why will my kids want to make Him their first love? If I chase other things harder than I run after God, why will my kids want to run after Him?
When I first began to ponder these thoughts, the task seemed daunting. Until I began praying a prayer that changed everything. "God make me love you more than anything in this entire world. Make me love you more and more every single day."
If the greatest command (Matt 22:38) is to love God with all our hearts, minds, and souls, I imagine that asking God to love Him more than anything else brings delight to the Father.
I want my kids to know that I love God more than I love them. More important than wanting my kids to know this, is for them to see this played out – authentically. Kids are hypocrite detectors. They know in an instant when we say one thing but live another. If I proclaim to love God more than anything, yet "loving God" occurs only on Sunday mornings, my kids will know that the love I proclaim is love with my lips only.
I talk to moms all the time who tell me they want to spend more time with God, they want to pray more, read the Bible more. They want to live a life that He flows through so that their kids will walk with Jesus and never turn away.
The only way for this to happen in the culture we live in is total immersion. No sprinkling will do.
Satan roams the earth seeking to destroy and devour our children and us. That is his goal. One of his methods is to make us love this world, to see it as mostly good with a little evil. If we view the world this way, we live in this world and we sprinkle in a little God for good measure. We take our kids to church on Sunday. Maybe Awana or VBS. We say our bedtime prayers and we hope that is enough. It's exactly what satan hopes we do.
This world wants to consume our kids. To battle back, we must totally immerse our kids, soak, saturate them to the very core with Truth. That means reading Bible stories isn't enough. Going to church once a week, not enough.
If we want our kids to grow up to be a light then total transformation must take place in us first. That will guide everything we do in the lives of our children.
This doesn't mean that the spiritual lives of our kids rest solely on us. I was raised in a loving home, but one that didn't have Christ as its first love. God is Sovereign and uses many methods for pursuing His children. Our kids are given to us for a time, and we are good stewards when we raise them to love the Lord with everything in them. Ultimately, the decision to love and follow the Lord rests on our children. But we have a great calling in their lives to model to them the way.
Parents, it starts with us. If we want strong christian kids, it starts right here in our own hearts. We surrender it all to Christ. We come to Him empty and desperate with a simple prayer. "Lord, I'm desperate for you. This world is evil and terrifying, but your Word tells us to take heart because you overcame the world. I desire to love you more than I love anything in this world. I desire to raise a family that loves you wholeheartedly. Lord, make me love you more today than I did yesterday. I'm not capable of loving you even a fraction of a degree the way I want to love you. So I ask you to make my heart love you more. Take me and transform me. Then let your Spirit overflow from me influencing the ones you've placed in my life. My heart's desire is to be a family that follows you wherever you lead us no matter what."
Often our desire to raise children who love the Lord is so fear-driven that we do the exact opposite of what we should do. We begin to push away our children from the very thing we desire for them. When we let fear rule our hearts, we cling tight, we dig our nails in, we fight. We begin to attempt to control life around us because it's the only way we know how to fight the fear. When we do this, Christ isn't flowing through us. We have pushed Him into the shadows. Christ isn't fear. He is freedom, grace, beauty, and truth.
When we are ruled by Christ, we walk in total freedom. When we have soaked in His truth and know His promises, fear is pushed back into the darkness where it came from.
I tell my kids all the time they can't control the people or the circumstances around them. All they can control is their own actions and reactions. If my greatest desire is for my kids to walk with the Lord, if I'm not careful that will take precedence over my love for God, which should be more important than my child's walk with God. If my child's walk is most important, fear will move in. Little by little.
Satan loves to distract us. His desire is for us to be so focused on raising kids to love the Lord, that we become desperate for it. He will shoot his arrow setting little fires for us to put out that will increase our fear. We will place all our efforts on putting out fires in the lives of our kids in order that they can love the Lord. When really, it's much simpler than that. We make Him our first love.
When He is our first love, His light shines through and radiates to those around us. Our words won't be as needed because all that flows from us pours out love. Love changes the world. Love changes our families. Love changes everything. It all starts with love. It all ends with love. All that happens in the middle is because love poured out for us and we've allowed it to flow through us to others.
The most profound advice I've ever received is to make God my first love. When He is my first love, I will never be the same. When love courses through me, it impacts all around me. This is why it's the greatest commandment.
Want to receive posts slipped into your inbox? Sign up here so you won't miss a post. Subscribers receive a free ornament download to accompany Seeking Christmas.

https://renee-robinson.com/wp-content/uploads/2016/07/IMG_8464-e1468407105815.jpg
400
533
Renee
http://renee-robinson.com/wp-content/uploads/2017/08/ReneeGrey_03.png
Renee
2016-07-13 10:58:54
2016-07-13 11:42:02
The Most Profound Parenting Advice I Ever Received