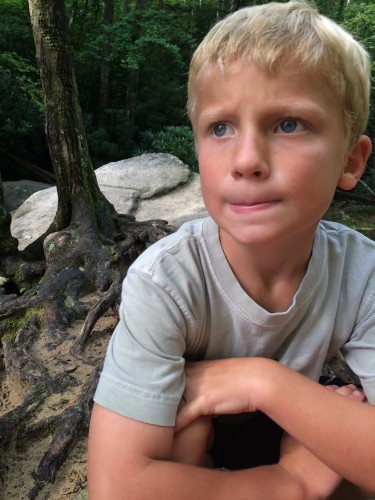 "Mom, I think I just heard Jesus tell me I would see him soon."
I looked at Andrew to see if he wore his 'I'm just tricking you' grin. He did not.
"Andrew. Really? No, you didn't," I patted his back giving him a playful grin.
"I'm not joking, Mom. I really did. I heard him in my heart. And I really think I just heard him tell me I would see him soon."
"Well, I can't wait for the day I get to see Jesus. But even when we are here on Earth, He's around us everywhere we look."
On any other day, I would hear his precious words and move right on into our next moment. But in light of this sense of urgency God has laid on my heart, I was unable to shake Andrew's comment.
I could tell it bothered Andrew that I didn't believe him. I can relate. I've shared my passion and conviction for the times we are living in only to receive a blank stare back, a no response email, or an actual audible laugh.
After last week's post, for the first time since I've started blogging, I received more unsubscribes than subscribes on one particular day. People begin to squirm when we talk about end times. People don't like to think about things that bring fear or discomfort. The unknown is not fun. And we'd rather read about how much He loves us, and how special we are, and how we are chosen and blessed.
While I don't want to make you squirm, I do want to remind you that if you are in Him, there is nothing to fear. We are to take heart, to be courageous, to share His love, and wait with excited anticipation, and pray. Yes, excited anticipation for His coming.
At the same time, we feel a sense of urgency because we know the majority of people in our lives don't hold the same beliefs, and we are desperate for them to know what we know.
While I did receive many blank stares, unreturned emails, or laughs, the Lord was gracious in leading me to others He's placed the same stirrings in. He crossed my path with others who feel the urgent call to get on our knees and repent, to return to Him, to seek Him, to share with everyone.
Driving to school, Jacob, my insightful and wise old soul, said, "You know, Mom, it's weird to think how we just go through our routines all the time. We don't really think about life being different at any given second. We just go through our familiar routines. But then one day, in like a split second, we will see Jesus, and life will never be the same again."
I've pondered that thought all morning. I've always been a moment maker, lover of relishing in the moments, tasting and experiencing to the fullest. I understand that each moment is a gift to enjoy because we never know what the next moment holds for us.
But Jacob's thought has led me in several directions. As christians we often say that we live with eternity in mind. But to be honest, I really don't live moment to moment with eternity in mind. I'm thinking about what is next on the to-do list, or how to discipline a particular issue, or how to celebrate someone's birthday arriving in mere days.
Over the last few days, Steve and I have spent more time discussing what really matters in life. I don't know many believers who disagree that we are living in end times. When you read the signs of the end of the age in Matthew 24, we see all the signs. Jesus tells us they are the birth pains, they must happen, but he also tells us not to be alarmed.
When I was pregnant with Andrew, our youngest, I felt birth pains for what felt like ages. At about 30 weeks, I began having contractions. I went into the hospital for monitoring and went home on bed rest for a short time. For the remainder of my pregnancy, Andrew gave me signs he was ready to be with us always. I got to a point the contractions no longer concerned me. The doctors kept a close watch and everything appeared fine, but the early birth pains remained.
The night of Andrew's arrival took us by complete surprise. You would think it would have been no surprise, after all, he'd been alerting me with contractions for weeks. But the day he arrived, he became a bit silent. He stopped kicking and squirming as much. Steve made the comment it would be nice if he waited until after Thanksgiving to arrive so we could enjoy the holiday.
10:00 pm Thanksgiving Eve, Andrew went from what felt like slumber to a desperate attempt to escape. We arrived at the hospital in extreme pain, we received no epidural, and Andrew arrived in record time for us.
It happened so fast it took us by complete surprise. Yet, he'd been reminding us all along he was coming.
I feel we are at the same point in our nation's history. The Bible is clear a date of Christ's return cannot be predicted, but it is also clear what the signs are leading up to His return. The signs are all around us if we open our eyes.
If we lived like every day was our last, what would our life look like? Would we be a little kinder? Would we speak a little gentler? Would we help with no motives? Would we share the gospel with no fear of rejection? Would we stop caring so much what others think of us and start sharing what matters most? Would we put down our phones and pick up our eyes a little more? Would frustrations suddenly become blessings? Would moments we've taken for granted revive us?
If we lived every day like it were our last, would anxiety cease to exist? Is that where true soul rest comes in? When we lay down our worries, being still in Him, and walking in His will. Would today be more than we fathomed because tomorrow wasn't assumed?
I just wonder what happens to our soul when we live like there is no tomorrow. I wonder if I'd pour out myself with a little more generosity.
Today is September 1st. Today is the day we begin praying for our nation and ourselves to return to God, to seek Him. We pray for a revival and repentance like we've never seen. We pray God would heal our land and draw hearts back to Him. We pray for our nation to fall back in love with our God and to serve Him with our whole hearts.
For 30 days, we pray with urgency. All day long as the Spirit prompts, and specifically, 3 times a day we lift our voices together to the Heavens. Thank you for being here. For those who've stuck around, thank you. Let's watch God do amazing miracles before our very eyes.
If you enjoyed today's post, consider subscribing here to receive posts via email. Blog subscribers will receive a free Christmas ornament download that accompanies Seeking Christmas – Finding the True Meaning Through Family Traditions.

https://renee-robinson.com/wp-content/uploads/2015/09/IMG_5459-e1441109952668.jpg
500
375
Renee
http://renee-robinson.com/wp-content/uploads/2017/08/ReneeGrey_03.png
Renee
2015-09-01 12:27:05
2015-09-01 12:33:41
What If We Lived Like Today is Our Last Day?