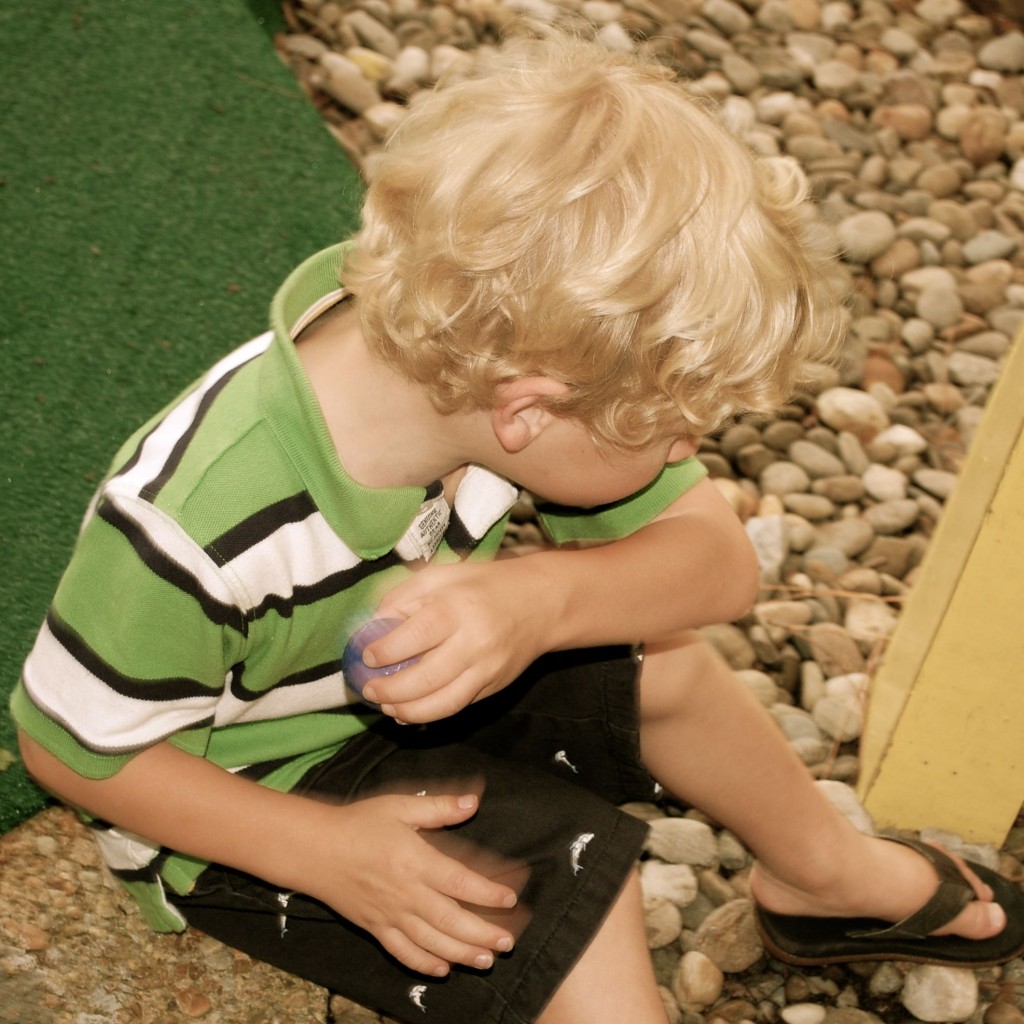 It looks more congested than normal today.  It's actually hard to see the cars approaching the crosswalk because of the stopped traffic on our side.  I made my mental assessments and turned to Andrew who was trailing behind me dragging his preschool creations and backpack.  "Make sure you stand behind me.  Do not walk in front of me."
5 seconds morphed into 5 minutes as time seemed to pause.  Is this happening while my feet are on the ground or am I watching this from afar?  
My right foot took the first step onto the crosswalk when he darted past me, full sprint.  I saw the lady on the other side of the crosswalk, a look of horror on her face.  Was that me screaming or her?  I saw the man to my left, his car stopped to let the preschoolers cross.  His mouth hung open, a silent scream hanging from his lips.  I heard the screams, I saw the faces, and I saw my 4 year old running.  I saw it all before I saw the car approaching from the right, flying through the crosswalk.  The driver never saw the crosswalk, never saw the children.
Lunging forward I hooked the collar of his shirt pulling him backwards into me.  The car whizzed by, missing him by mere inches.
When did time begin moving again?  The gazes that met mine as my shaky legs carried me across the street seemed to say, "I cannot believe he is alive."
"M'am, are you ok," a gentleman shouted from his car.  Did I even answer him?
Trembling hands pushed the door open button on the van as I collapsed into the back seat with Andrew.  Unable to speak, head buried in my hands, I sobbed.
Gaining control, I looked up into his calm blue eyes.  That angelic face, full of innocence and oblivion.
"Andrew, you could have died!  That car almost hit you.  All because you didn't OBEY mommy!!!!  I told you to stay behind me.  You didn't obey."
"But I didn't die."
My words fell on him like a summer rainstorm, relentless.  The rushing waters from my lips desperately wanted to soak in.
"Andrew!  It's simple.  Just obey!"
"When you obey me, you are showing me that you love me.  Because if you love me, you trust me.  If you trust me, obeying becomes easier."
As I preached to him about obedience and why God expects it, I began to hear God whispering back to me.
I watched my child choose disobedience, which nearly cost him his life.  How often do I find myself in a similar situation?  Thinking I know what is best, that I know what is right for me.  Thinking "I've got this one, God, don't worry, it'll be all right."  Thinking "God, I know what your Word says, BUT….the circumstances are different for this one."
But.  He sees ahead.  He sees that car headed my way.  He sees my blocked vision.  He sees the backpack I'm carrying distracting me from making the wisest decision.  He sees it all, and that is why He demands obedience.  For no other reason than love.  His radical, crazy, wild, relentless love.
The choice is ours.  Will we trust Him enough to obey Him?
[box] 1 John 5:2–3  By this we know that we love the children of God, when we love God and obey his commandments. For this is the love of God, that we keep his commandments. And his commandments are not burdensome. (ESV)[/box]

https://renee-robinson.com/wp-content/uploads/2013/09/DSC_5532.jpg
1974
1974
Renee
http://renee-robinson.com/wp-content/uploads/2017/08/ReneeGrey_03.png
Renee
2013-09-09 06:00:24
2013-09-13 17:51:16
Dangers of Disobedience