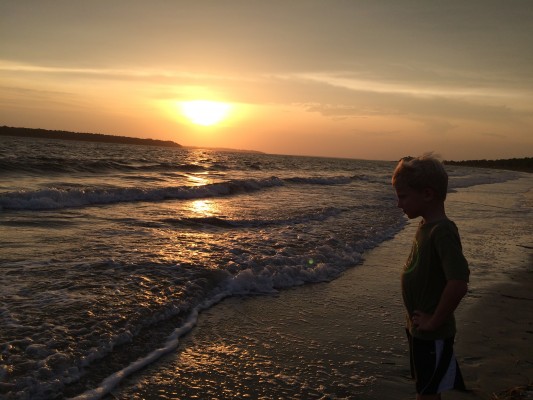 Click here to listen to the audio recording of this post.
During the summer my boys wake up to the dogs pouncing on their bed, slobbering kisses all over their faces. No annoying blaring alarm clocks, or worse, no annoying mom repeating 'get up and hurry'. I found the key to boys rising from bed in a pleasant mood. Let the dogs be the alarm and quickly mention the breakfast menu.
The morning was typical, nothing out of the ordinary. Bristol and Macy, our Schnoodles, jumped on Andrew's head and licked his face mercilessly. He laughed through eyes clenched tightly shut, not ready to come fully awake. His hands groped to find the dogs and pull them close into him.
I made mention of food, he hopped out of bed, we chatted happily down the stairs. All so normal. He plopped into a chair, and his eyes kind of glazed over. I kept chatting about nothing in particular. I caught sight of his face again and took pause. Right before my eyes, I watched his facial expression transform from happy to downright mad. He turned to me and said, "Why are you making me turn into a bad attitude?"
Inside my head I screamed. Inside my head I stomped my feet and pounded my fists. Inside my head I railed at God, "Why???? Seriously, why? I did everything as 'right' as I could. Why does he have to be so difficult at times? Can't we have one morning of peace here?"
I turned to Andrew, and with all the calm sweetness I could muster, I answered, "Andrew, I'm not turning you into a bad attitude. You are in control of your own attitude, not me. You are the boss of your attitude." (Side note, I found a trick with a strong willed child. Show them what they are in control of that can be used for good. On this day, it didn't work.)
The other boys came down the stairs expecting the same chipper mom they'd seen minutes earlier. Instead they found a snappy, irritated crazy woman just wanting some peace in the morning. There are times I hear God's still small voice, and there are times I silence Him. He likely whispered to me, "Remember how you told Andrew that he is control of his own attitude? Well, you are too, my daughter." I didn't hear it, didn't want to hear it. I wanted Andrew to fix his behavior and that was that. We forged on.
We had 2 friends arriving at our house for VBS carpool. (Side note- it's a week of double VBS. A morning VBS at another church and evening VBS at our own church where I'm also volunteering. What's about to go down happened not at our home church.) I loaded 5 boys in the car and we set out. Andrew continued to be difficult and disrespectful. Handling right in the moment was difficult as we were running late and had a couple of extra kids. So I just held my breath and hoped by the time we arrived, he'd snap out of his funk.
The check-in girl greeted me with the most cheerful smile. Jealousy told me that she likely hadn't dealt with what I'd dealt with that morning. She printed off name stickers, I passed them out to each boy, Andrew looked up at me with defiant eyes, ripped off his name tag, placed it on the ground, stomped on it, looked back at me with defiant eyes, crossed his arms, and loudly proclaimed, "I'm not going to sports camp today!"
I glanced around wondering how many moms were staring at me, how many were thinking I had the biggest brat on the planet, and how many wondered if I knew how to parent at all. Been there before? I knelt down, pulled his ear to my lips, and said, "Yes you are. Now let's go."
He followed me down the hall and up the steps ranting, "I'm not going. You can't make me. I hate this place. I hate everything." Ya'll it was humiliating. Mamas passed by holding babies and toddler hands. I listened to sweet sentiments shared. I listened to mamas using gentle tones and watched as they planted tender kisses on the heads of their angels. And all I kept thinking was, "Just wait til they get older." Real spiritually mature, right? Super Christ-like. I was angry. Angry because my child turned into this totally different person in an instant, and I was powerless to control his heart and attitude.
Again, I silenced God's still small voice. I bet He whispered to me, "Daughter, I love you. Love my son well, shower him with grace and mercy. Speak gently to him. Pray and let me take over here. I don't want you to do this alone. I want to do it with you."
Nope, I put my hand up. Didn't want to hear it. We got to his hallway, he stopped, crossed his arms, I carried on. His teacher greeted me with a super chipper smile. I told her he refused to enter. I thought back to the baby/toddler days when I could physically place them in another's arms crying and walk away knowing all would be well. I realized that I physically can't place a 52 pound 6 1/2 year old in the arms of anyone without endangering their life. My anger began to boil. I was powerless. I had no control. I asked her if he had behaved. She looked surprised at my question. "Andrew? He's behaved perfectly. There are others we've had to get on to, but not him." Lovely.
I marched back to Andrew, knelt down, through gritted teeth I said, "Fine, let's go home. You win. But this will be one of the worst days ever! You will not behave like this and come home and play and have a day with mommy. You will sit in your room all day, no toys, nothing. This day will be so boring, you will wish you'd stayed at camp." I'm not proud of this moment. I wish I could erase it.
His stubborn eyes met my stubborn eyes. "I don't care." We proceeded to the car. I passed a sweet friend and spewed my frustration on her, she gave me a hug, I drove home and placed Andrew in the guest room, which lacks toys and books.
God tapped my shoulder. "Pray, daughter. Pray." I told God no. I couldn't pray. I was too angry to pray. I wasn't in a holy frame of mind to pray. I just wanted to be angry, and I wanted to get my way. Oh, sin. Sin that is always crouching at my door. An enemy always waiting to attack and knock us off course.
I texted a friend, she asked if I could talk, I called her and cried. Cried. I told her it's exhausting parenting a strong-willed child. I cried that if he acts like this at 6, what will 15 look like. The longer I talked, the more I realized the roots of my anger. Fear. Fear of Andrew following a path that leads to destruction. My fear makes me hold tight and try to control his behavior. And when I see how powerless I am, so many of my sins come spewing out like a volcano. I hold them down and keep them dormant until something shakes them awake.
I hung up the phone and sat in silence. I felt God tapping me again asking me to pray. I told God I needed to calm down first. God did what any good parent does. He got creative. If asking me to pray isn't working, He'd try another method to get me on my knees. I walked around the corner and saw Andrew standing in the hall.
"You are not to come out of your room."
"Mommy, I need God to help me be a good behaver."
"Yes, you do. You need to pray that God helps you to behave." I love that God is kind and compassionate. He didn't blast me by telling me I'm a hypocrite and how could I tell my kid to pray and ask for help when I myself couldn't do the same thing. Instead, God works on our hearts.
"Mommy, but I need you to come and pray with me and to help me ask God to help me."
I didn't even realize God was working to get me on my knees. In fact, my pride stayed puffed up as I thought to myself, 'Good, glad God is working on Andrew.'
We got on our knees, bowed our heads, I placed my hand on Andrew's leg, and I began to pour my heart out to God. As I prayed, I physically felt God softening my heart. I physically felt God lifting my burdens and removing my fears. I felt the walls of pride and fear crumble. And my prayers changed. I prayed for us both.
As I prayed, I could hear God telling me that just like I want Andrew to obey me, God wants me to obey Him. When He asks me to pray, He wants me to obey. He doesn't want me to wait until I feel like it. That may never happen, and then I lose out on unleashing God's power to change the course. I felt God reminding me that just like I became angry over Andrew's attitude, which led to his disobedience, I myself had allowed my circumstances to control my attitude, which led me to disobey God.
My bad attitude clouded my vision. My bad attitude placed foolishness where wisdom wanted to reside. My bad attitude caused me to disobey. Just like Andrew's bad attitude caused him to disobey.
Andrew is no different than me. He is a sinner just like me. Because he's accepted Jesus as his Savior, he is forgiven just like me.
I continued praying with Andrew something like this, "God, just like we are learning in VBS this week, help us to follow you wherever you lead us, help us to trust you no matter what, and help us to stay on track by keeping our focus on you and not our circumstances. Lord, your Word tells us whenever we turn to the right or to the left, we will hear in our ear this command behind us saying this is the way, walk in it. Isaiah 30:21.
I left Andrew's room feeling like a new person. I felt free. The weight of my sin had been lifted. I laid it down in prayer. I'd asked God to forgive me, and His Word assures me He always forgives.
The rest of the day my eyes were open to the gifts He had in store for me. Gifts I might have missed if I'd continued in my disobedient path.
Here's a sampling of the gifts I received – Andrew came out of his room a new person as well. He looked at me with the most tender eyes, eyes completely opposite of the ones that stared back at me defiantly only hours before. He said, "Mommy, I love you so much. From the bottom of my heart, I'm sorry. Thank you for praying with me." My heart melted, but at the same time I couldn't help but wonder if he was simply manipulating me. He grabbed me in the tightest hug I've received in months and held tight. I whispered thank you to God over and over in my head. Andrew never hugs me anymore. This was a gift from the Lord.
I told Andrew that I forgave him and there is nothing he could ever do that I wouldn't forgive and reminded Him of the kind of forever forgiveness of God. I followed it up with, "But you still must stay in your room today."
"I know, mommy, I don't want to come out. I just wanted to hug you and tell you I love you."
Another time in the day, he showered me with kisses. I can't remember the last kiss I got from him. One day when he was 5 he decided he didn't like kisses, and they came to an end. His kisses were a gift from the Lord.
Somehow I managed to clean my entire house from top to bottom in super record time. A gift from the Lord.
I had incredibly rich conversations with Jacob later in the day. A gift from the Lord.
All 3 of my boys fell asleep for 2 to 3 hours that afternoon, and I had the peace I desperately wanted that morning. This time God freely gave me that peace when He allowed all boys to fall exhausted into bed in  the middle of the day. (It's a week where the boys are in a sports VBS in the morning then we all go to our VBS at our own church where I'm also teaching. So we are a little more tired than normal.) Sleep and peace – a gift from the Lord.
When Andrew was allowed to emerge from his extended time out later that day, he was a transformed little boy. It was true, genuine change that ONLY the Holy Spirit can accomplish. A gift from the Lord.
This time I could hear that still small voice of the Lord speaking to me. I believe He said something like this, "Daughter, I have the power to change a heart, an attitude, and a mind. And when I change it, it is true and right. When you hold tight out of fear and try to control your circumstances around you, you will wear yourself out and you will not get the results you want."
When I finally prayed, God's power unleashed in our home. Everything looked different.
I know I will forget this lesson. I know I will find myself directed by fear rather than walking in obedience again at some point. I also know that I have a Father in Heaven who loves me enough to enter into every tiny detail of my life. Down to giving me kisses through my 6-year-old that I've longed for.
Later that night I tried to talk to Andrew about our day again. I wanted to get to the root of his refusal to go to the morning sports VBS camp. I explained that it was never about me forcing him to go to something he didn't enjoy, but it was his attitude and behavior that I disciplined. I told him that if he didn't like it, he didn't have to go back. He responded, "No, mommy, I like it. It was just my bad attitude."
I nodded. I get it. My bad attitude makes me behave in ways that I am later ashamed of. Going forward I hope to remember this lesson quicker and pray in the middle of my bad attitude so God can change my heart before I walk in disobedience to Him.
As I lay in bed that night I thought back to the day. God blesses obedience. I know this to be true. God showed me that day when I let go of the reigns of my life, and surrender my need to control, and invite Him into the details, everything changes. When I became obedient, God worked out what I was powerless to work out. The rest of the day rained blessings I might have missed if I'd continued in the path of disobedience.
Parenting for me is more about learning how my Father loves me and cares for me more than it is training and loving my own children. He never stops parenting us. Often these lessons come to us through our very own children.
[box] If you enjoyed today's post, consider subscribing here to receive posts via email. Blog subscribers will receive a free Christmas ornament download that accompanies Seeking Christmas – Finding the True Meaning Through Family Traditions.[/box]

https://renee-robinson.com/wp-content/uploads/2015/07/IMG_5206-e1437661272634.jpg
400
533
Renee
http://renee-robinson.com/wp-content/uploads/2017/08/ReneeGrey_03.png
Renee
2015-07-23 14:35:24
2016-07-25 11:30:33
When I was too angry to pray