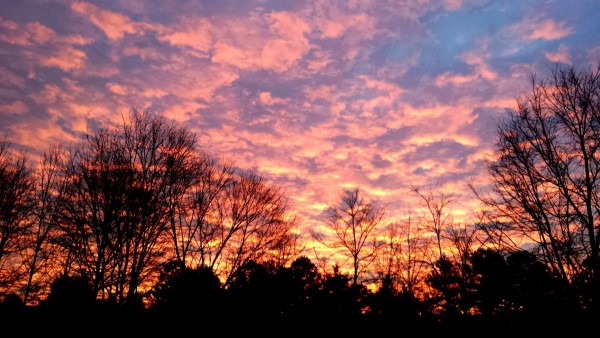 I peeked open his door and gazed at his peaceful slumber. I think he is beautiful when he sleeps. His body is in constant motion when awake, so I love to watch him at complete rest.
Then I did what I can only do with him, what would cause my other boys to wake in fight mode. With no warning at all, no gentle back rubs, no sweet good morning whispers, I rolled him fast on his back and dug my chin in hard into the soft of his back, laughing and tickling him with no mercy.
How one can go from the deepest slumber to the deepest of belly laughs, I will never understand. I stopped, and he said, "Again!" We hit the repeat button on this moment each morning. It's the best way to assure a happy mood from Andrew.
Occasionally, he turns to what we call the "dark side". It's a turning of little Anakin Andrew. The good dwells there, but sin lurks and lures with fierce boldness. The good is in constant battle with the dark. It's there for all of us. We all have a little Anakin in us. Kids just live with their guards down most of the time. We've learned to keep our masks on. We all know the good prevails. We must remember good wins in the end.
On my end I had done everything "right" according to all parenting books and best blogs. We had prepared what costume he would wear to school for spirit day. We had it laid out and prepared. We had discussed how the morning would go. I started the morning the way he likes. I gave him plenty of choices so he felt he maintained some control and wasn't being bossed around. I did everything "they" say to do.
No matter how hard we try, sometimes our best intentions fail us. When a perfect parent day aligns with a perfect kid day, the stars shine bright, the birds sing joyous songs, all looks well in our world. We smile more. We laugh more. The world looks grand. We post it on Facebook. We see the good in the world around us.
There are days one of us brings our A game and the other doesn't. We meet at the corner of I'm trying and Why Aren't You. This is the intersection where collisions are common. In my home anyway. That is where I was this morning. Full on collision though I had followed all precautionary rules and road signs.
I heard no birds singing joyous songs. Nothing about this moment would make it on my Facebook page. It was too ugly, and I don't want to be a whiner. Barking replaced laughing. Scowl replaced smile. The world looked grim, and a 6-year-old looked back at me with defiant eyes that said, "See if you can make me why don't you."
Sometimes God gives us what we need the most to need Him the most.
My heavy footsteps marched hard to the whisper, "Lord, help. Lord, help. Please, Lord, help. I can't parent his personality well."
A difficult child is a high calling. We must rise up to the challenge. We can't wallow in defeat. We can't focus on the difficult task. We must focus on the calling.
Love this child who acts unloveable, which means he needs love that much more. Show this child unconditional love when you feel like pulling back.
This is so hard for me to remember in the heat of battle. My first thoughts are always shameful. My first thoughts are usually the ones that I dare not admit. Therefore, I will confess all the more.
If I don't take captive my thoughts, they will lead me to despair, self-pity, resentment, and bitterness. I will convince myself that no one understands the challenges I face, the difficult moments I battle. I will say under my breath, or to my poor husband who is forced to listen, "No one understands how hard this is! No one sees how hard I try to understand him and parent him well."
This is the moment the Holy Spirit intercedes into my negative and sinful thoughts. Yes, there is someone who understands full well. The same one who created you. The same one who created him. The same one who matched you up for my purposes to bring glory to my name. Yes, someone understands.
This is the moment He reminds me that we all face difficult battles and that none of us completely understands the challenges that any of us face. Truly we don't. But that is what He is there for. He is there to take my burdens and frustrations. He is there to listen to my venting. No one understands our lives fully, do they? But He does.
I release the world from the pressure of understanding me when I realize they don't need to fully know me because there is One who does fully know me. And He loves me anyway. Despite knowing me full well, He loves me. A mask can't hide me from Him. My naked heart is laid bare and vulnerable. And that very thought catches the breath in my throat.
In the most difficult moments with my strong-willed child, it's my own sinful pride that battles hard inside me. It's that part of me that wants things to be easier, wants things to look a certain way. The part that whispers through clenched teeth to God, "I'm doing everything I'm supposed to do, why isn't this going the way I want it to?" It's ugly. So very ugly.
There is no ugly, He can't wipe clean. There are no words or emotions He can't redeem.
It's in the quiet that I understand this all. I rarely see this clearly in the moment. It's when emotions settle down, when the world begins to resemble calm, when I step back. When I get out of God's way, I'm able to see.
Filing out of our house, we scrambled late into the car. The trash needed to be moved to the curb, the dog needed to be put up, Zachary couldn't find his glasses, Andrew forgot his coat. My jaw ached as it had not released its grip just yet.
"Mommy, mommy!" I kept right on moving. Rolling trash cans with Jacob, helping gather missing items. Andrew wouldn't stop. "Mommy! Mommy! Look, fast!"
With less love in my voice than I care to admit, I snapped, "What Andrew?!?"
"Look, there!"
I looked up, and there it was. A spectacular sunrise. The thing about sunrises, they last but a moment. We must catch a glimpse of the moment and hold tight to the beauty. Faster than I could run to grab my phone, the sun had risen, and the stunning display was gone. I hold onto the beauty I know was there, is there, and will be there again.
Such is this life. Life as mommy. Life as a friend. Life as a wife. Life as a co-worker. Life as anything. The moments come, the moments go, the beauty seems to ebb and flow. It's an illusion. The beauty is always here because He is always here. We just need eyes to see through the haze. For me it's usually in hindsight. So I pray each time, Lord, help me see clearer right there in those hazy, crazy moments. Amen.
(Thank you to my sweet, friend, Angela, who let me use the sunrise photo she beautifully captured this morning.)
[box] If you enjoyed today's post, consider subscribing here to receive posts via email. You will receive a free Christmas ornament download that accompanies Seeking Christmas – Finding the True Meaning Through Family Traditions.[/box]

https://renee-robinson.com/wp-content/uploads/2015/01/IMG_4165-e1420645434436.jpg
338
600
Renee
http://renee-robinson.com/wp-content/uploads/2017/08/ReneeGrey_03.png
Renee
2015-01-07 15:59:19
2015-01-07 16:07:23
When Your Child Acts Unloveable, When No One Understands