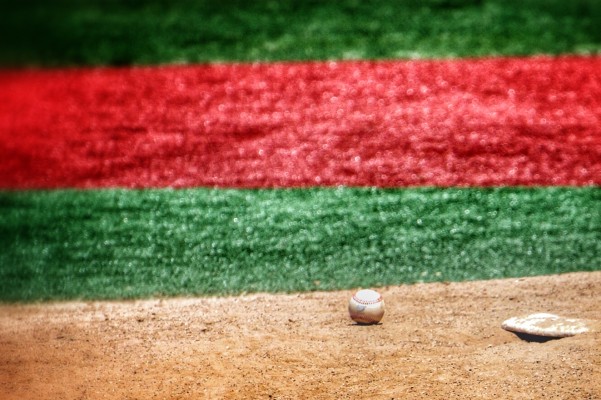 Photo credit: Justin Anovick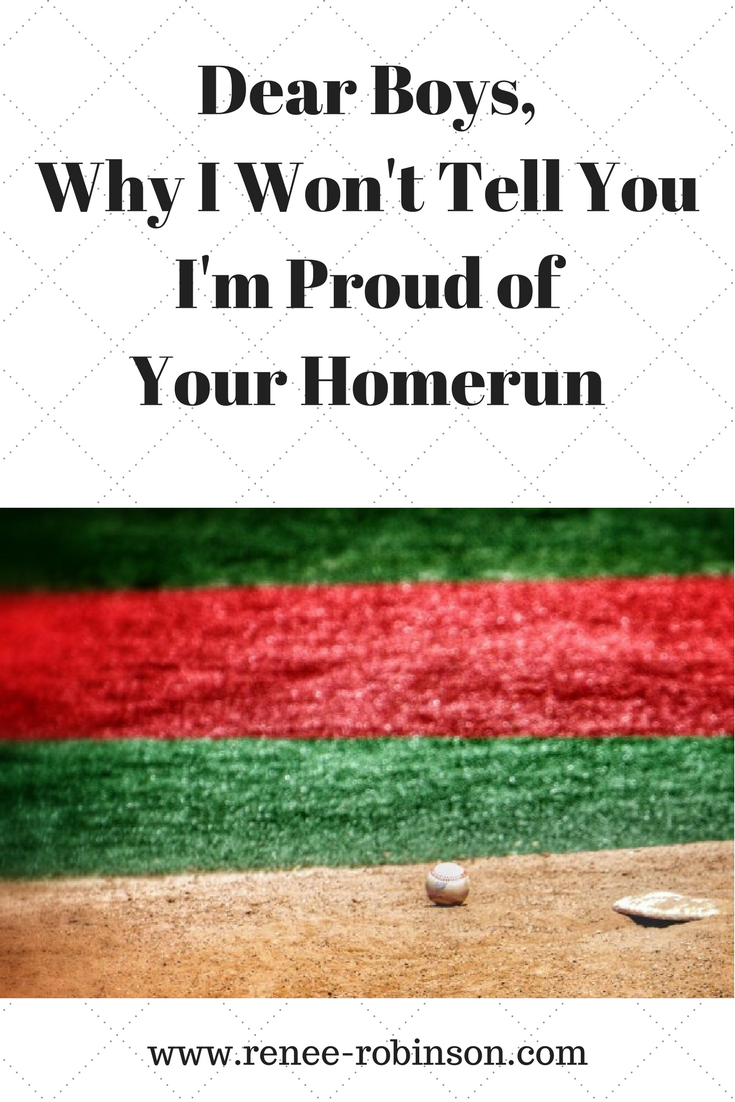 Dear Boys,
I love watching you play baseball. Not because I want to see you hit a home run, not because I want to see you make the play, not because I want to see you win tournaments. But because I get to see your character tested and developed. When you lace up those cleats, remember it's not just a game, it's more than a game. You've heard us say, "It's not about winning or losing, it's about how you play the game." When we say 'it's about how you play the game', we are talking about the heart you play the game with, the attitude you have. We are not talking about your skills, performance, and results. It's heart and attitude.
Tournaments and games are tough when you play teams that take little league to a different level. It's tough to hear opposing coaches screaming and parents on the other side mouthing off comments about missed balls and errors in the field. But don't let that drag you down. Don't let that dampen your love for the game. Baseball offers more than just a game. Life lessons are played out on that field, and you have an opportunity to be a champion for Christ. In life you have to learn to tune out the negative and tune in to your purpose.
We live in a see all world. Performance and results seem to be king. We don't have to post pictures on social media of our tournament trophies to be champions. The sweetest successes are the ones not easily recognized. While the social media likes may not accumulate, your Father in Heaven is cheering you on to the quieter triumphs.  This world will tempt you to gain recognition. Fight the temptation to look to the world to validate you.
Don't strive for the glory of a trophy. Strive for the glory God receives when you play the game for Him. With attitude and heart. Sometimes a trophy will follow, but when you play for Him, often the joy won't come from something that sits on a shelf. It will come from something that takes root in your heart.
Hitting a home run is fun, but striking out is golden. If you never strike out, how can you understand the sweetness of hitting that ball to the fence? And how can you offer words of encouragement to your teammate that walks into the dugout after his 3rd strike out of the game? Striking out with grace positions you to appreciate the gift of the home run. And when you experience that, you have something to offer your teammate.
You will rarely hear me tell you I'm proud of the hits you got, the plays you made, or the runs you scored. Here is what makes me proud.
When the kid joins the team that's new to the game and you pat his back and welcome him. That makes me proud. When you embrace him and cheer him on. When you take the time to notice the catch he made and you high-five him with a genuine sincerity. That makes me proud. Looking to build others up, not only strengthen your own game. That makes me proud.
When your team is losing, and you hear parents hollering from the sides with tones lacking encouragement, and you cheer on your team anyway. When you don't hang your head in defeat, but raise your head to the challenge and the lessons. When you shout out to your team to remind them that you are all together and you can do this. Encouragement. That makes me proud.
When you lose a game and you come home reflecting, can you look back and see where you can improve and own up to your own mistakes without pointing out the errors all your teammates made? Ownership of our own faults and mistakes. That makes me proud.
When the opposing team makes an amazing catch, can you place yourself in that child's shoes? Can you feel the disappointment of what that catch meant for your team while at the same time telling him, "Great catch!"? That makes me proud.
When you've not been satisfied with your game, and you practice hard. When you realize anything worth achieving takes a lot of hard work. And then you work. That makes me proud. When you hit a home run, when you make the big play, when you score a run because you've been working hard. It's the effort you gave to improving that makes me proud.
As you get older, you will find that our world leans towards a view of a one-man game. Baseball is not a one-man game. Neither is life. As you get older, remember the game of baseball. Remember that life is a team game too. Life takes a pitcher, a catcher, infielders, and outfielders. Life takes the gifts and talents of many. And life takes more encouragement than we have to offer. So offer it as often as you can.
You will hear a lot of talk about stats. You will hear a lot of talk about records. You will hear and see a lot of getting ready for the next level. But I want you to hear this. Baseball and life are more than stats, more than trophies, more than steals and wins. It's about how you play the game that matters most. Play with integrity. Play with honesty. Play with passion. Play with love. Play with excitement. Play with courage.
You can be a champion without a trophy or medal to prove it. Your main audience is not in the stands by the dugout. He is up in Heaven, gifting you, preparing you, and cheering for you. When you play the game, play with all the heart He created in you. Play as if you are playing for the Lord. When you do that, you will be a champion.
With all my love,
Mom
[box] If you enjoyed today's post, consider subscribing here to receive posts via email. You will receive a free Christmas ornament download that accompanies Seeking Christmas – Finding the True Meaning Through Family Traditions.[/box]

https://renee-robinson.com/wp-content/uploads/2014/09/IMG_1613-e1412003237150.jpg
400
601
Renee
http://renee-robinson.com/wp-content/uploads/2017/08/ReneeGrey_03.png
Renee
2014-09-30 05:00:00
2019-01-10 12:22:36
Dear Boys, Why I Won't Tell You I'm Proud of Your Home Run