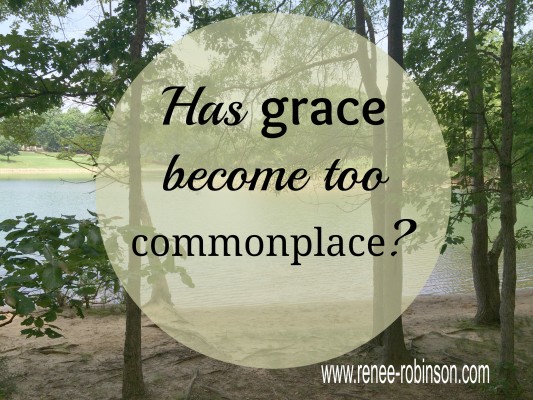 On our recent trip to Disney, the boys and I raced through the fast pass lane on Space Mountain. We flew right by the ones waiting in the regular line. When we got to a stopping point, Zachary turned and asked, "What if someone entered the regular line, then when no one was looking, crossed into the fast pass line, then got to the final fast pass checkpoint and got caught?"
"Well, they would either send them back to the regular line, or they could choose to tell them they couldn't ride at all."
His face turned serious, which is so rare. "Well, I would just let them go through anyway."
Now, Jacob is my child who must see justice served, but Zachary is a rule follower, so his answer surprised me.
"Why?"
His eyes, full of softness, met mine. "Because that is pure grace."
Grace, an over-used, often misunderstood word. I had been a christian for years before understanding what grace actually meant. I've now come to realize grace can never be fully understood. It's beyond our human ability to comprehend such a free, wild, and extravagant gift.
I know the definition of grace is an unmerited gift. It's a gift we don't deserve, a gift we didn't earn. Salvation I don't deserve. Salvation I can't be good enough to earn. There are no scales. You see that would be unfair. And God is fair and just, beyond that He is wildly compassionate and loving. So in love with us, He extends grace.
Have I become desensitized to the word grace? Have I spoken of grace with such ease that it's lost its magnificence on me?
Grace goes beyond comprehension. Pure grace, well, that just causes me to pause. If Zachary had simply said the word grace, I think I'd have smiled and nodded along with him. When he placed pure in front of grace, my thoughts came to a halt.
Grace is pure. Grace doesn't need pure added to it. Grace needs nothing added to it. Grace is grace. Pure is pure.
The grace I daily extend tends to come with a price. But then that's not grace. I'll forgive you if you offer me a proper apology. I'll accept you into my circle of friends or family, but you must behave a certain way. I'll do this favor for you, but I hope you remember you owe me one.
My grace may come with conditions. His grace, no, it's pure, no strings attached.
Grace is God as heart surgeon, cracking open your chest, removing your heart—poisoned as it is with pride and pain—and replacing it with his own. Rather than tell you to change, he creates the change. Do you clean up so he can accept you? No, he accepts you and begins cleaning you up. His dream isn't just to get you into heaven but to get heaven into you."
Max Lucado, Grace: More Than We Deserve, Greater Than We Imagine
Grace should cause my heart to skip a beat. Grace should cause me to look at every situation in light of eternity. Grace should not become a commonplace word in my vocabulary, desensitizing me to its magnitude. Grace changed everything. Grace is changing everything. Grace came for me, and grace came for you.
Look for grace today. He bathes us in it, but we may find ourselves so accustomed to His graces they have become a bit too common. Pray today for an awareness of His moment by moment grace.
Lord, capture our heart by your grace.
[box] If you enjoyed today's post, consider subscribing here to receive posts via email. Blog subscribers are entered in a quarterly drawing to win a $20 Stitch Fix gift card and will also receive a free Christmas ornament download that accompanies Seeking Christmas – Finding the True Meaning Through Family Traditions.[/box]

https://renee-robinson.com/wp-content/uploads/2015/05/commonplace-grace-e1432777350998.jpg
400
533
Renee
http://renee-robinson.com/wp-content/uploads/2017/08/ReneeGrey_03.png
Renee
2015-05-28 05:00:44
2015-05-28 01:46:46
Fast Pass to Pure Grace