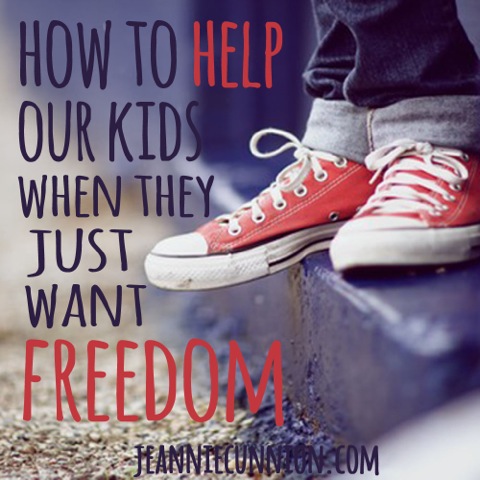 Night after night he lamented, "Mom, it's not fair, everyone goes to bed so much later than I do. Why do you make me go to bed so early? I'm 11 years old."
I attempted to explain the why behind our bedtime policy, though my best efforts failed to ease his frustration. I tried to explain that he wakes earlier than his friends, that his body actually functions better on more sleep, that some kids stretch the truth to impress each other. Wasted words. What he really wanted wasn't a later bedtime. He wanted freedom.
He felt constrained. He was so focused on the one thing that we withheld from him, he lost his ability to see the abundant freedoms we showered over him daily.
In his 11-year-old world, his vision focused on what he convinced himself he was missing due to the limits we placed on him. Limits for his own good. Boundaries to protect him because we want the very best for him.
The desire for freedom is nothing new.
Would you join me at my dear friend, Jeannie Cunnion's blog to read the rest of today's post?
[box] If you enjoyed today's post, consider subscribing here to receive posts via email. Blog subscribers are entered in a quarterly drawing to win a $25 Stitch Fix gift card and will also receive a free Christmas ornament download that accompanies Seeking Christmas – Finding the True Meaning Through Family Traditions.[/box]

https://renee-robinson.com/wp-content/uploads/2015/02/How-to-Help-Our-Kids-When-They-Just-Want-Freedom-Square.jpeg
480
480
Renee
http://renee-robinson.com/wp-content/uploads/2017/08/ReneeGrey_03.png
Renee
2015-02-05 13:56:56
2015-02-05 13:56:56
How To Help Our Kids When They Just Want Freedom