I stood in the registration line surrounded by people who all seemed to know someone. The chatter was a constant reminder that I knew no one yet.  My clammy hands continued to readjust my bags and check my schedule printout.  A few deep breaths would have helped, but I kept forgetting.  The line opened up to my turn, and I stepped forward.
As I approached the kind eyes behind the counter, a group of old friends reunited in the line next to me with hugs and squeals. The kind eyes met mine, "First time here?"  Maybe my shaky hands gave me away.  "Well, hey, maybe next year when you come back to the Blue Ridge Mountain Christian Writers Conference, that'll be you." I appreciated his effort, so I smiled an offering of thanks.
Do you ever find yourself in situations you feel completely out of place?  As if you don't belong at all?
The voice of fear loves when we are in these places because we are usually more inclined to listen to its voice.  The anxiety I experienced in the weeks leading up to the conference reached new heights as I arrived that day. I didn't know a soul there and could list 10 reasons why I didn't belong.
For months I worked on writing a manuscript and proposal to pitch to agents and editors at this conference.  Brand new territory for me, and a recording played in my mind why the time was not now.  I had a group of friends praying for me, and I felt it all week long.
Each time I sat in the seat facing an agent or editor, I felt the presence of Jesus.  Each time I carried my cafeteria tray into the dining hall, I felt the presence of Jesus.  Each conversation I had with a new friend, I saw Jesus.  He met me each step of the way.
The moments of life are rarely about what we think.  I went to that conference to pitch a book.  It's not about the book.
Life is about knowing Jesus more, trusting in Him, and realizing apart from Him, I have nothing to offer.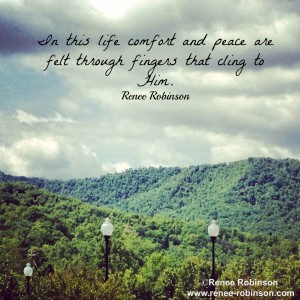 In this life comfort and peace are felt through fingers that cling to Him.
Life is about knowing Jesus and making Him known.
Departure morning I awoke early, packed my car, and headed to the dining hall for my last cafeteria breakfast.  The nervous jitters were back, but they were different this time.  I was no longer nervous about the unknown – the messing up my pitch, or who I would sit with and talk to, or if I would get lost.
My last class ended, and I headed to the conference center book store.  As hard as arriving had been, leaving proved to be equally hard.  So I shopped for reminders to bring home.  I felt like a kid leaving camp, loading up her pockets with trinkets that would find a home in the crevice of the couch.  Lost and rediscovered years later to remind of new friends, new memories, and heartwarming moments.  I felt like that 14 year-old leaving summer camp with a pocket full of memories.
Hot tears welled up in my eyes as I drove down the mountain.  My heart ached for home and my heart  was filled by Jesus through new friends and new experiences.  I left that mountain knowing I had experienced Jesus again.  Moment by moment, He met me.  Through kind eyes at registration.  Through arms that pulled out a chair at lunch.  To the words that encouraged me to keep writing that book.  To the WWJD bracelets in my pocket for my boys. The little reminders.  The not-so-little reminders.  Manifestations of the living God.
What are some times you've experienced God recently?  What are some ways you realized God was meeting your needs or simply meeting with you?
Do not be anxious about anything, but in everything, by prayer and petition, with thanksgiving, present your requests to God. And the peace of God, which transcends all understanding, will guard your hearts and your minds in Christ Jesus.
—Philippians 4:6-7

https://renee-robinson.com/wp-content/uploads/2014/05/mountains-e1401476564281.jpg
400
400
Renee
http://renee-robinson.com/wp-content/uploads/2017/08/ReneeGrey_03.png
Renee
2014-06-05 05:00:13
2014-06-05 09:44:58
When you feel like a kid going to camp