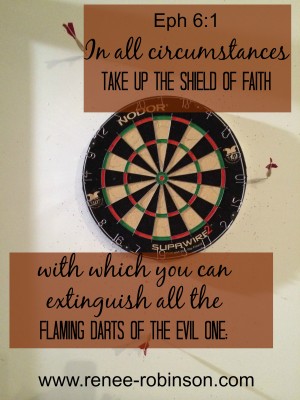 A Fight to the Finish Ephesians 6:10-18 Msg
10-12 And that about wraps it up. God is strong, and he wants you strong. So take everything the Master has set out for you, well-made weapons of the best materials. And put them to use so you will be able to stand up to everything the Devil throws your way. This is no afternoon athletic contest that we'll walk away from and forget about in a couple of hours. This is for keeps, a life-or-death fight to the finish against the Devil and all his angels.

13-18 Be prepared. You're up against far more than you can handle on your own. Take all the help you can get, every weapon God has issued, so that when it's all over but the shouting you'll still be on your feet. Truth, righteousness, peace, faith, and salvation are more than words. Learn how to apply them. You'll need them throughout your life. God's Word is an indispensable weapon. In the same way, prayer is essential in this ongoing warfare. Pray hard and long. Pray for your brothers and sisters. Keep your eyes open. Keep each other's spirits up so that no one falls behind or drops out.
It's no secret that Satan attacks believers. It's no secret that there is a war going on that we can't see with our eyes.
I was unable to write this week, which is why you received only one post. It wasn't a lack of ideas, rather it was an attack waged on me and my family that left me walking in a haze.
When I write to you, I essentially place a target on my back and taunt the enemy to see how good his aim is. When I attempt to enter into the enemy's territory by calling attention to the perils of electronics in the hands of children, I'm calling out to him to try and get me. When I write about pornography in disguise trapping millions of women, I throw my own arrows at the enemy. And when I advocate for the orphan and pray for the Lord to move mountains, I shout in satan's face.
My friend, you have a target on your back too. We don't have to broadcast our message to the world to erect our targets. When you grow in your faith, you become a target. When you walk with the Lord daily, you are a target. When you choose to turn the other cheek and choose gentleness over stubborn pride, you tell him to come attack. Don't be discouraged. This is a good place to be actually.
Initially, I was planning to write to you and ask that you pray for me and my family. And I still ask for your prayers, but I want to remind you that you are in a battle you can't see. We know this, but we need reminding.
I won't go into the details of my most recent boxing match with the enemy, but let's just say I've been beyond 'not myself'. My thoughts have been negative, my patience thin, my smile forced, my heart heavy. I've felt an unexplained heavy darkness that I was unable to shake. Everything I touched was affected. It overflowed onto my husband, my children, my home.
Last week a friend emailed me that the Lord was pressing into her heart to pray for me. I had a couple of readers send me messages that they were praying for me. I was super appreciative, but this didn't trigger anything beyond gratitude. In hindsight, I see the Lord knew I was walking oblivious to the waged attack and needed other believers praying. And they did. Thank you, friends.
Last night I had dinner with a friend who the Lord used to open my eyes to what was happening. She could see clearly what I couldn't and began to cover me in prayers, along with many other friends I knew who were praying (and of course my poor husband who's had to live with it).
At the beginning of the week, the Lord led me to Psalm 143. All week He kept bringing me back to it, but I was unsure why. Last night, I began praying in the name of Jesus out loud to bind all curses whispered against me and to cast out all spirits attacking my family and my home. I named them, one by one. I got specific and down to the nitty-gritty. Everything I knew was not from the Lord, I called out and used the name of Jesus and the sword of the Spirit, the Word of God.
This is uncomfortable for some of you to read. If you are here, and are not a christian, you likely think I'm very, very weird. And, well, that is actually true, but God's Word is very clear that we are in a cosmic battle. Looking back I see these little things that were signs of attacks, but I ignored them. I failed to pray Ephesians 6 daily. I failed to put on my armor every single day. Here's the good news. Once I realized it, I knew exactly what to do. Even better, I felt relief! I knew I wasn't crazy. I knew I could win!!
What is amazing to me, is that we truly have nothing to fear. He who is in us is greater than he who is in the world. (1 John 4:4) No weapon formed against God shall prevail (Isaiah 54:17). I have everything I need to stand in victory. I have the armor. I have the authority. I have the power because Jesus died and rose again.
The attacks come in many different forms. Satan sends many different types of spirits which have different functions. This is why it is sometimes hard to realize we are under immediate attack. It looks different depending on the type of attack he launched.
We don't need to delve into the dark world to fully understand it. I think we are better off knowing as little as possible, but enough to take God seriously when He says be ready daily and get on your armor. He's not joking.
Friends, I am not trying to scare you or make you think I'm weird. I want to encourage you to stand tall and brave. What an amazing God we serve. He fights for us, but He gives His power and His authority to win.
I went back to Psalm 143 which I've read all week. This morning I knew why. (I love this in NIV and Msg translations)
The Msg 1-2 Listen to this prayer of mine, God;
pay attention to what I'm asking.
Answer me—you're famous for your answers!
Do what's right for me.
But don't, please don't, haul me into court;
not a person alive would be acquitted there.
3-6 The enemy hunted me down;
he kicked me and stomped me within an inch of my life.
He put me in a black hole,
buried me like a corpse in that dungeon.
I sat there in despair, my spirit draining away,
my heart heavy, like lead.
I remembered the old days,
went over all you've done, pondered the ways you've worked,
Stretched out my hands to you,
as thirsty for you as a desert thirsty for rain.
7-10 Hurry with your answer, God!
I'm nearly at the end of my rope.
Don't turn away; don't ignore me!
That would be certain death.
If you wake me each morning with the sound of your loving voice,
I'll go to sleep each night trusting in you.
Point out the road I must travel;
I'm all ears, all eyes before you.
Save me from my enemies, God—
you're my only hope!
Teach me how to live to please you,
because you're my God.
Lead me by your blessed Spirit
into cleared and level pastureland.
11-12 Keep up your reputation, God—give me life!
In your justice, get me out of this trouble!
In your great love, vanquish my enemies;
make a clean sweep of those who harass me.
And why? Because I'm your servant.
This is how I felt. I kept remembering how only weeks ago I felt so different. I kept remembering all God has done. I was trying so hard to get back to where I was. But that is the problem. I was trying. I wasn't using the power He placed in me and the authority I'd been given. Praise God He chases us all day long. He never stops. When we can't see, He presses us into the hearts of those He's called to love us. Praise God.
So today I write to you and ask that you pray for our family. I periodically receive things that give me the shivers that I know are from sources opposed to what I'm trying to do with this ministry. As the Lord brings me to mind, would you pray?
And I write to remind you to put on your armor daily, to fear not, to stand bold and brave, and to remember we win in the end! We can't give up. We can't despair. When we feel like giving up, when we feel despair, when we lack joy for no apparent reason, when we are hard pressed on every side, ask others to join you in prayer. Stand bold and pray, using the name of Jesus, pray out loud, even if in a whisper. Pray through every room of your home.
I'm praying with you. We stand on the side of victory!
[box] If you enjoyed today's post, consider subscribing here to receive posts via email. Blog subscribers are entered in a quarterly drawing to win a $20 Stitch Fix gift card and will also receive a free Christmas ornament download that accompanies Seeking Christmas – Finding the True Meaning Through Family Traditions.[/box]

https://renee-robinson.com/wp-content/uploads/2015/04/darts-e1429887669914.jpg
400
300
Renee
http://renee-robinson.com/wp-content/uploads/2017/08/ReneeGrey_03.png
Renee
2015-04-24 15:10:51
2015-04-24 15:38:22
You Are Fighting a Daily Battle - Are You Protected?