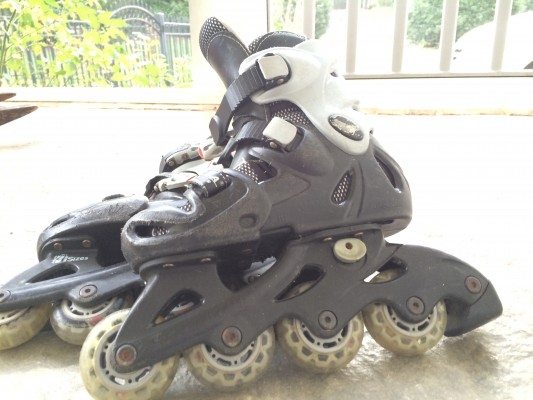 We pulled into the Goodwill drop off lane when I realized we had a few minutes to spare. We could always make time for a real-life treasure hunt. That week Andrew had been talking about how much he would love to have his own pair of rollerblades. He stressed his own and brand new.
Taking my boys to any store is always an adventure. People must think I don't let them out very often. They pick up everything as if seeing for the first time.
Thumbing through some books, I caught a glimpse of a one of my boys sporting a bike helmet. My eyes remained on the book in my hand, and I begged myself to stop pondering the possibilities of how many heads had been in that helmet. Another boy took practice swings with a golf club. Near the dishes. And another was trying his hardest to hop on a bike to go for a quick stroll. So much for thumbing through the books. I gently placed the book on the dusty shelf and made my way towards the chaos on the horizon.
As I neared the sporting goods section of the store, all I saw were heaps of messes. How in the world they could find a treasure in here was beyond me. But every 10 seconds someone let out a gasp to signify a new discovery. Then the gasps of all gasps came. "Mom! Mom! Look! Look! Rollerblades! Brand new. Can they be my own? My very own?"
I looked at what he held in his hands. They were not brand new. They were as far from brand new as you could possibly imagine. Beyond used. Worn slap out seemed a fitting description.
I began coming up with excuses why these would not be the rollerblades for him. They probably cost too much money. They probably aren't your size. Wouldn't you rather wait for your birthday when you can get the ones you want?
"Mom, look they fit just perfect. Perfect!" Bending over I felt his toe in the skates. Yep, just perfect. To the next excuse.
"We will have to see how much they cost. Rollerblades are expensive."
"I have my own money. I have $3."  Great, this will be my way out. No way can he buy the skates for less than that.
"Sir, how much are these skates? They don't have a price on them."
He picked them up with a slight look of disdain, which I totally got. The black material had rubbed off, the wheels looked in need of replacing, did the buckles even work? "Hmmm, $2.50 seems about right."
His blond head snapped up to catch my attention. "Mom, is that less than $3?" Those eyes get me. It's why I'd wanted to avoid making contact with them. The sparkle begged to take those skates home. To be his very own. And we did.
Those rollerblades had lost their value to someone at some point in time. Their season of use seemed to have come to an end. They made their way to a dusty shelf piled high with other items that seemed to have lost their value. The items on the shelf hadn't lost their value. They were in a season of waiting for their next purpose. Their next assignment. The next person they would bring joy to. The rollerblades were worn down, not worn out.
I may be worn down, but I am not worn out.
There are days I feel like a new pair of rollerblades. Shiny and new, full of value and use. There are days I feel like the worn down skates sitting on a shelf. Tired and useless, little value. There are days I feel like the skates picked up off the shelves placed in new hands. Life reinvigorated, a new purpose in my heart. There are days I feel like the rollerblades on the feet of little Andrew. This time experienced, these paths are a bit more familiar. I can go a little further because I've been down this path before.
Sometimes I feel like the skates that got tired of riding those trails. Tired of the unexpected bumps on the road. Wanting to take a break from it all. I find myself on that dusty shelf conflicted by my need for rest and escape and my need for purpose and use. Sometimes I find when I've sat on the shelf long enough, I'm more aware of my need for a new rhythm.
Are you worn down? Do you feel worn out? Are you in a season of shelf sitting, wondering what the point of it all really is? Me too, my friend. God has many sweet messages for us on the worn down days, the worn down hearts.
No matter how worn down we feel, we are not worn out to God. In our most used up state, He breathes life into our every minute. We are His treasure. We may feel like a used up pair of rollerblades in a pile of dusty broken toys, but God sees us as a treasure. And He gasps. Because He doesn't see our strength, He sees His power amplified through something that looks flat out useless. He sees something waiting to be used in order to bring glory and honor to Him.
So He says, "Come to me."  When you feel worn down, remember you are not worn out. He breathes life every second of every day.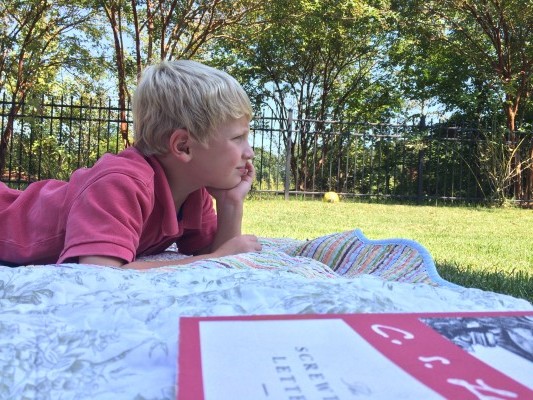 Matthew 11:28-30The Message (MSG)

"Are you tired? Worn out? Burned out on religion? Come to me. Get away with me and you'll recover your life. I'll show you how to take a real rest. Walk with me and work with me—watch how I do it. Learn the unforced rhythms of grace. I won't lay anything heavy or ill-fitting on you. Keep company with me and you'll learn to live freely and lightly."
[box] If you enjoyed today's post, consider subscribing here to receive posts via email. You will receive a free Christmas ornament download that accompanies Seeking Christmas – Finding the True Meaning Through Family Traditions.[/box]

https://renee-robinson.com/wp-content/uploads/2014/10/rollerblades-e1412688757772.jpg
400
533
Renee
http://renee-robinson.com/wp-content/uploads/2017/08/ReneeGrey_03.png
Renee
2014-10-07 13:47:03
2014-10-07 14:13:17
You May Be Worn Down, But You Are Not Worn Out