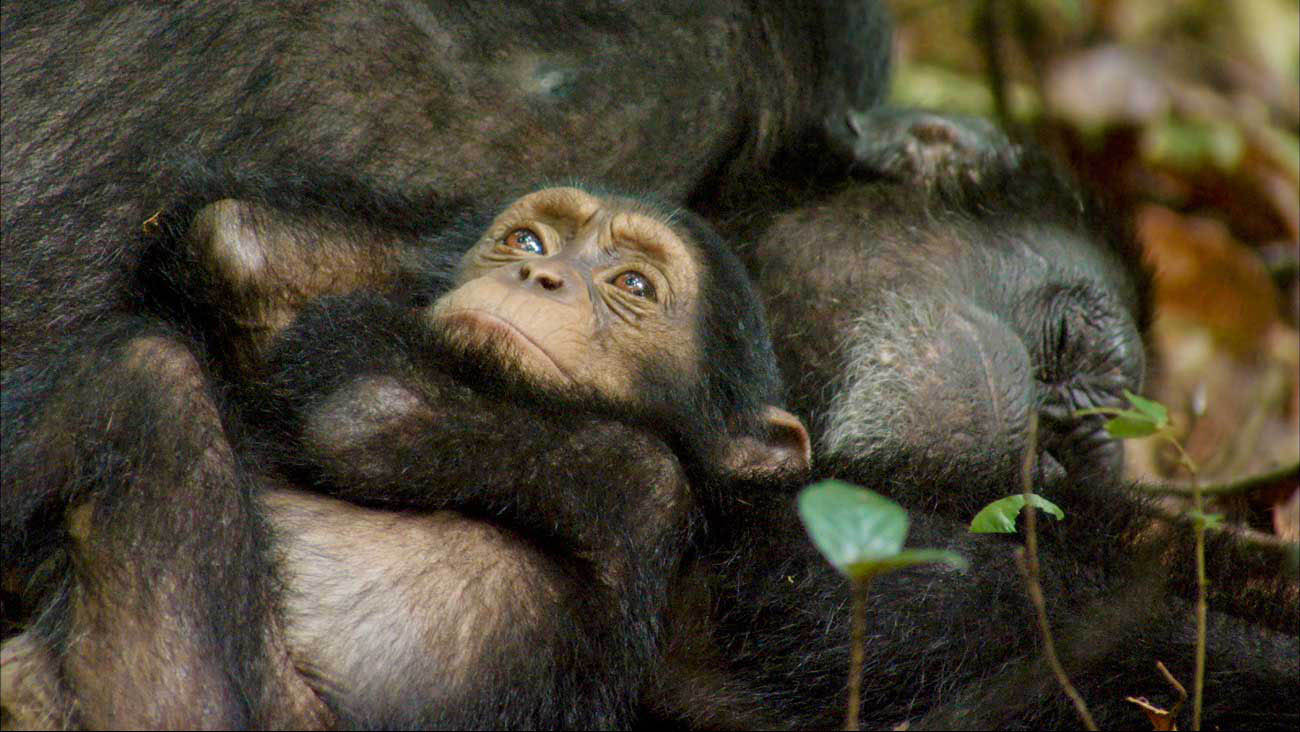 Photo courtesy of Disneynature
Watch this video:
http://video.disney.com/watch/oscar-looks-contemplative-4c7bca7e2269453ab4a09f37
In Chimpanzee by Disneynature, Oscar is a playful, adorable little chimp you fall in love with immediately.  His spunk mingled with tenderness captivates your heart.  He's a baby, completely dependent on his mama, Isha, who patiently and lovingly guides and cares for her little chimp. She is his world.  "Day after day it takes a committed mom to teach him to make it in the jungle."  Sound familiar, mamas?
When a rival chimpanzee group attacks, Oscar loses his mom, Isha.  In a moment Oscar finds himself an orphan.  No mama grooming him, no mama nursing him, no mama teaching him to crack nuts and gather food.  He is left alone.
Oscar tries to make it on his own within the group.  And like us all, he wants to be accepted.  His attempts to find a new mom left him feeling rejected and alone. He even found himself rejected by friends.  Completely alone in the world, yet surrounded by his own.  Hopeless.
Freddy is the powerful leader of the group.  Unapproachable.  Yet Freddy had his eyes on Oscar from afar.  Through an amazing turn of events, Freddy allowed Oscar to ride on his back, something only a mother would do.  Freddy began to groom little Oscar, the highest ranking member grooming the lowest.  Servanthood at its finest.  The movie described Freddy as the savior that no one could've expected.  Freddy adopted Oscar.  He became Oscar's savior.
I know a Savior like that.  One who descended from Heaven in the form of a baby, an unlikely Savior for sure.  The most humble of births for a King.  One who came to serve, and serve the lowliest.  One who came so we could each be adopted into His kingdom.  Saving is His specialty.
Through my involvement with New Horizons for Children, I have seen hearts madly, deeply in love with Jesus, reaching out to save the orphans of the world- to show them their true Savior.  I have seen God perform miracles for the least of these that have radically transformed my relationship with Christ.
When you host an orphan in your home, or you meet an orphan hosted by another family, everything changes.  A face, a name, a life becomes a part of your heart.  They are no longer just a number, a statistic.  They are a human, hopeless and desperate, in need of a Savior.  In need of love and acceptance.  Aren't we all?
Through the sale of Seeking Christmas, I am committed to donating 10% of my royalties to NHFC and orphan ministries that reach out to change the life of an orphan.
Seeking Christmas is an attempt to unite families through guided, tradition-building activities that center around Christ.  To help families reclaim Christmas in their home.  Families will cherish memories that will long outlive any material gift.
Orphans do not have families creating rich memories for them.  They aren't experiencing the security of traditions.  My prayer is that Seeking Christmas will not only strengthen your own family, but that it will be used by God to give an orphan what no one is giving them.  The love of a family.

http://renee-robinson.com/wp-content/uploads/2017/08/ReneeGrey_03.png
0
0
Renee
http://renee-robinson.com/wp-content/uploads/2017/08/ReneeGrey_03.png
Renee
2013-08-08 06:00:03
2013-08-08 06:00:03
When family bonds reach outside their own