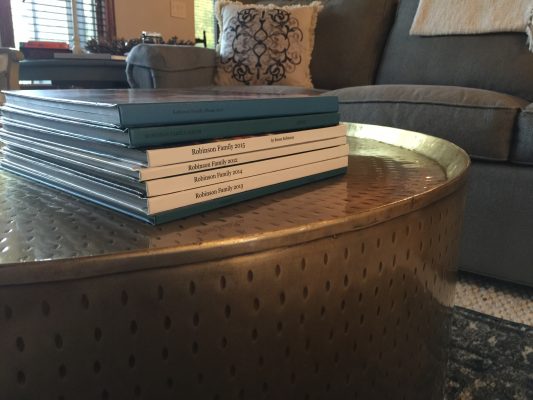 I gently pulled Andrew's door closed. I switched off the light in the hall making my way to the family room. The lights were off. The candles cast their dancing shadows across my new coffee table, which I'm in love with.
The table arrived, sat empty for a couple of hours, then I filled it with stacks of photo albums. The best time and money I've spent is creating these albums my family thumbs through frequently. They do not collect dust.
I, however, rarely sit long enough to enjoy. But this night would be different because I have received a wake up call. Similar to someone who has experienced that turning point in life where you are awakened to the gift of every breath you've been given. Mine wasn't a near death experience. Rather a doctor's stern warning that if something doesn't change, my life will.
The couch reached out, wrapped me in a warm embrace, and settled me on its lap. I drew my legs under, hugging myself close. And I opened a photo album from 2010. 7 years ago.
Page after page of images that seem a lifetime ago.
Zachary came out of his room for water and caught me sitting. The surprise on his face stabbed my heart. I model a lot to them. Rest isn't one.
Right there. That thought is the exact thing I'm aware of now. A constant critique of myself. How to be better. Guilt has been a tormentor for far too long. Guilt steals rest.
The couch has amazing arms I realize as I watched it reach for him and pull him next to me. We flipped, and smiled, and marveled.
Then another door creaked. Andrew tiptoed to the pantry I believe for a sneak food fueling for the night. We exchanged looks without reacting to each other. His look of surprise at finding me on the couch met my softened eyes and beaming smile at the remembrance of days to cherish.
"Mom, I love that smile that you are giving right now." He expected my typical night time, irritable 'get your butt back to bed' reaction. He expected the furrowed brows and stiff shoulders. Instead he saw the mom that I work too hard to be.
Rest.
It's what God is speaking to me. Rest from your strive for perfection. Rest from your achievements. Rest from your striving life. My life verse has always been Psalm 46:10. Be still and know that I am God.
I gave a talk a couple of years ago called "Be Still". It was based on my favorite translation of this verse which says "Cease striving". I strive in my own strength. Eventually, I tire out and have to let go. All the while God's saying to me, "Cease striving. Let go now and let me carry you. Eventually, you will have to let go, why not do it now without wearing yourself out. My burden is light. Let me carry you."
So this is how my night ended last night. The boys catching me resting. And me allowing myself to enjoy the gift of rest free of guilt.
I began the evening the same way.
When Steve walked in the door from work, I imagine he startled a bit to find me sitting on the back porch reading a book. Dinner was waiting in the Instant Pot. The boys were playing with friends outside. And I sat. Relaxed. Not rushing around seeing how much more I could accomplish.
This is a new trend for me. Lifestyle change away from impossible standards and expectations I place on myself. A kind grace to me.
Since recovering from a recent ulcer, I've been working on being kinder to myself. I've tended towards the misconception that to think of self at all is to create patterns of selfishness. This can happen for sure.
In my case, I've gone so far in the opposite direction as to live in a state of constant stress, which I don't see as stress. To me it's simply become normal life. A visit to a new doctor came as a startling wake up call when he pointed out that I'm 40, and if I don't start managing stress better, then 60 won't be pretty.
Managing stress better for me starts in my mind.
I thought this doctor's appointment would be like all others. Instead, the nurse led me into his office. He began asking me questions about myself. He wanted to know my personality. My strengths and weaknesses. He wanted to know about my childhood, family relationships, how I do life. It felt like a counseling session.
The doctor nodded along. Wrote notes. Offered smiles of encouragement. No judgement. Just listened.
Before he began to discuss my ulcer, he said the words that opened up a surprise gate of tears. "I need you to hear the most important words I'll say to you today. You will have to hear it here (pointing to his head) and receive it here (pointing to his heart)."
I nodded, bracing myself for the words. "You are a wonderful mom and God is pleased with you."
That simple sentence. In all my talking about my stomach ailments and my life, his first sentence to me was that God was pleased. But he was setting me up to hear what that meant for me. God is pleased with me not based on how hard I parent or how hard I work in the home.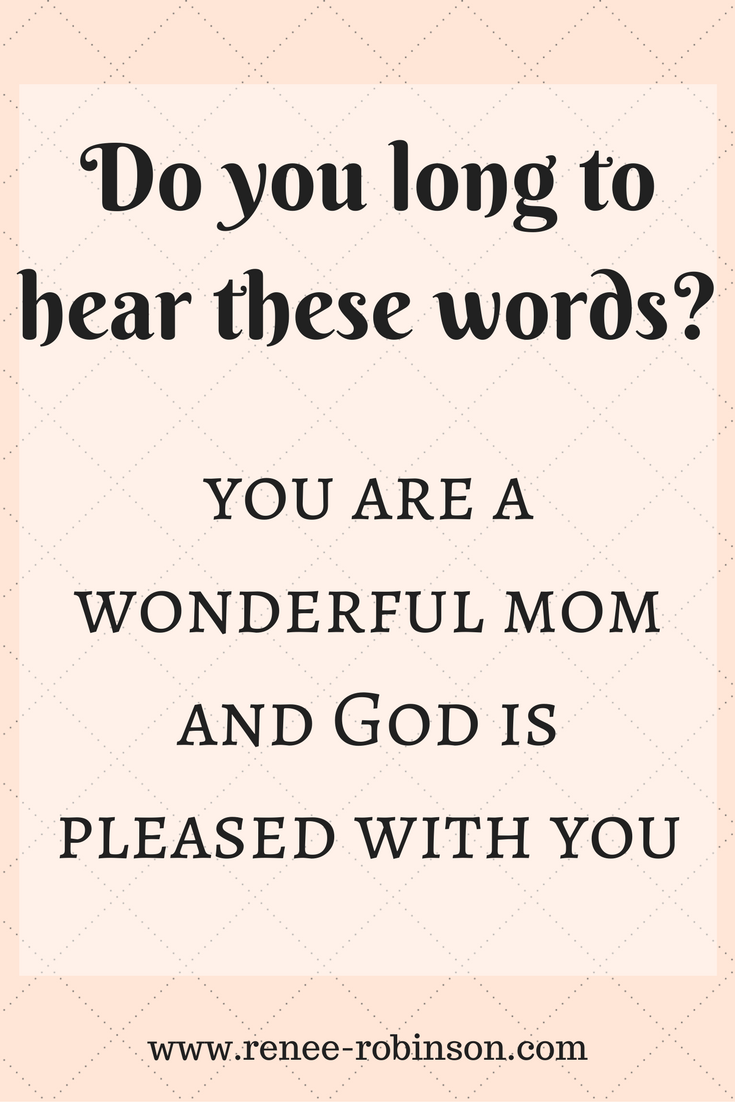 What I knew to be true of God, I wasn't living out daily. And it's dangerous for my body.
I can blame it on many things if I want to. Major change in a year. Cross country move. Homeschooling is me working a full time job, receiving no paycheck, and watching parts of me refined I didn't know existed. It was a painfully, beautiful year. Learning to teach not only my own kids, but also teach to a learning disability. Deep hurts and wounds from relationships outside of our family I  want to be life-giving instead of life-depleting. Wounds from the past in relationships creating in me a drive to do things in a way as to not hurt others in my life like I've been hurt. Pressing, crushing circumstances. Not different from anyone else I tell myself. This is life.
The problem for me is how I handle the jabs, the rubs, the constant friction of life. I overcompensate by becoming more competent, more able, more of a problem solver, more productive, more good. Less forgiving toward myself, more critical toward myself. Less rest. Basically, I'm letting the enemy steal from me. And one day I want to share with you how God showed me 2 years ago I was allowing a thief into my life. Both in the physical and the spiritual world.
All along, He's drawing me back in. Telling me to lift my eyes to that fixed position. That point that doesn't move. To the One Who will never hurt me. To the One Who will never abandon me. To the One Who doesn't expect me to be perfect because He did it for me. To the One Who is saying, "Come to me, you who are wearied, and I will give you rest."
I'm accepting His invitation to rest in Him. This begins in my mind. Stilling my thoughts that can spin out of control. This is something I'm realizing I need to accept day by day, even moment by moment. A lifetime of habits won't be corrected overnight. But there is hope. Day by day, He will help me to learn to rest in Him and to accept the gift of rest He offers.
It takes effort on my part. It's easy for me to work. I'm a worker. Honestly, when I stopped working full-time as a CPA when my oldest was two, I think I feared so much the perception some people have of stay-at-home moms that I went into a mode of being the best mom and wife I could possibly be. That'll kill a soul.
So to "work" less takes more effort for me than to "work" hard. My resting in God might be the best work I do all day. Especially for my family.
Rest is a gift. Rest isn't a luxury like I've believed. Rest isn't only for the ones who don't have so much to do (laugh with me because you know we all think no one has it as hard as we do). Rest is about obedience. Rest isn't selfish. Rest is a requirement for a life to be overflowing.
For my cup to overflow, I must rest. My cup has runneth on empty for far too long. This is a recipe for me to give the worst of me to the best of those in my life.
Today, I will rebuke the lies of the enemy that tell me resting is selfish. I will accept God's invitation to rest in Him. I will obey God's command to rest from my work each week. When I rest, may my eyes become fixed on Him, may my mind meditate on His Word. May I breath in and out of His Spirit. May I be filled by Him in rest so He can work through me in ways only He can.
**********This post contains affiliate links. Visit About page for details. I only recommend what I absolutely love!*********

https://renee-robinson.com/wp-content/uploads/2017/08/IMG_3443-e1501677766787.jpg
400
533
Renee
http://renee-robinson.com/wp-content/uploads/2017/08/ReneeGrey_03.png
Renee
2017-08-02 12:54:07
2017-10-14 23:56:27
Who Has Time To Rest?