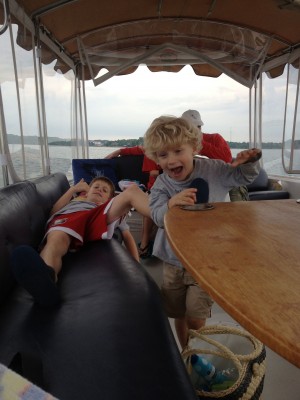 As a celebration to the end of a great school year and the kick off to summer, we bought a groupon for an electric boat rental.  The morning was gray and misty with a slight chill in the air, very uncommon for that time of year.  The weather didn't dampen our spirits though. We piled into our little boat with our snacks packed and coffee mugs filled to the top.
The guy at the dock gave Steve the instructions and sent us on our way to explore the beautiful Lake Norman.  Well clear of the marina, our speed didn't change.  Zachary was the first to speak up.  "Dad, let's go fast now."
With his feet propped up on the seat, coffee in hand, he smiled back to Zachary.  "Buddy, we are going as fast as this boat will go."
Three little heads whipped their way to face him with pure astonishment.  "What?!"
"Yep, so sit back and enjoy the slow ride."
M-girl is here with us.  The sweet girl we are hosting through New Horizons for Children from Eastern Europe.
It's been the fastest week of my life.  And I want it to slow down.  I want our time with M-girl to be on the electric boat, not the speed boat.
She is pure joy.  Her smile melts me.  Her patience teaches me.  Her kindness inspires me.
We only have 5 weeks, we are down to 4 left.  My blogging will be limited for the next 4 weeks.  Maybe just one post a week rather than 4.  I don't want to miss a second with her.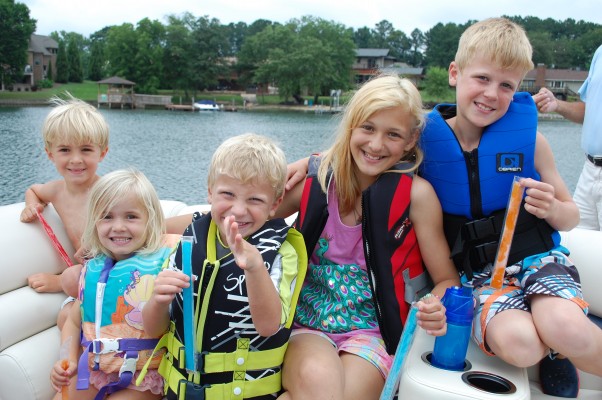 https://renee-robinson.com/wp-content/uploads/2014/07/DSC_0132-e1404397091923.jpg
400
602
Renee
http://renee-robinson.com/wp-content/uploads/2017/08/ReneeGrey_03.png
Renee
2014-07-03 14:29:12
2014-07-03 14:29:12
When the Ride Is Slow