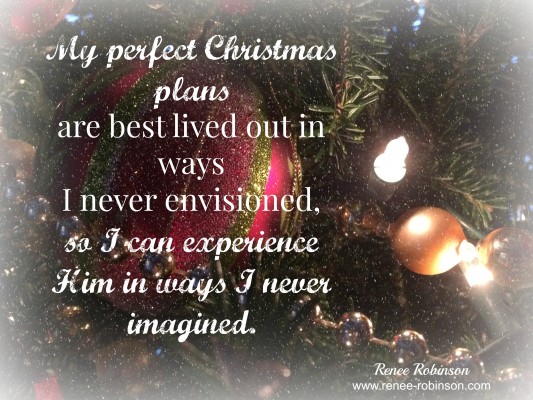 I walk past the 4 foot tree in the upstairs hall and take note. A sprinkling of handmade ornaments hang on its branches. The rest of the ornaments remain in the box. A box of handprints. A box of painting gone wild. A box of love disguised as art projects.
It's not the most beautiful of trees, but it is the most special. It's the one that displays every ornament ever made by the hands of my boys. It's the one with the colorful lights that remind me of childhood Christmas. It's the one that the boys have taken ownership of over the years. Their special tree. This year it looks different.
It's only partially decorated. Without my permission these little boys are becoming bigger boys. Their interests are changing. The little things that once delighted are becoming sweet memories. They are growing up. Somewhere along the tree decorating way that day, I imagine a game of tag broke out. Or a foosball match was challenged. Or a game of backyard football took shape. Something more exciting came along leaving this tree half finished.
I reflect on the years of watching their faces aglow as they meticulously hung each ornament. I remember how they worked together, each securing a spot on the tree that was all theirs. "Look, mom, isn't it beautiful?" they would call out.
It always was beautiful. It still is beautiful even in its most imperfect, semi-forgotten state.
In our most imperfect, semi-forgotten state, He knows us. He doesn't forget. He holds us close.
I walk through the house and take note of how different this Christmas looks in our home. "God, give me eyes to see your blessings that never cease." I continue asking God to let me see the beauty that looks different than I envisioned. Lord, they are growing up too fast. Slow them down. Please, Lord, slow them down. I love each Christmas season as we celebrate you and watch these little eyes dance with joy. But those little eyes are beginning to look deeper into this life you've given them. Times are changing. My boys are changing. Show me how to change with them. Show me how to change with you, the One who never changes.
A medicine dropper leaves a sticky residue on the counter. I'm reminded how our season began in a way I never imagined. Multiple trips to the doctor, a son in excruciating pain, a diagnosis of Lyme Disease. A blessing. Answered prayers. A son held close to the Father. A child's faith growing daily as he experiences the healing hand of his Creator. A child learning what it means to know God is good all the time even when life feels painful. Christmas blessings of hope burrowed deep in the blood and tissues that house his soul. The world calls it disease. We call it hope.
Endless phone calls and trips to doctors, physical therapy visits, researching and discussing, praying and understanding. These have taken the place of the typical Christmas busy. But isn't Christmas about experiencing Him? Isn't it about seeing Him? The Savior born into the world that Christmas day? Remembering that from the beginning of creation, God has put a plan in place to save us?
This Christmas looks different, but the message hasn't changed. 
This Christmas looks different than I planned, but we are experiencing Him moment by moment. Isn't that Christmas?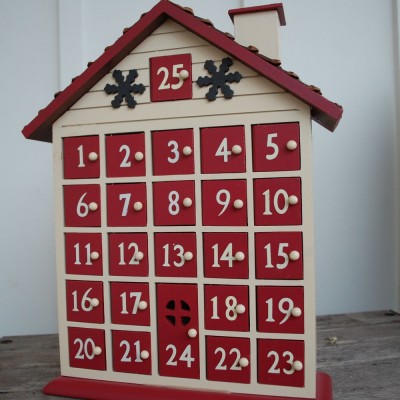 I walk past our Advent house. The one that counts down the days until we celebrate His birth in full. The one that holds a special activity or moment each day of the season. I think back to the years before. A door opened, a little note read, excited little voices to declare what we would do together. "We get to paint an ornament tonight!" I think back to hours ago. A door opened, a little note read, not-so-excited voices declared, "It's paint an ornament night."
I take note of the voice. I see the lack of enthusiasm. It's ok. They are getting older. They are boys. They are growing and changing. Painting ornaments is supposed to lose its excitement. But thank God, I've had the years and the moments He's graced me with. I delicately pick up the memories and tuck them neatly in my heart, gently closing the door. They are mine to hold forever.
This little advent house hasn't been the giver of good gifts over the years. He has been the giver of good gifts. He only used that little house to give me those gifts, those moments with my boys. Blessings. He will continue to be the giver of good gifts. He will continue to be the giver of moments. Sometimes they will look different than I envision. He is always good.
This year the gifts look different, but the gift giver hasn't changed. 
I walk past the box that holds our Christmas movies. Mickey's Twice Upon A Christmas this year has been left in the box. They are too old they tell me. I take note. They are getting older. Thank God for past memories. Praise God for new ones.
This year the small moments look different, but the giver of moments remains the same.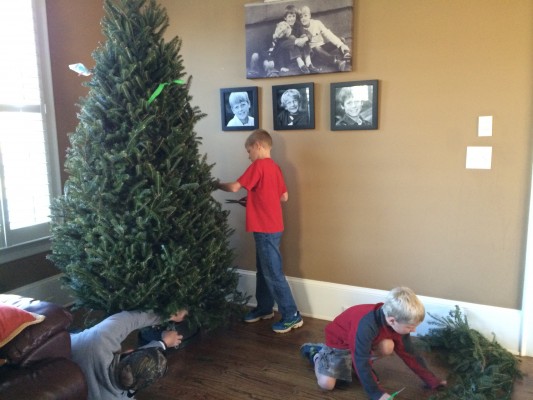 I unplug the lights from the tree. The tree that leans left no matter which direction you view from. The tree that I envisioned looking a particular way. It should be 9 feet tall, full and round, perfectly spaced limbs. It would be bigger and better than any tree that's ever taken a spot in the family room.
This tree isn't what I had in mind, but the hands that found it were given to me to hold for a season.
This year the tree looks more imperfect than I hoped, but the creator of that tree remains perfect.
I envisioned a trip to the Christmas tree farm to pick out the perfect tree. We would come home, decorate the tree, decorate the outside of the house with lights, listen to Christmas music while we sipped hot chocolate and lavished each other with love. Instead, I awoke in the middle of the night with intense pain, unable to move my leg because of muscle spasms.
My perfect day became a day I rested instead. God does this to me frequently, and I love Him for it.
My perfect Christmas plans are best lived out in ways I never envisioned, so I can experience Him in ways I never imagined.
Instead of a family trip to the farm, it was a dad and son trip to the lot. Instead of me working tirelessly making everything just perfect and right for my family, God allowed my family to serve and love me in a way that showed His perfect love for me.
This year my perfect Christmas plans failed, but the perfecter of my faith never fails.
I sat on the cold driveway, leg numb from the ice pack, watching Steve carry out the Christmas plans I so badly wanted to take part in. I wanted to be with him connecting and testing lights, weaving them just so along the bushes. Instead I watched. I watched him work with joy. I listened as the Christmas tunes drifted from his car. I took note of the little ways he was trying to create what he knew I wanted to create that day.
Times are changing, my boys are growing, our moments are looking different. This Christmas looks different than any others we've celebrated. My boys see the change. I see their realization of the growing up, the getting wiser, the changing preferences. They partly embrace the new moments and changes, they partly hold onto what once was.
Andrew, only 6 years old, requested his own alarm clock so he can get himself up and ready like his big brothers. Jacob, 11, stopped me as I left the room. "But, mom, will you still give him 'yay-yays'?" (little tickles and kisses up his back).
"Oh, yes, I will never stop doing that until he tells me to."
His shoulders relaxed as he leaned back into his pillow. "Ok, good."
The changing is hard for each of us in our own little ways. But so very, very good.
The changing seasons of life are to be celebrated and embraced.  While some moments change, some will always remain the same. While the moments look different, what drives each moment remains unchanged.
If my Christmas season looks different than I envisioned, I can rest in knowing it was carefully laid out by the One who makes no mistakes.
And now we rest in Him as we embrace each Christmas moment that comes our way in the next days leading up to Christmas Day.
Seek Him wholeheartedly this Christmas.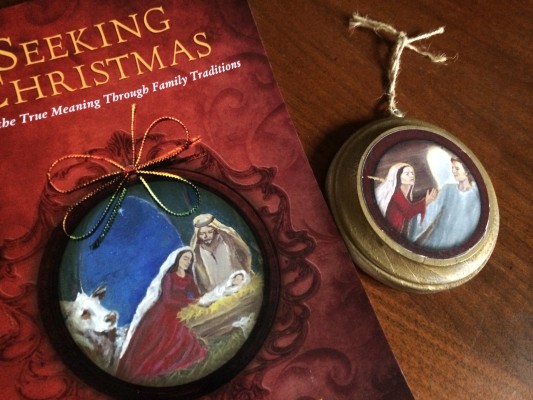 [box] If you enjoyed today's post, consider subscribing here to receive posts via email. You will receive a free Christmas ornament download that accompanies Seeking Christmas – Finding the True Meaning Through Family Traditions.[/box]

https://renee-robinson.com/wp-content/uploads/2014/12/PerfectChristmas2-e1418226282500.jpg
400
533
Renee
http://renee-robinson.com/wp-content/uploads/2017/08/ReneeGrey_03.png
Renee
2014-12-10 15:52:47
2014-12-10 15:52:47
When Your Christmas Season Doesn't Go According To Plan